Last year, Forbes posted an article entitled, Silicon Valley: Work-Life Balance Is For Losers, Not Closers, which pretty much sums up Silicon Valley startup culture. The hours may be brutal, but the payoff is the chance to be part of a company that solves a problem that has never been tackled before, and millennials are lining up for the opportunity.
The average age of the entrepreneurs funded by Y Combinator is 26, so it's not surprising that many startups are filled with employees that are under 30; however, a young age and a Bachelor's degree doesn't automatically translate into a job.
Recent stories have argued that millennials tend to expect more out of life, and are upset when their job doesn't live up to expectations. But is that such a bad thing? When it comes to Silicon Valley, the opportunity to be a part of something new is all around and many are given the chance to be a part of a successful venture at a very young age.
So what does it really take to be part of a startup? As one of the first five employees of the online payments API startup, WePay, here are my two cents.
Stand Out
We've all heard that it's important to stand out during the interview process and received advice like, "Make sure you ask questions that show you've researched the company" and "Be sure to highlight achievements that relate to the position," but what about once you have the job?
Working at a startup is about standing out every day whether that includes coming up with out of the box ideas or helping to tidy up after the lunch delivery. Being a part of a startup is like being part of a family: everyone knows their stated role, but sometimes the plan goes out the window, and everyone just needs to pitch in and get the job done.
Choose Wisely
Being part of a startup is one thing, but being successful at a startup is quite another.  Before you even consider blasting your resume out to the latest list of Hot Startups in Silicon Valley, do some research.
What do employees and ex-employees have to say about the company? Do you know what the company actually does? Perhaps most importantly, do you believe in the people and the founding team?
In order to be successful at a startup, you need to believe in the problem that they are working to solve today but given how quickly start-ups evolve, you really have to believe in the team, embrace the culture and care about their mission. For example, at WePay we started out as a group payments company, then evolved to a direct to small business payments company and now have leveraged that experience to be mainly a payments API infrastructure company underpinning the payments for fast growing marketplaces and platform partners. For me, believing that our mission was still the same and that the team was who I wanted to be working with everyday was what kept me here (and it certainly doesn't hurt that we've grown tremendously each year). Doing the research beforehand will ensure that you have the passion and drive needed to thrive.
Ask for What You Want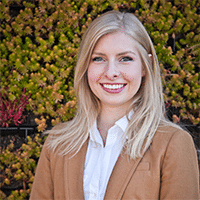 Startups are known to be flexible: flexible work hours, flexible work location, etc., so chances are that they will be flexible on your duties.
If you've done the research and found "the one," but there is no position available for you, don't be discouraged. The reality of startups is that passion, ambition and a desire to get the job done – no matter what – is top of most companies' lists. If you've found a startup that you feel is a good fit, go for it. Create your own position if need be.  I did just that here at WePay. In fact, I initially begged the CEO for a job, became the first support intern and have since created each of my roles at WePay.
This guest post is courtesy of Sophie Monroe. She is the Director of Operations for WePay (www.WePay.com)