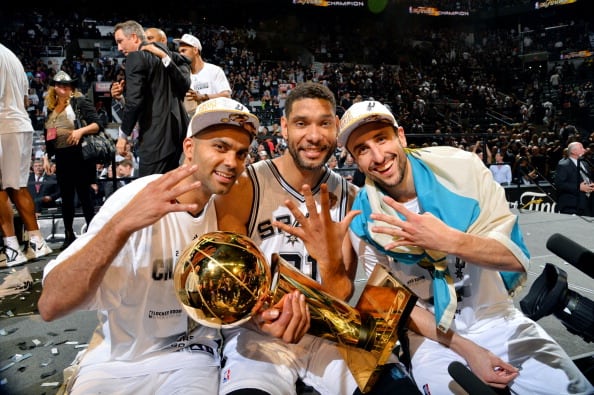 There are a lot of things which go together almost seamlessly. There are famous couples like peanut butter and jelly, cookies and milk, and entrepreneurism and sports. Okay, the last one night take a little time to wrap your head around. Being an entrepreneur takes a lot of dedication and drive. It takes hard work and an understanding that some things might have to fall through the cracks before you are able to pull them up again. With the NBA playoffs, entrepreneurs can see their struggles reflected in those of NBS players. If you play and work as hard as you can then you might just find yourself moving on to the next level. So what can entrepreneurs truly learn from the NBA Playoffs?
If you want to be on top as an entrepreneur then there is a good chance you need to have good people in your corner able to help you out. Melanie Angelis of The Grecian Garden notes that like the NBA Playoffs, a good team makes all the difference. "The NBA playoffs show us that you do spectacular things by yourself, but when the competition heats up, you need a synergistic team to propel you much farther than your own vision can. I'm not saying that your roster needs to be 15 men deep, but that your team must be complimentary. Whether it's role players with limited minutes in the regular season, dependable, hardworking members of your team, or the flashy people that make the highlight reels or keep the marketing going, there's room for all sorts of combinations. Think of the four teams left in the playoffs: you have the experienced team with excellent leadership and communication (the Spurs), the "old school" team devoted to defense i.e. retaining market share (the Pacers) and two talented teams forged with the relationships between their brightest stars (Westbrook and Durant for the Thunder and James and Wade for the Heat)."
Another strong suit for most entrepreneurs should be learning how to adapt to different situations. For any team, adapting and reacting is extremely important to their game. Author Ramona Rice points out how important it is to have an adaptive team. "I think the best lesson that the NBA playoffs or really any type of tournament situation can teach is the value of having a strong plan but for that plan to adapt and grow under pressure. For example, no one expected Indiana to have to fight to get to the Eastern Championships – it should have been an easy road but it wasn't. They had to adapt their playing style quickly to overcome obstacles that weren't there months ago. And what about the Clippers? They dealt not only with one of the toughest roads in the tournament – all winners have to go through OKC – but they had in house issues that became bigger that the story. The nonsense that was and is their owner showed a group of guys who could ignore what the media, the world, and other teams were talking about to get pretty far against a very good team. Managers can learn from this to inspire their team to focus on the bigger goal and not let office politics get in the way. True winners of these types of championships don't let the detail bog them down from winning – instead they have a good game plan, the right people in the right positions, and they stay focused on the goal – winning."
Finally, Bill Hendricks of Common Form, Inc. notes that there will always be some sort of adversity to overcome, much like in the NBA. "Being a successful entrepreneur has a lot in common with winning in the NBA. Never has this been more evident in this year's Playoffs. We can learn a lot from studying any team's journey, but I'm going to focus on one, the Indiana Pacers, because there are so many parallels between their season and the challenges many entrepreneurs face. The Pacers started off the season extremely hot. They jumped out to one of the best records in the league, fueled by defensive determination and great chemistry. The team was on cloud 9 and the players received many individual accolades and much attention. Many startups experience this same feeling of elation when they have a successful product launch. Nothing can beat the feeling of good press and customer adoption after working hard to launch. You start to feel unbeatable. But the Pacers, like many startups, ran into trouble. From February through the middle of their 2nd round playoff series with the Wizards, they were thoroughly mediocre. With their struggles came inner turmoil  and finger pointing. The team chemistry that once was a pillar of strength became toxic and threatened to ruin them. This happens to many startups as well. Many launch with great fanfare, funding, and traction. After a while, the shine wears off and the founders are left to grind though building their business over years and years. Growth slows and investors aren't as interested anymore. This adversity is very hard to deal with and stresses the relationships of the founders, sometimes to the point that it kills the company. The Pacers survived their adversity and came back from the brink of failure, nearly being bounced out of 1st round the playoffs by Atlanta. The fact that they came so close to defeat appears to have re-kindled  their fire and teamwork, as they came out strong in the Eastern Conference Finals, beating the Miami Heat in game 1. What can entrepreneurs learn from the Pacers' story? No matter how well it's going now, you will face adversity. Often, extreme adversity. How  well you handle it, and particularly how well your team sticks together through this turmoil, will determine if you succeed or not in the long run."
Entrepreneurship and the NBA playoffs have a lot of things in common. Entering the world of being an entrepreneur is similar to going pro. There will be tough spots and shakeups no matter which team you join or position you play. So while you watch your favorite basketball teams, try and take some of that energy and determination back to your business or project and get your game on.