Advice
The Ups and Downs of Business Ownership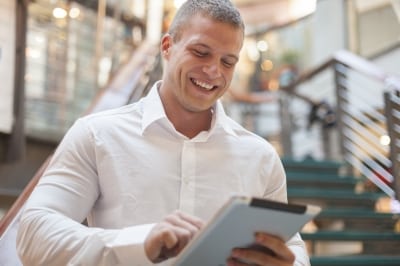 It's now six years since I left the comfort of employment and started my own business, eCO2 Greetings, and it feels like a lifetime.  Time has of course flown by however there have been so many ups, downs, lessons learned, successes, tears and joyous moments that I feel like I have lived through more than I would in 30 years of a relatively safe management career.  People warn you before you start your own business that you never stop working and I struggled to believe it because I had always worked on the philosophy of putting in a hard day to allow you to mentally switch off outside the workplace.  However, the reality quickly dawns that you never switch off as you ponder new ideas, dwell on problems and feel smug about what is going well.  I think that is the biggest burden a CEO has to carry and learn to cope with but it's the successful leaders who possess the necessary passion to push for success.
In my first year of business I was literally a one man band with my loyal wife available for moral support and a sounding board.  I don't mind flying solo however with no experienced mentor to guide me on the many facets of business ownership I made several mistakes.  The good news is that I survived them however I confess that I am frustrated that my UK governments who publicly profess to support start-ups failed me.  It would have been invaluable to me to receive a call from somebody who could listen to my story, hear about my challenges and talk me through the resources available to help me to succeed.  It seems like that would be a small overhead to a government budget that is supposed to be supporting small businesses.  However, a hungry business owner sinks or swims and I certainly chose to fight against the tide.  The one key lesson from my first year in business and is one that I repeatedly remind myself of is "You WILL make mistakes, it's how you react to them that matters".
My subsequent years in business proved very successful as our business learned each year, continued to evolve our product to the needs of our customers and enjoyed the benefits of an excellent online marketing presence.  Sadly in 2013 our business along with tens of thousands of other businesses were hit by Googles Penguin algorithm update which sent our website sliding down the Google rankings.  This hit me hard personally as I witnessed my business shrink.  The digital marketing agency who had got us to the top were using methods which Google finally caught up with.  I was enjoying the fruits of their work and ignorance was bliss.  The harsh reality is that I failed my business again. If I had had spent more time to understand SEO to be able to appraise their work I would have stood a chance of being on the front foot to react to Googles change.  The signs were staring me in the face that I was working with an agency with no strategy, very bad methods with no thought for my brand.  However, it's how you react to mistakes that matters.
2014 is a new year with a new positive outlook on business.  I have engaged with a trustworthy and market leading digital agency who are treating my brand as if their own.  Myself and my business partners are developing new products and marketing strategies to not only recover the business but to accelerate its growth. Of course there will be more mistakes along my journey however with good people around me and being a wiser business leader I feel confident that there will be far more successes to celebrate.
Chris Rowson is the Managing Director of eCO2 Greetings LTD and Ecard Shack.