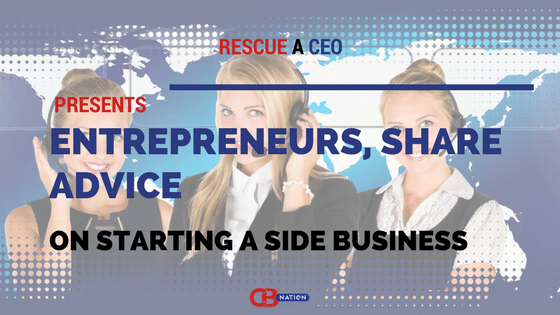 Full-time jobs can be rewarding, and so is a side hustle that is effectively implemented. It's a great way to earn that extra cash to supplement your main source of income. Some of the side business can end up helping you become your own boss. So what do you need to know before starting that side hustle? We asked entrepreneurs and business owners what advice they would share on starting a side business.
#1- First research the market
My first side business was a marketing consultancy I started back in Spring 2015. At the time, I was working a full-time job and wanted to make some extra income. I would recommend a new entrepreneur looking to succeed do a few things before initially launching the business. First, research of the market and your industry is so important. This will help you to determine your niche and refine your product or service offering. Second, identifying who your ideal customer or client is, then understanding how to reach them. Where do they shop? What is their lifestyle? Define as many characteristics about your target audience before you launch. Third, write a business plan. The research from the first two steps is helpful for this endeavor. You'll want to develop a mission statement, project financials and have a marketing plan in place – all before you launch. Lastly, as a side note, timing is important. If you have the passion to launch a side business but don't have the time to invest in it, be careful to wait until you have the time to be consistent and keep your business afloat. Many people want to have a side business but don't sustain it because of the large time commitment that it requires. Your passion for your business in combination with the investment of your time will reap the rewards of success and sales!
Thanks to Devoreaux Walton, The Poise Pursuit!
---
#2- Research about any possible legal implications
Most side businesses will start from an individual's home. So it's important to do research about any possible legal implications. Does your state or province have any regulations that need to be followed? If you're renting, does your lease state that you can't operate a business in your residence? These are things that can easily be overlooked when you're caught up in the excitement of entrepreneurship.
Thanks to Alan Ilyaich, Eco Choice Windows & Doors!
---
#3- Take the first step
I started my first side business to offer graphic design services after both my husband and I lost our jobs unexpectedly. What I learnt from my experience is that you just have to take the first step. I was scared and worried because I have never started a business before and I have zero sales experience. But, if I never took the first step to get started, it would just be an idea in my mind and I would never know that I could turn  it into a successful business. Action is always better than perfection. You won't get everything right from the start. But, you will get better and better with more experience and practice.
Thanks to Ming Gong, Earn More Live Freely!
---
#4- Persistence, confidence and taking action
I started a side hustle back in 2016 helping clients with digital marketing. I was working for a larger company at the time and ended up working from 3am to 9pm every day to make it work while staying employed at my day job. But I loved it and eventually was able to take my side hustle full-time in June of this year. I would say persistence, confidence and taking action are the three things you need when starting a side hustle or new business venture. If you stop being persistent, you lose momentum and will fail. If you lack confidence about what you're doing, it will show and you'll need to find confidence before it fully works out or people probably won't trust what you're selling. If you don't take action, you will have nothing that you can even call a side hustle.
Thanks to Chenell Tull, Conversion Owl Marketing!
---
#5- Balance your time and allocate it
If you already have a job, and you want to startup another business, know how to juggle! And if you have young children, good luck! While I have a full-time job producing at ABC's The View, I started up three Songs for Seeds children's music programs in Westchester County, NY.. Balancing my job with my startup business is totally challenging. You must balance your time, and be sure that you allocate it, so neither conflicts with the other. I do my work on Songs for Seeds at night, at home, when my children are asleep. Your work/life balance will suffer, but the rewards are well worth it.
Thanks to Dana Fisher, Songs for Seeds!
---
#6- Follow your passion and set goals
Choose something you really like doing or for which you have a passion. The money angle will only get you so far. Passion will drive you.  Don't go it alone. Find a mentor or get an accountability partner. Neither needs to know everything about your business. But both need to be able to help see you and your business objectively. Finding or starting a local group with other entrepreneurs can also go a long way in terms of support, ideas, and resources. Set defined goals. Setting S.M.A.R.T. goals will help you put in place goals you can share with others (like that mentor or accountability partner) and help keep you on track.
Thanks to Lisa Flowers, Flowers Media!
---
#7- Plan your vision
I started and sold three business all before the age 35. I currently own two businesses. My key advice in starting a business or side hustle is to plan your vision. I know many will just say, to make more money. This sounds good, but when times get hard, the allure of money from other sources (like a real job) look good, and we quickly forsake our dreams. The single biggest item which has led to my success is the strong desire of freedom. Yes, I am the one who will work 60 – 70 hours for myself to prevent working 40 hours for 'the man.' However, this desire for freedom has lead me to much success.
Thanks to Justin Goodbread, Heritage Investor!
---
#8- Get a business with low level of risk and overhead
If someone is wanting to start a side business then I would suggest you get one that is low overhead and low risk to build your habit and discipline muscles. That being said, I would suggest finding a good network marketing company. Before you shake your head and say no, no, no, understand why I would suggest this. A LOT of entrepreneurs got their start in network marketing and it is a great business to be doing on the side. You don't have to do product research and development, work out shipping options, or hire trademark or patent attorneys. Literally all you have to do is point people to a presentation and if they decide to become a customer or a business builder, you get paid. As a former number one earner in a network marketing company I can tell you that the level of risk and overhead is lower than any other type of business and whether it is your lifelong choice is up to you. I chose to sell my network marketing position to focus on our coaching and training business but am still very fond of the profession for many of its benefits. It certainly isn't perfect but neither is any other kind of business either.
Thanks to Ray Higdon, Forever Wealth Club!
---
#9- Five key Steps
Your business may start out as a side-hustle as mine did, but if you take all the following action steps you will be well on your way to handing in your resignation letter! (1) Identify Your Soul Client (2) Determine Your Niche (3) Solve a Problem and Provide a Solution (4) Be Visible (5) Get Your First Clients & Make Your First Dollars.
Thanks to Celia Ward-Wallace
---
#10- Keep a few things in mind
When looking to begin your own side business, there a few things to keep in mind. Since most people are keeping their full-time job it's important to still make a time commitment to the beginning business. Here are a few tips for getting started: (1) Take note of your individual strengths and passions. (2) Run your idea past those you respect business-wise. (3) Set a list of measurable goals and a time frame. (4) Create a road map to the launch and beyond. (5) Outsource areas when needed.
Thanks to Victor Ong, Premio!
---
#11- Two tips
Starting a side business is the best thing that I have ever done. I actually have two side businesses going right now. It's rewarding and empowering and sometimes the stress of it all even feels good! Keep the day job until things get going and put in those evening and morning hours when everyone else is asleep. Most of all, create a strong web presence! Regardless of the type of business, having social media pages and an email list will not only get the word out there but eventually triple your profit.
Thanks to Anna McNaught, The Liked Photo!
---
#12- Think of yourself as a company
The most important piece of advice I could give somebody starting a side business is to think of yourself as a company, then create multiple revenue streams for yourself. Think about it like this – what company or business can you think of that just does one single thing or has one single client? Using myself as an example, I have an active business investment, passive investments, book publishing, and consulting.
Thanks to Jeff Rohde, JScottDigital!
---
#13- Four tips
(1) Don't be afraid to spend the capital to see your project through, you should have the courage and in some cases craziness to spend $5,000 without a clear path to returns. Through this process you uncover ways to profit that you otherwise wouldn't uncover if you stopped short. (2) Partner with a likeminded individual to keep you accountable and to be able to work through roadblocks. Ideally, this is someone with complementary skills like 1 engineer paired with 1 designer. This opens up your scope of projects you can execute on and reduces your outsourcing costs. (3) Only work on ONE project at a time. Side projects are a sexy thing to talk about, just like passive income. BUT, they only work if you truly are dedicated and spend most of your free time working on them. (4) Use one side project to gather learnings to better prepare yourself for success on side hustle. You must be a relentless hustler to make this work, never let up and you will crack the code on something profitable.
Thanks to Kevin Miller, Open Listings!
---
Which advice would you share on starting a side business? Tell us in the comments below.