Hiring
17 Entrepreneurs Share Tips on Outsourcing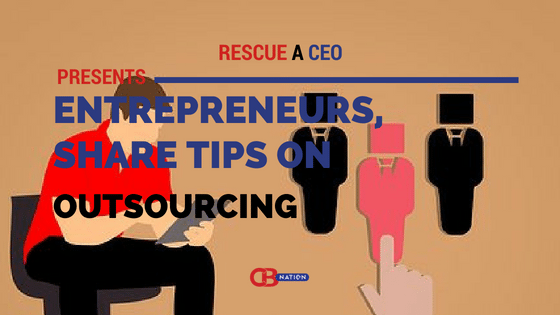 The right outsourcing will save you frustrations and avoid wastage of your precious time. It's important that every business owner applies due diligence while outsourcing through ways such as running a trial on the preferred candidate. It might take time but it will save you time in future. Additionally, be very specific about what you're looking to find in the ideal candidate.
We asked entrepreneurs and business owners about their best outsourcing tips and here's what they had to say.
#1- Gauge the communication skills
We have gotten incredibly good value for much of the work we have outsourced, either directly or through services such as Upwork, but we have also been badly disappointed. The key factor when evaluating overseas talent is to gauge how good their communications skills are, because it is likelier that will be the shortcoming rather than hard skills. Really get the sense of how well your prospective partners are able to express themselves, and whether their communication habits are sound – do they do things like give you ETAs and acknowledge all emails? Also, I would advice against looking to outsource talent only for bottom-of-the-barrel work. Today, there are many designers overseas that can complete high-profile, high-quality assignments extremely well, and at much lower cost than you would pay for state-side talent.
Thanks to William Gadea, IdeaRocket LLC!
---
#2- Evaluate the candidates
When it comes to outsourcing, you need to think quality first. In the marketing industry, outsourcing and offshoring are commonplace, but doing it well is not. You should evaluate the candidates just as you would an employee. Will this person or team be able to produce work at the quality that your business, customers, and/or clients are expecting? Like most things in life, you get what you pay for.
Thanks to Jarod Spiewak, Blue Dog Media!
---
#3- Find someone who cares about the success of your business
When I first thought of outsourcing, I created a list of tasks that I needed to complete. Then I looked for people fitting those skills. I actually hired a few too, but I soon realized a huge problem – they were only interested in completing the task. When I would meet with them about project organization and share why these items were important and, in turn, what the end goal was, none of them cared. After about 6 months of trying to find a person who could do the tasks and then attempt to get them to care about my business, I decided to flip my philosophy. I hired someone who actively asked questions about what my business stood for, my objective and what part she played. She had none of the task skills I initially wanted, but I knew that she was smart and would catch on quickly. So now whenever someone asks me how I found my assistant, I tell them to look for someone who actually cares about the success of your business and is willing to learn, be proactive, make suggestions, ask questions and be an active advocate of your business success. Then teach them the skills they need to know.
Thanks to Vickie Gould, Vickie Gould International, LLC!
---
#4- Plan ahead
First, I had to realize my expertise isn't broad enough to manage every aspect of the business well. I outsourced where it made sense to complement and supplement my own skills.  Secondly, I had to appreciate outsourced contractors will never come to the table with the same passion for my business. It's important to recognize this early so you can manage your expectations. I don't want to imply that contractors won't deliver quality work on time. Just don't expect them to think outside the box on your behalf, plan ahead, or consider the implications something may have on another part of the project. Even the most thoughtful contractors don't have the breadth of knowledge to assess every situation like you can. It's not a fault, just a reality.
Thanks to Michelle Eichner, Digitile!
---
#5- Delegate
Delegation for any businessman is key. Same applies to business, you need to be able to delegate your low value work to someone else who can do this. By doing this it frees up your time to do higher value work. This in turns leverages your hours – we all only have very limited hours – this is a finite resource. The cost of human labour is a key cost to any business. It is an imperative that any business utilises the most efficient resources as possible. It is also an obligation that they minimise any costs.
Thanks to Derek Gallimore, Outsource Accelerator!
---
#6- Be specific on what you want
Be absolutely clear about what you want done, and what KIND of person you want to do it for you. A lot of people have dry job descriptions and generic for-hire writeups but you need to be truly specific, as if the person who is perfect for your company is already working with you. The item that needs to be outsourced will just be THAT, and the clincher will always be on how clear you are with what kind of person (characteristics, personality type, work ethic) you want to handle it best.
Thanks to Karla Singson, Proximity Placements!
---
#7- Choose an outsourcer with 100% positive  feedback
My #1 outsourcing tip would be to choose an outsourcer with 100% positive feedback including people who write raving reviews about how happy they are. Combine this with one who cites themself as an expert in the area you are outsourcing, and charges the top $$ per hour, and you will have a great experience. It usually ends up costing less than hiring a beginner since they know what they're doing and take less time, and you end up with a superior outcome.
Thanks to Stacy Caprio, Deals Scoop!
---
#8- Watch out for independent contractors
If a business outsources to an individual and treats them as a contractor, freelancer, or 1099 employee and that designation is legally incorrect, the company may have exposure – potentially substantial exposure — in a variety of areas, including wage-hour law, unemployment insurance, taxes, and workers' compensation, among others. So, my suggestion to business owners is: if you are going to outsource, either use a staffing company, work with a vendor that has its own employees and is clearly an independent, established business or, if you want to outsource to an individual, be absolutely certain that he or she could not, legally speaking, be considered employee. And, remember: there are multiple tests for independent contractor under the law, not just the IRS test; and, having an independent contractor agreement is not determinative.
Thanks to Joseph H. Harris, White Harris PLLC!
---
#9- Put value on the experience
When you are going through individual applications or companies to take on your project, it's critical that you put more value on their experience and make sure their skills & experiences are relevant to your project. A low bid or specific certifications might look great, but they might not be useful if the project is very complicated and requires a particular skillset. In some instances, you can ask for specific samples to make sure that they will deliver on the project.
Thanks to Roosevelt Purification,  Roosevelt Games, LLC!
---
#10- Always have an established point of contact before you sign
Having a solid point of contact with the vendor is a must, and that level of trust needs to be established before you sign any contract. Since a majority of your communication with a vendor is usually through an account manager, the success of that project is completely dependent on that individual's communication skills. Plus, a good account manager will make sure you are taken care of, even if your account is eventually handed over to someone else.
Thanks to Jerry Haffey, Ambrosia Treatment Center!
---
#11- Consider a few things
While Baker Public Relations, Inc. is a full-service communications agency, we do know our limitations and have experienced great success turning to outside help or contractors for specific projects. Our top recommendations are to know who you are working with along with the style and quality of their work. It's also crucial to identify the scope of the project, deliverables and schedule for completion. Our firm has benefitted by outsourcing graphic design, web development and in some cases video production for more elaborate client projects. We tightly manage project deadlines, work flow, client expectations and end results. Lastly, it's always important to get things in writing so that both parties are on the same page and in agreement with any scope or payment changes.
Thanks to Megan Baker, Baker Public Relations, Inc.!
---
#12- Don't be afraid to ask for some kind of trial run
It is vital that you weigh up your options when outsourcing work, so before committing to one particular agency or individual, make sure you have an idea of what you can expect from them and how this will benefit your company. You need to be certain that there will be a substantial ROI on however much you are going to spend on outsourcing work.
Thanks to Grant van der Harst, Anglo Liners!
---
#13- Include a phrase that must be included during application
When you post a job on Freelancer or Upwork, you get a flood of responses from Freelancers. Some of them come in just 5 or 10 seconds after you post the project specification. These people have not read the spec and they have no idea if they're suitable – they're just posting a form reply to every new project. You DO NOT want to hire one of these people. A great way to filter people who have read the project spec from those who haven't is to include a phrase that they must include in their bid, or it will be ignored. At the bottom of all my of project specifications, I say this: *IMPORTANT: You must include the phrase I have removed the Brown M&Ms in your bid or it will be ignored * Then when I get 30 bids like on this last project here, I can discount the 24 of them who didn't read the spec, and just figure out which of the 6 who did is most suitable.
Thanks to Alastair McDermott, WebsiteDoctor!
---
14 – Use internet forums
Scaling your business to the next level is so much easier if you decide to outsource some tasks. I read through dozens of articles dealing with the outsourcing topic and all share the same thing… search the most popular freelancing websites out there, Upwork and Fiverr. That's wrong. Use internet forums to find your ideal candidate. In order to make simple, allow me to use an SEO outsourcing as an example. Register on a few internet forums dealing with SEO. Read few threads, find the true SEO experts among them, and take a look at their profiles and comments. You'll easily spot those that stand out from the crowd due to their knowledge, who are respected by their peers, and once you narrow down your choice, you've found your guy.
Thanks to Peter Koch, Seller At Heart!
---
#15-Pick the right people
I no longer run the day-to-day at Rover-Time. My Operations Director and Team Manager do and they're definitely better at it than I. Similarly, at home, I've chosen the right partner. My husband gives so much of his free time to our home and our son. We don't adhere to gender-specific roles, we just do what we're better at than the other person. This is hugely helpful for managing the busiest days and it's truly how I get more than two things done at once. My business is still pretty small. We have less than 20 employees so outsourcing my experts is essential. For example, marketing is done out of the house, HR is managed on a platform called Hireology, and accounting/bookkeeping is done offsite. Pulling as much off my plate as possible keeps the business running well. I essentially manage our goals and how well we're meeting those goals to ensure that we're going in the direction I'd like to see us go.
Thanks to Julia Rohan, Rover-Time Dog Walking & Pet Sitting!
---
#16- Two tips
Tip #1: My Criteria for Outsourcing: Is it simple? Is it repeatable? Does it still offer value?  Many outsourced services meet the top two criteria, but fall flat on #3. The value diminishes greatly when a 3rd party does the work, because of a lack of industry insight, experience, or enthusiasm. Tip #2: Quality Control the End Product. It's very easy to get into a rut with outsourced work. Even if you diligently vetted your outsourced partners and thoroughly reviewed their initial submission(s), if you're going to avoid a gradual decline in quality, it's important to continually be reviewing the work any 3rd party is doing. I recommend briefly skimming EVERY piece of outsourced work, and doing sporadic intensive reviews on a regular basis to ensure quality standards remain consistent.
Thanks to Jonathan Jenkins, Lofty Rankings!
---
#17- Use online outsourcing
I highly recommend using an online outsourcing platform like Upwork (formerly oDesk). I rely on technology to run my law practice, but I can't justify hiring a full-time IT person. On Upwork, and I am able to get same-day help from experts on an as-needed basis. I have outsourced a wide range of tasks from creating Excel macros to writing code for my website. While having good work done at a reasonable price is great, the real value is in saving time searching for the right person. I just put a detailed job description out and the applicants come to me.
Thanks to Eric Ramos, Eric Ramos Law, PLLC!
---
What are your best tips on outsourcing? Tell us in the comments below. Don't forget to join our #IamCEO Community