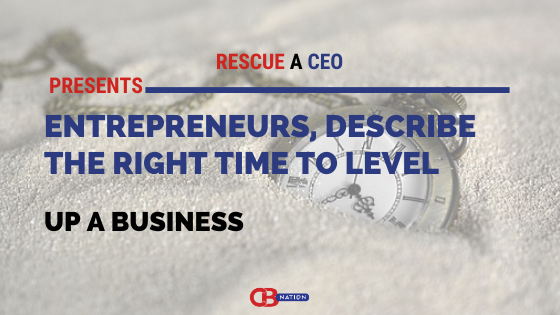 There comes that time when you have to grow your business to be bigger and better. What signs should you watch out for? Each business is unique and there may not be a secret formula to know when to up level. It can be through goal setting to push their limits and continuous improvement as they compete against themselves (or with others). There are various ways one can uplevel their business.
Here's what entrepreneurs have to say about the right time to uplevel a business.
#1- Tons of lead with minimal effort
If you've tapped into an untapped market or are getting tons of leads with minimal effort then that is a time to grow your business. An excessive workload from too many leads is a sign you must grow, otherwise it will cause issues with quality, consistency and meeting deadlines – in essence you hit a "growth wall". The first step is the scariest i.e.. renting more office space, hiring more people etc. However, once you do it and gain experience in it then you will be in a far better place for future growth.
Thanks to Cormac Reynolds, VelSEOity.com!
---
#2- When your business foundations are solid
I've seen so many ambitious entrepreneurs try and scale and 'level up' before they are ready and it's often very messy. In certain cases, the business folds under the pressure. I think there must be 3 fundamental foundations laid to 'level up' smoothly. These include a well thought out SOP (standard operating procedures) document, good systems in place (especially for lead gen, conversions and delivery), and a well-balanced core team. With these 3 things in place, a business has the highest chance to grow with stability and thrive."
Thanks to Ben Webb Marketing, Ben Webb Marketing!
---
#3- Traction in new markets
When we founded our company, just three founders were working in the company. We always strived to scale our business to new markets. Once a new market started to show some traction, and it was bringing enough money in to justify further investments, we started pouring more gasoline on the fire. With this strategy, we went from five figures on monthly sales, up to steady six figures in sales per each month.
Thanks to Antti Alatalo, Cashcow Ltd!
---
#4- Two times
One way to know if it's time to level up your business is when you see a good profit standing. Also, when you are able to reach targets and goals as perceived. These are good signs that the business is growing and that you can start expanding or setting a new set of goals.
Thanks to Pratibha Vuppuluri, She Started It!
---
#5- There is never a right time
Business owners/entrepreneurs need to just jump in and trust in themselves. At this stage they would have done a lot of research and development and would be ready to take the plunge. Most entrepreneurs need a new challenge, just be cautious not to diversify too much, unless your current market or product is saturated. Also, business owners forget about what often is staring them in their faces. Work ON your business for a while to really understand if the time is right – get an outside consultant or mentor to be your sounding board. When you spend time working ON your business, you become more focus, more understanding of your client, understanding of the needs in the market, who your competitors are and how your can generate more profit. Generating more income doesn't always add to the profit. Take the risk, it is so rewarding to grow and expand beyond you wildest dreams.
Thanks to Diane Boorman, Brand Analytics!
---
#6- When you lose focus on sales and marketing
I started Motioncue about 5 years ago. As a business owner, you're always getting pulled from different directions. To me, a clear indicator that our business needs to scale has been periods when I lost focus on our sales and marketing efforts. I've realized that when you're too busy with running operations of the business, that's the right time to expand. Taking on new business opportunities when you're having trouble managing what's on your plate seems to scare most business owners. In my experience, that has precisely been the right time to go BIG.
Thanks to Osama Khabab, Motioncue Digital Media Agency!
---
#7- When you surpass your goals
Any successful business needs to have clear goals. Sales per quarter, amount of new customers, profit made, etc. Once you begin to surpass all your goals before their deadlines, then it means you have grown bigger than your goals, and it's time to step up. For example, if you project a 10% increase in sales every quarter and you end up increasing by 30%, then it's time to expand the business and set bigger goals.
Thanks to Joe Flanagan, Tacuna Systems!
---
#8- When income is more than expenses
I leveled up my business when it was in a stable state, incoming was more than outgoing cash, and I had developed a successful system to handle all departments. But why? The reason is I had a solid foundation to build up an empire. I had already mastered the basics of business; now, the sky was the limit. It was the right time to generate better leads, increasing revenue, expanding my team, and set up a more professional business front. I am recommending the same process to all the businessmen out there because it is based on my personal experience.
Thanks to CJ Xia, Boster Biological Technology!
---
#9- Gauging reactions to a product or service price hike
When it comes to upleveling, I think that a great way to tell is seeing the gauging reactions to a product or service price hike. For example, if your service has stayed within a certain price range for a period of time, but you want to test out consumer desire, then you can begin incrementally increasing prices on a test basis. If you find that there is no substantial drop in sales volume or negative feedback, then it may be time to level up your capabilities because the market may be ready for it.
Thanks to Shaan Patel, Prep Expert!
---
#10- Two options
Every successful company reaches a point when it has to grow beyond day-to-day business management tasks. Yes, finding the right time to pull the trigger can be difficult, but if you look at it from a larger perspective, there are always two options. First, understanding that the current resources are not enough. In this case, unleveling the business is the logical solution. The second option is based on the completely opposite approach — the abundance of resources often leads to their incompetent allocation, so once you find your business in a situation when it's growing without any sufficient plan, then it is time.
Thanks to Alena Piksaeva, Enkla Media!
---
#11- When you see technology changing your customers' behavior
This is the most powerful signal that you need to uplevel your brand, your core processes, and your approach to the marketplace. As the owner of Protis Global, a member of the franchised, executive search organization MRINetwork, I saw firsthand the dramatic shift in the use of one of our industry's most fundamental tools, the telephone. From the 1990s – 2000s, I've gradually seen candidates and clients became less responsive to phone and voice-mail, favoring other technology channels such as social media and texting. Then I saw our industry become 70% inbound-driven, up from 70% outbound, just four years ago. I realized we needed to shift our model from an analog-based transactional business, and start thinking like a media firm that happens to do search, and builds companies and careers. We also needed to develop a brand and a reputation online that creates a signal above the white noise that drives followers to engage us. My business started using a variety of digital marketing channels including blogs, videos, texting, podcasts and PR to differentiate the company, establish brand reputation and communicate career-enhancing opportunities we can provide to top talent. We essentially changed the way we marketed from a one-to-one outbound to a one-to-many inbound formula, targeted to both candidates and clients. This successful transformation allowed me to purchase MRINetwork, an iconic brand and network of hundreds of recruitment offices that is leading the industry transformation.
Thanks to Bert Miller, MRINetwork!
---
#12- Finances and employee growth
For my company it is a combination of finances and employee growth, it is a very stair stepper approach. We project short and long-term employee and financial growth and track those numbers. Employee growth is the final determining factor. If newer employees aren't up to speed and have not fully adopted the culture and systems we will hold off growth in hiring, selling, marketing and warehouse space until we know newer employees are ready to step up and train a new round of employees. The entire company levels up at that point.
Thanks to Ben Green, Purple Ribbon Seeds!
---
#13- When you're needing more manpower
One of the clearest signs that it's time for you to take your business to the next level is when you're needing more manpower to mobilize the services you offer and when you realize that your business has grown to a size that can actually afford to hire more people. A business that's doing well has an increasing number of customers to service, wider territories to cover, and generates more revenue. This growth requires hiring more people to make sure that each of these areas are covered. Keep in mind that not doing so can overwork your current staff and compromise the quality of your business. So, when you encounter this sign, act on it immediately.
Thanks to Dane Kolbaba, Watchdog Pest Control!
---
#14- As soon as I get the revenue to afford to pay someone
Everything is leveraged against growth and taken as an investment in providing higher quality, faster, and allowing us to serve more customers in this way. If we can do that, then it's time to level up. For me, building online businesses from the ground up from home while doing all the work initially, leveling up comes as soon as I get the revenue to afford to pay someone. It can be from $0 to $1000 a month; I would go ahead and start hiring and outsourcing the menial tasks. Even if it brings me down to $0 in profit because this way I can focus on higher-level work and grow faster. In the next stage, I could be at $5,000 and then hire more and go back to zero then be at $20,000 a month and do it again. I would keep doing this until I have outsourced all menial tasks and I'm focusing on the most important tasks and the ones I know I'm the best at. That's when the hiring would stop and only resume when we have outgrown our current capacity to provide high-level quality to our customers. Outside of that I don't hire but will get new software and equipment if they make us more efficient and effective at serving the customers.
Thanks to Anthony Money, Qualified Online Traffic!
---
#15- Repeatedly turning away good-fit customers
At Talkroute, my key metric for determining when it's time to level up our business is if we are repeatedly turning away good-fit customers over missing features or services. To be clear, saying "no" to bad-fit customers is a skill that every good business owner should strive to master. If you are constantly turning away customers that are a poor fit for your product or service, this is not an indicator that you should scale up your efforts. In fact, it may mean you have yet to find product/market fit. However, if you constantly turning away customers that are a good-fit for your product or service due to missing features, lack of inventory or the inability to provide the professional supporting services, it is likely time to ramp things up.
Thanks to Paul Howey, Talkroute!
---
#16- When I least expected it
I find that graduating to the next level of excellence takes time and then one little spark can ignite a huge moment of progress. In the past, I knew that certain business decisions would move our company forward but there have been surprisingly wonderful moments of growth when I least expected it. No matter how much planning you do, new business owners can often experience change and growth at the most unexpected times. In times
of positive change and growth, I want my employees to feel empowered to make their life, other's lives, and the world a better place. You never know when the right idea or opportunity will present itself, so take your time reaching new levels of excellence and grow at a pace that makes sense for your business and employees.
Thanks to William Griggs, VirtualRealityRental.co!
---
#17- Current processes no longer working
When current processes are no longer working, you know it's time to scale up and think bigger. New systems, processes and ways of running the business have to be adapted as you grow and scale. The processes that worked when you had a team of 10 will break down when you have 100 people, so you have to grow your systems in line as you scale.
Thanks to Sukhi Jutla, MarketOrders!
---
#18- When you feel complacent
Every day for an entrepreneur can feel like groundhog day. When that happens to you, you start to feel complacent in your business on every level. You lack focus and drive. That is when you know it is time to uplevel your business. Complacency is not a place you want to be. It would help if you then challenged yourself, ruffle your own feathers, so to speak. Get your head in the game of your business and start thinking outside of the box. Bring in new ideas and inspiration and kick the complacency to the curb!
Thanks to Lisamarie Monaco, InsuranceForBurial.com!
---
#19- Different things align
Growing a business can be risky. Hiring a lot of new people (or just a few new managers) can change the company culture permanently. Expansion often means spending money you don't have, in hopes that the business will grow to fill your increased capacity. Identifying the right time to level up is kind of like identifying the right moment to take the lead in a race. A few different things align to provide you with a moment when the opportunity seems right. How will you know? 1) Difficult things will become easier. When you aren't struggling through the same old problems, it's time to grow. 2) The risk of failure is lowered. You may find the right lender with 2 years of low interest to fund your plans. 3) You are personally ready. Instead of feeling like a battle for success, growth seems inevitable.
Thanks to Dr. Nicole Gravagna, NeuroEQ!
---
#20- Lack of requests' response time
Thanks to client referrals, my business suddenly went from a small business that I was operating myself to a nationally recognized travel agency where I was struggling to manage all of the requests. I knew it was time to take my business to the next level when my response time on requests was lacking. In a sales-driven industry, I knew if I wanted to take on more destination weddings, and continue to grow my client base, I needed to expand. People who are looking to book travel want to feel that they have an advisor who responds quickly and will be there for them. If they don't get prompt responses, they are very likely to turn to the internet or look elsewhere. When I couldn't maintain the response times that I felt were acceptable, I began looking for help. Within a few months, I hired additional travel advisors, a marketing manager, and a client liaison to assist with administrative tasks. This team has helped take my business to a new level and now I can focus on what I truly enjoying doing – helping couples find the location for their dream wedding or helping a client plan a vacation that they'll be talking about for years.
Thanks to Andrea Norfolk, Shoreline Destinations!
---
#21- You've found Go-To-Market fit
The right time to level up your business if it's an enterprise, startup is when you've found Go-To-Market fit (GTM fit). I use the analogy of surfing: First, you need to 'catch a wave'. You need to identify an urgent pain of your potential customers, to which your product offers the solution. Second, you need to find the right surfboard. That is, a clear repeatable sales model. You should be able to produce a one-page playbook which outlines how to do a sale. For example, are your leads product led or marketing-led? Finally, you need to 'ride the wave'. This is used to convert all your leads to sales. For that, you need to identify the additional 'wow' factor of your product and demonstrate how it can fix their urgent pain. Achieving GTM Fit means the end of Survival mode. The company then transitions to Thrival.
Thanks to Tae Hea Nahm, Storm Ventures!
---
#22- When their's more and that something is missing
Building a business is just like building a personal relationship with someone. When you're fully engaged you spend an unorthodox about of time thinking about him/her and working on building the relationship, so you know when you're at a point where it's time to take it to the next level. The same happens in business; you've literally done all that you know to do consistently to get you to your current level of results, however, you know that their's more and that something is missing. You can feel it, at this point you begin to search for what's missing by watching all the gurus in your industry, looking for classes to take while searching for new innovative ideas and topics in your field. When you get here; it's time to level up; leveling up can be placing a higher investment on your education, changing the way you consistently show up in your market or hiring that new team member whose skill set will cut your productivity in half.  When the feeling that it's time to level up hits you, you won't rest until you do it. Operating a business is about taking the necessary risks at the appropriate time, just do it and enjoy the journey.
Thanks to Keandra Ward, Keystonebusinessinstitute.com!
---
 How do you know when is the right time to level up your business?Tell us in the comments below. Don't forget to join our #IamCEO Community.