We live in the age of social media everything. New platforms appear overnight and take the world by storm. Business owners, no matter their field, are kept on their toes when it comes to keeping up with modern consumers. Snapchat, Twitter, Facebook, YouTube, and a host of other apps are where businesses need to be if they are trying to compete with a tech-savvy consumer base. We asked entrepreneurs and business owners about how they use social media for business and their replies are listed below. These tips might even help you find the right footing on social media for your business.
#1- Join Groups and Participate
We get the most out of Facebook by doing private groups related to our industry. There's always people asking questions and sharing knowledge. Everyone has something they can contribute. We share a lot and learn a lot by participating every week. We've even gotten some leads/clients from doing so.
Thanks to Shane Griffiths, Clarity Online!
---
#2- Get my specific audience
For my new SEO Software business, SEO Turbo Booster, I write articles on a variety of related subjects and only use what I call B2B social media, which really only applies to my business which is small business. The social media I primarily use to get my specific audience include LinkedIn, Medium, Twitter, Meetup and Eventbrite.
Thanks to Dan Gudema, SEO Turbo Booster!
---
#3- Start specific campaigns
The first thing we did was we put all of our blog posts on social media (twitter, Linkedin & facebook). We are an IT & software staffing firm, so we next put our jobs postings on the same accounts. We then started some specific campaigns intended for Social Media only. We had one campaign titled What do you want to do? It was an image stating a fact about the IT marketplace. Example: In 2025 There will be 80 Billion IoT Devices. They all need security. Wanna Help? It would have other text and links to our site, articles or our salary survey. We come up with new campaigns all the time and switch them out.
Thanks to David Moise, Decide Consulting!
---
#4- Build brands
We use social media to not only build our own brand but those of our clients through our own channels. Our channels tend to have a lot more followers and connections than those of our clients. For example, many of our clients are not skilled at social media and we help them strategically post their news, events and brand building activities through our vehicles. We look for items that are either newsworthy or attention-grabbing with the targeted audience. Some of these placements may be simply comments, photos, links to articles or a full-blown two-minute video. They may appear on LinkedIn, Facebook, Twitter, Instagram, YouTube and/or other channels. Often we find these placements can escalate their brand by hundreds if not thousands of views. Leveraging our clients' activity in this way has generated outstanding results. Most of which they could not achieve on their own.
Thanks to Steve Turner, Solomon Turner PR!
---
#5- To validate ideas
Before we release anything new, we'll always put it to social media to see what the response is like. Typically we find that we receive more honest feedback from social media, as opposed to asking friends or family for their input. This is especially true of social media platforms like Reddit, where all profiles are anonymous so people can be extra brutal in their honesty!
Thanks to Sam Williamson, CBDiablo UK!
---
#6- Provide items of value
Our office uses social media to provide items value to the community and to our followers, to demonstrate our corporate culture, cement our company branding, to drive traffic to our website, to generate buyer/seller and property management leads, and to improve name recognition among other things. Together with our in-house social media specialist, we have a marketing calendar and strategy that provides a comprehensive look at our company across the internet. What I really love about the Internet and social media is that if used correctly, it is the greatest equalizer. The smallest of companies have the power to reach very wide audiences.
Thanks to Melissa Zavala, Broadpoint Properties!
---
#7- Networking tool
From the curated content that I post to my feed down to the comments I leave on others profiles, I use each opportunity for interaction as a possible lead. Although this doesn't always generate a monetized client, it does build a support system and network of references that always have me in mind. To me, that is equally as valuable as the paying clients. This includes sharing other businesses/clients wins/successes, interacting in a discussion or poll, or simply sharing my feedback on someone's concept.
Thanks to Kendall Watson, Manager Kendall!
---
#8- Two ways
Social media has played an integral part in the growth of my business, thanks to the fact that the majority of my audience is millennials whose phones are always in hand. I use social media (primarily Instagram and Facebook) to promote and sell tickets to our events and lead users back to our blog through eye-catching photos and value-filled captions. I place an emphasis on creating shareable content because people sharing your content spreads the name of your business like wildfire and has contributed a lot to our growth on Instagram which leads to more eyes on our page, and in turn leads to conversions.
Thanks to Brittany Diego, Fashion Mentor!
---
#9- Connect with my audience
Trying to figure out social media can be daunting. So many platforms so little time but the most important thing to remember is that you must be where your audience is and that can take time to figure out. I've dabbled in Twitter, Instagram, LinkedIn, Facebook and Pinterest only to realize my audience are Pinterest and Facebook people. I share 4 blogs a day on my Facebook page that has over 630K fans and pin about 30 pins a day (including blog pins and quote pins) on Pinterest where I have over 100K followers. You must spend the time finding your readers/customers and then create a plan to stay consistent and engaged.
Thanks to Iva Ursano,  Amazing Me Movement!
---
#10- A variety of different purposes
We run marketing campaigns like promotions and contests to generate buzz, but also use different social media outlets to promote the image of our brand. When customers enjoy consuming the content that your brand creates, they are more likely to consume the products you sell. We have a company culture that we like to show the world, and use social media to show the public what our company is like behind closed doors. Putting this image out there really resonates with people, and they start to think of your company more as a person rather than an entity.
Thanks to Michael Nemeroff, RushOrderTees!
---
#11- Give my clients an even better experience!
As an SEO consultant, I help mental health professionals get their websites to the top of Google either through SEO training or when they outsource their SEO work to my team. Clients pay for a specific package, and then most of our packages also include access to our private Facebook group. This Facebook group allows us to go above and beyond so they truly get the most out of their experience with our business! We're able upload files they might find helpful, share articles relevant to mental health and/or SEO, answer questions quickly and I get on live about once a week to answer questions they have related to websites and also just around being a business owner as a mental health professional. Furthermore, our clients have the chance to interact with one another and meet other like minded business owners!
Thanks to Jessica Tappana, Simplified SEO Consulting!
---
#12- Build trust
People want to do business with people not impersonal businesses.Social media allows me the opportunity to connect with my customers in a personal way, to show them that I'm just a normal guy with a family. This builds trust with my audience because they can identify with that side of me and makes them more likely to engage further.
Thanks to Ryan Reger, Streams of Income!
---
#13- Grow my business
I leverage YouTube to grow my business. Basically, I provide informational and training videos on topics related to my business and skills and monetize the viewership. It works like this: The focus of my video blog is helping senior citizens to become more familiar with technology to improve and better their lives. I create enough content that is relevant to any (wider) audience while still specializing in helping seniors. Along with the videos on my channel, I then offer free information via an email sign up. People enter their email address and get the freebie. I am then able to grow my email list and market directly to people interested in my videos and my services.
Thanks to Jim Costa
---
#14- As an integral of our lead generation system
We use a number of free organic methods, that still work a bit, and quite of bit of Social Retargeting. We use a full-time VA to schedule content posts.  For Facebook multiple personal profiles these posts are done manually for the feeds and Stories.  Hootsuite comes in handy for posting to groups and pages, although I am pretty sure using it hurts the organic reach a bit. For Instagram we use a combo of HopperHQ, and Storrito to schedule out posts and stories.  Insta was a pretty solid lead generation tool for us most of last year but they have really limited the organic and growth since June 2019. Instagram and Facebook work really well to help bring some our site visitors back.  With combo of lead ads and click to messenger ads we are mainly targeting mobile feeds to on Instagram and Facebook, to get multiple touchpoints past the initial visit to the main site.
Thanks to Brian Pfeiffer, Marketingmeathead.com!
---
#15- Bring awareness
Social Media is a crucial part of our business, honestly we would be lost without it. Having an ecommerce based CBD business we use social media to bring awareness to the brand and website. To launch the brand we used Instagram influencers to promote products, do giveaways, and push sales. Even now we post pictures daily to show lifestyle shots of the products, this brings the product to life and really lets people connect with the brand. We promote our blogs articles, educational articles, and new products on Instagram, Facebook, and linkedin. We also use LinkedIn as a main platform for finding out and reaching out to key contacts for large corporations we are trying to have carry our products in their facilities. We thrive on social media.
Thanks to Ryan Collett, Jasper Organics!
---
#16- Two ways
As a provider of LinkedIn training and coaching, I use social media to educate the masses about how they can leverage the platform to advance their professional and business brands. I also use the platforms to showcase my expertise. When potential clients see my online presence, they see that I walk the talk.
Thanks to Clarene Mitchell, TCM Communications!
---
#17- Share our company values
Let's face it, there are so many agencies out there, so it's important to set ourselves apart from those just hoping to add a few links and call it a day. The best way to gain your current and potential customers' trust is to let them know exactly who you are as a company, and the ways that you can truly help their business to grow. Your posts can say a lot. Share other company's helpful tips and look for content that can really make a difference. There's always a time to be promotional, but a nice mix will keep your followers coming back to see something that's really beneficial for them.
Thanks to Angela Ash, Flow SEO!
---
#18- Personalise our experience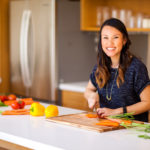 My favorite way we use social media is in our Cook Smarts Kitchen Heroes Facebook group. Members share the meals they make from our meal plans, and I love seeing how the recipes we create come out when made by different home cooks in kitchens around the world! It's a fun way for me to get to know our users better, and it has allowed our members to understand us as humans who care about them (which we do!), versus just a company that wants to make money. It makes it feel less anonymous. Plus, users get to connect with each other, solve cooking problems together, and get new ideas for using particular ingredients or kitchen tools.
Thanks to Jess Dang, Cook Smarts!
---
How do you use social media for your business? Tell us in the comments below. Don't forget to join our #IamCEO Community.