Answers
15 Entrepreneurs Explain How They Take Breaks as CEOs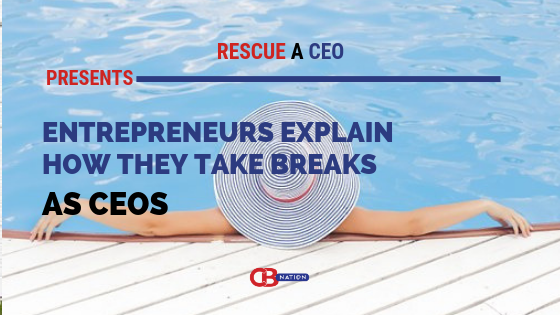 When life and work get's so busy, the usual thing for most business owners is to bury themselves in the work in a hope to get more done. The problem? Your productivity slows down and that calls for a break. It's so important to take a break because it gives you time to come up with fresh ideas and boosts your productivity. How you take the breaks depends on what works best for you.
We asked entrepreneurs and business owners how they take breaks and here are the insightful responses.
#1- Outdoor activities
To take a break from my business, I prefer to relax on my boat at the lake, or work at my farm. I like the outdoors because it clears my head and that is where most of my ideas start.
Thanks to Mark Wyne, EZ-POUR!
---
#2- I go on Vacation
A clear mind and fresh ideas are very important to run the business successfully. With continuous work without a break makes my work more dull and boring. After every project completion, to unplug from the hectic routine, I go on vacation to make my mind fresh. Clarity of mind and good moods are necessary for everyone to focus on his work. Vacations make me more firm and every time I come back with new ideas to bid a new project.. With more energy and inspiration my productivity is increased and so the results.
Thanks to Gintaras Steponkus, Solid Guides!
---
#3- Visits two new countries per year
The differences in cultures fascinate me, and I love to explore them. After 5 months, I take a two-week break to visit a country I did not explore before i.e., two countries per year. During that period, I need not to worry about office tasks because software handles that quite well. Work management software keeps me updated about employees' performance and other important work. It works as a meditation as I get quality time to spend with myself. I come back to work with a fresh mind and high spirits.
Thanks to Mike Bran, ThrillAppeal!
---
#4- Give myself a time-out
My wife and I laugh about this all the time. Whenever I need a break or whenever she thinks I need one, I'll give myself a time-out. I turn off my phone and computer and leave it in my office, go to my room, and just sit facing the wall corner for 30 minutes. During that time, I do something that helps me clear my head and relax. This could be drinking a few glasses of water or lying down on my back. No talking, no thinking about what I have to do. The point is to put a stop to any external stimulation or interactions and give myself some room to clear my head.
Thanks to Greg Dodson, Alabrava.net!
---
#5- Cycling outside of the office
Being a CEO, you become encompassed by your work inside of your office, what I do to take myself out of the company mindset is go outside and cycle. I love being on a bicycle and cycling outside of the office. The simple act of going outside and breathing in fresh air, can help change your perspective and daily demeanor but personally I enjoy taking a break by doing an activity. Taking a break from my day to day duties by being on my bike, gives me a sense of freedom and helps me build my endurance and stamina which comes in handy when I go back to work.
Thanks to Tammo Walter, ATAQ Fuel!
---
#6-Going back to the family
I'm a family man and when I do take breaks from work – from being the boss, I love to spend that time with my family. My wife and my twin girls mean the world to me. Going back to family has always made me reflect why I do my job in the first place – to be a provider, to care for my family.
Thanks to Andrew Cunningham, DailyPest!
---
#7- Several ways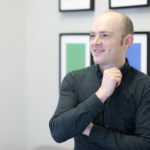 As a business owner, I know how difficult it can be to make yourself take a break, but not doing so can negatively impact both you and your business. It's important to me that I don't take work home with me – my laptop and work phone stay in the office at 5pm. During the day, I make sure that meetings are scheduled for 40 minutes and not 60. This ensures I've got 20 minutes between meetings to refresh my mind.
Thanks to Will Craig, LeaseFetcher!
---
#8- Gardening
In my experience, gardening is not only a great stress reliever but gives me the time and space to generate solutions to challenges we are facing as a company. In fact, I came up with one particular business idea while weeding the lawn – which turned out to be a success! There is nothing better than being out in the fresh air after a 12-hour stint at the office. Give it a try – it works!
Thanks to Ollie Smith, Card Accounts!
---
#9-20-minute walk
I live and work in Wilmette, IL, a suburb of Chicago. It's hard to find time to take a break as a CEO. There is so much that you need to do to push the company forward and not a lot of time to do it. That said, when I need to take a break, I take a 20-minute walk in my neighborhood. I usually take it in the middle of day when I am feeling overwhelmed or struggling to figure out how to prioritize tasks. I find that the movement and the fresh air clears my mind. At the end of the walk I always 1) feel better about the current state of Minute7 and 2) have a clear mind of what to focus on next.
Thanks to Marc Summe, Minute7!
---
#10- Taking mental health days
Allowing myself a mental health day when necessary always works. It's natural for anyone,to burnout when all you do is work, with little time for yourself to mentally and emotionally rest. Between my medical residency and running Prep Expert, I work an incredible amount of hours every week. I will allow at least one to two days a month to take a mental health day, where all I do is relax, focus on the moment, talk with my loved ones and friends, and let the constant mental pressure subside. This recharge may seem small, but it's definitely effective.
Thanks to Shaan Patel, Prep Expert!
---
#11- Going Dark
As an entrepreneur, the best way of taking breaks I have found is to go dark for 7 complete days. This means leaving the country and also leaving behind my laptop and cell phone. I will give my location to my CFO only and strictly inform him I should only be contacted in the case of an extreme emergency. This disconnection gives me true uninterrupted time with my loved ones. It completely clears my mind and allows me to get very creative in my thinking. I do this minimum once per year and it makes a world of difference for my energy and well-being.
Thanks to Shawn Johal, Elevation!
---
#12-A month away from the business
I started a global marketing firm 18 years ago and have taken a month away from the business twice in fact, once for my 40th and once for my 50th. For the first 5 years I was scared to go on vacation for fear that all my hard work would unravel. Then I took the risk and my tip is to plan well in advance, and deputize your team to problem solve in your absence. You can test drive with shorter trips beforehand. They may not make the same decisions you would have but everyone including your clients will see life goes on and you can course correct when you return. My husband planned great trips for my birthdays with my closest friends and I did not want to be distracted or take time away from spending time with people I love. People gave me their time for my gift so I did not want to waste one minute trying to stay connected to work. I highly recommend it. I justified it by saying if they could not survive without me then what kind of business had I really built? The business did not just survive in my absence it thrived so I should not wait for my 60th to do it again! It empowered the team to step up, client service was excellent, we closed new business and everyone was happy to see me when I returned. The team and clients appreciated the role I play better when I was not there and it is nice to feel valued and appreciated!
Thanks to Paige Arnof-Fenn, Mavens & Moguls!
---
#13- Yoga breaks
When you're working for yourself without a defined 9-5 workday, the boundaries between work and play often get so blurred that you'll find yourself working late at night and throughout the weekends. We often have the mindset that in order to achieve success, we have to be continually working. This is the surest way to lead to burnout though, so I make sure to include breaks throughout my day in order to refocus and refresh my mind. One way I take a break is by carving out at least one hour each day for yoga. Whether at the start or end of the day, it allows me to clear my mind and focus intentionally on myself. Another way for me to relax is by going on a walk while listening to an audiobook or even taking a 20 minute nap to reenergize. For breaks while I'm traveling for work, I often try to plan an extra day with no itinerary but to explore my new surroundings, which actually often leads to more inspiration and motivation when I'm back to working.
Thanks to Melissa Teng, Wit and Folly!
---
#14- Reading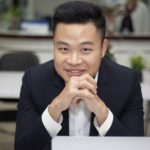 As the founder and CEO of a 2-year-old-media startup, and having remote employees, I always check my notification. I take a break whenever I want, and I do this by reading a good book, reading clears my mind and calms my soul, I take a break while learning something.
Thanks to Kenny Trinh, Netbooknews!
---
#15- Protecting my greatest asset – my time
Goodness! Taking a break is equally important as drinking water or stacking up on my multivitamins – life's imperatives. With my heavy workload managing a team, the strategic direction of a company and client portfolio, I can not allow myself to become consumed so breaks are an ABSOLUTE MUST. It is my daily approach to a healthy lifestyle and sustainable company – work-life integration. It includes the protection of my greatest asset – my time. 1. I limit my email sign in to three times per day (because emails can be a part-time job). 2. I ditch multitasking (the mask of unproductivity) which allows me to produce great work. 3. I commit four straight, undisturbed hours to my hard but important intellectual work. Instead of working 15 mins here, 30 mins there, and another 15 mins on this task (a good waste of 60 minutes), I establish untouchable work hours and avoid peripheral tasks (a do not enter with phone zone). These simple techniques when computed, enables me to work intentionally, yield great results and self-rewardingly allows 2-3 hour stroll in the park, get a good read, catch up on my latest Netflix series and still get eight hours of replenishment.
Thanks to Olympia LaRose, Piahrose!
---
How do you take a break as a CEO? Tell us in the comments below. Don't forget to join our #IamCEO Community.