Advice
Top 5 Email Newsletter Design Ideas to Help Improve Your Engagement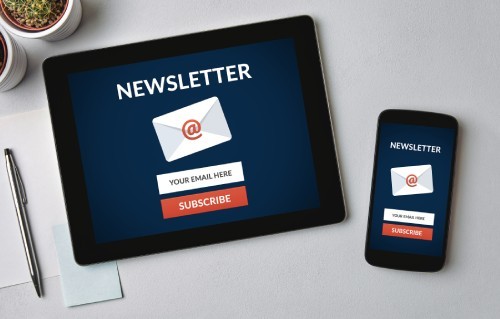 There are over 4.3 billion Internet users across the globe, and nearly 80% of them have social media accounts. That's really huge! But, did you ever realize that nearly every one of them have active email accounts? Yes. Moreover, 293.6 billion emails were received and sent each day in 2019, as per the recent Statista report.
These numbers indicate that emails are here to stay in light of trends. Although the emergence of social media marketing has caused several organizations to invest all their energies into these platforms, email marketing is still a bonus for higher customer engagement. In fact, according to the Content Marketing Institute, around 77% of B2B companies have already integrated email marketing newsletter into their marketing strategy and reaped higher ROI.
But this does not mean you can simply send any newsletter and receive reliable results. Similar to every other marketing strategy, email newsletters have to be designed carefully. Only the best email newsletter configuration will get your recipients to draw in and click.
Here are five such newsletter design tips one needs to follow to make an outwardly captivating message and harvest foreseen results.
1. Use a Clean and Clear Layout
Your customers do not like distractions. It is essential to hold their attention from beginning to end if you want them to take any desired action. The simple tactic to do this is to keep your email newsletter clean and organized. You can begin by drafting a general layout of the newsletter and then adding in the necessary elements as you keep refining it.
Also, note that effectively utilizing white spaces will make your content look neat and scannable. Apple's email newsletters are the best example of this approach. Their minimalistic email design has successfully drawn the attention of customers worldwide.
2. Simplify Your Message and Its Font
This may seem obvious, but your customers won't be too happy if they aren't able to grasp your newsletter content quickly. Especially with the declining attention, it is essential to strategize your content if you want them to click on your CTA. Some of the proven strategies are:
Decide the number of topics you want to introduce: To avoid driving your readers crazy as they read your email, limit your messages to just one topic. If you're going to add any new topic, start writing another email.
Catchy email subject line: Create subject lines that appeal to your readers as soon as they open their inbox. Sharp subject lines are short and expressive.
Keep your message short and sweet: Short blocks of copy will encourage subscribers to go through your entire email. According to Constant Contact, emails with 200 words or 20 lines of text have the best click-through rate (CTR).
Focus on font style and color: Use any simple web-safe font since newsletters display differently on different browsers and web clients. Pick a color that creates a sense of importance.
3. Never Forget to Brand the Emails
Email newsletter forms a crucial part of your brand identity. Therefore, along with the above strategies, keeping up a recognizable newsletter design is exceptionally vital if you want to form a loyal following. Begin by using the same logo, template, color, and the font style across all your emails. Ground your promotional endeavors by using the same header and footer.
The easiest way is to create a template of your own that can be utilized for every other email marketing purpose. That is, on the off chance that you are intending to convey a new message, all you have to do is update the content without stressing over keeping up structure consistency.
This consistency helps your recipient recognize your communication easily, which enhances trust and engagement. It makes it easier for subscribers to find the information they want in your emails quickly.
4. Make Use of Pleasing Images
Images are capable of making your email newsletters more engaging. Using relevant images that are pleasing to the eye can enhance the CTR in a short span. However, you cannot merely use any image of your choice. When considering an image for your email newsletter, it is essential to answer the following questions:
Is the image sufficient enough to grab your attention?
Does it cover the fundamentals of your newsletter content?
Will the image influence subscriber's decision-making process?
Once you know the answers, I bet you won't spend much time choosing the image. And to speak about the number of images, the industry standard is to use 1-3, with most marketers leaning on the lighter end of this scale.
Most importantly, make sure that your images load quickly. The size of your images should be limited to 100-500kb, according to Experian. If the size is between 100 to 200kb, that's even better.
5. Make it Accessible on Every Device
You must make sure that your email looks great on the devices of various screen size. Mainly, with mobile phones accounting for 46% of all email opens, it is vital to go for responsive design templates that are capable of resizing the images and text according to the recipient's screen.
Single column designs with a slightly larger font are a safe way to ensure a proper view of your message on any smartphone. Email from Trunk Club is the most excellent example of this approach. It embraces a single-column configuration to encourage easy scrolling on small screens.
Other tips to optimize your emails for mobile devices include:
Use wide buttons for calls to action instead of links
Use pre-header text with the right spacing on the edge
Keep your text short and concise since the screen size is small
Include a max-width of 480px for your mobile emails
Test your message across multiple devices
In short, keep the user experience in mind while designing your mobile emails.
Conclusion
Customer engagement is crucial for businesses, and it serves as a massive challenge if you are unable to understand the customers and their interests. However, the email marketing approach will come to your rescue if planned and executed well. Notably, the email newsletter design tips mentioned above will help you build a better relationship with your customers and increase your sales rate.
Author Bio
Emily Johnson is a marketing consultant with 10 years of experience in the execution of marketing strategies. Currently, she heads the marketing department at Blue Mail Media, a renowned B2B data solution company based out of Irving, Texas offering database services like direct dials, data appending, data cleansing etc. Connect with her on twitter.