Advice
The Return of the Corporate Event: Your Communication Strategy Will Have to Change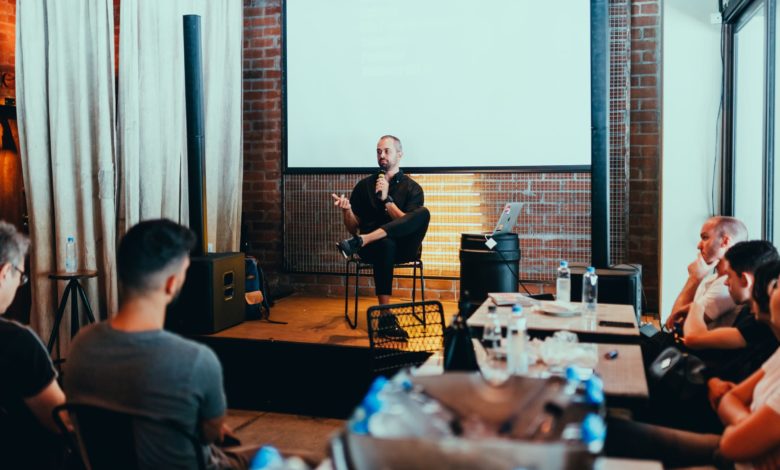 When preparing for a corporate event, the planning phase needs to be comprehensive. Whether the event will be a tour, training or meeting, all contingencies must be evaluated, including worst-case scenarios. All the details must be accounted for and reviewed but should provide enough flexibility built in for changes due to unforeseen events. If a solid plan is in place even if circumstances change, the key message will stay intact. As corporate events return to the calendar, social distancing will still be a requirement for safety reasons. In order for attendees to be able to hear presenters and other guests, an audio communication system will dramatically improve the experience for everyone involved. At Plant-Tours.com we have been working with corporate partners for many years providing consulting services to a wide cross-section of the Fortune 500 in order to improve group communications dynamics. Below we will review important factors to consider when preparing for a corporate event with a focus on improving communication.
Purpose
First you must determine the objective of the event. Questions to ask are: What is the purpose of holding the event? What is the end result we are looking for after the event? Who should we invite? When should the event take place? These questions will help craft the message that will resonate with the audience. Make sure the core message is something that the audience cares about, that you are able to convey your key points to the audience and ensure that a meaningful call to action is clearly stated. Once these questions are answered you can start the planning process.
Planning
Now that the purpose of the event is set, planning becomes much easier. Where will the event take place? Knowing the purpose will help answer questions such as: Will this event be better suited at a manufacturing facility, corporate office, or off-site venue? Will PPE be required for attendees? Will the message be better communicated by a one-way tour/presentation or by fully interactive two-way collaboration? Who will be the best person to lead the event? Having the answers to these questions in addition to the purpose will lead you towards making specific preparations for the event.
When the venue is selected, speakers are identified and a message is in place. The supporting details need to be planned out. A PR strategy is developed to make the target audience aware of the event and invitations will be sent. Logistics including travel and accommodation should also be secured if necessary. The grounds and meeting areas need to be prepared and cleaned, signage and presentations developed, audio/visual equipment rented or purchased, catering secured and ID tags ordered. As long as covid and social distancing measures remain in place, sanitation centers and masks must be available. Tour guide systems featuring headsets for guests can help with social distancing measures and in environments with background noise to help provide clear audio for all.
Event Communication Equipment
To help with audio communication, especially as corporate events are beginning to take place again, tour guide headsets can be used for tours, training and meetings and will enable participants to hear your message loud and clear. The systems are flexible and can be used in many different applications so no matter what level of distance or background noise, users will be able to carry on normal conversations. A tour guide system includes headsets with a built in microphone or handheld microphone, receiver and a transmitter (or a transceiver). The storage cases also double as a charger so you will be sure to have enough battery life to last the duration of the event. Before the event it would be wise to receive a demo kit and test all the different headset combinations to make sure the right products are chosen for your venue and audience. This includes one and two-way systems of different functionality and sizes. Only the very best tour guide system companies offer full-service rental programs where company representatives will be sent to your event and handle all set up, distribution and return procedures for the headset systems as well as to make sure the audio communication for the event runs smoothly.
Day of the Event
After putting in the time to make all the plans, including the most specific details, you will feel confident which will make the day of the event easier and less stressful. All contingencies have been thought through and the content and messaging is targeted and personalized to the attendee. Make sure to greet guests so they feel comfortable and welcome. Relax and have fun! This is the culmination of all the hard work leading up to the event.
Post-Event Follow-Up
Once the event is over, the work is not completed. Follow-up with attendees is a personal touch that will not be forgotten and is just as important as a first impression. A handwritten thank you note or a follow up email regarding a specific interaction with an attendee can go a long way to creating a meaningful relationship. Also make feedback easy for your attendees by sending a survey link after the event or interviewing guests in person at the end of the day. Social media posts can also be promoted and shared which will help get the message out to a wider audience.
By taking the time to think through the purpose, audience and planning stages of a corporate event, the execution will be the easiest stage. Preparing for details such as having the right audio system in place will allow for crystal clear communication so your attendees will not miss a thing. This takes on added significance during times when social distancing is of utmost importance. Following up with guests to thank them and get feedback will allow for improved experiences for all at future events.
Author: Rick Farrell, President, Plant-Tours.com
Rick is North America's foremost expert in improving manufacturing group communication, education, training and group hospitality processes. He has over 40 years of group hospitality experience, most recently serving as President of Plant-Tours.com for the last 18 years.  He has provided consulting services with the majority of Fortune 500 industrial corporations improving group communication dynamics of all types in manufacturing environments.
Plant-Tours.com manufactures the most reliable, easy to use, highest quality headset communication systems for the manufacturing, industrial and institution markets.