Among the many workplace shifts brought about by the pandemic, diversity and inclusion efforts have been dramatically affected. Many women were forced to quit finding themselves in caregiver roles, both for their children and older relatives. Additionally, jobs held by members of marginalized groups are being eliminated disproportionately.
This is especially concerning when you consider the vast benefits of diversity and inclusion in the workplace. In fact, research has shown that more diverse companies are more profitable, have a better reputation, and are more productive on a team level.
If your company is serious about competing for talent and customers, then ensuring you have a diverse and inclusive workplace should be a top priority. The first step comes through adequate measuring.
How to Measure Your Diversity Recruiting Program
While it's easy to think of diversity recruiting in terms of quotas, if you truly want to transform your workplace, there should be more in-depth measurements to truly measure the success of your initiatives.
Track Demographic Data Across the Hiring Timeline
For starters, you'll want to pay close attention to your acquisition metrics. While many recruiters only track time-to-hire, this metric lacks the nuance needed to create a competitive hiring funnel. In addition to recording data at each step of the hiring timeline––from sourcing  to sign-on––you'll also want to pay attention to demographics.
By auditing the data at every stage of your hiring funnel, you might discover that certain steps in the recruiting process result in a disproportionate loss of candidates from certain groups. Knowing this will allow you to address these issues accordingly.
Ask for Candidate Feedback
Another key piece of diversity recruitment will be how you solicit feedback from candidates. Naturally, the way your recruiting process impacts candidates is vital to your success, but you'll want to also pay attention to any disparities in experience among different demographics.
Never forget that interview culture impacts the perception of your company. If your company becomes known for recruiting practices that disenfranchise certain groups, then this can harm the greater affinity for your company, in addition to impeding inclusion efforts.
Consider Sourcing Metrics
In accordance with efforts to broaden your sourcing outlets to previously untapped events and web portals, you'll want to pay careful attention to which ones bring about successful candidates.
By tracking numbers of contacts, applications, and people who successfully onboard, you'll be able to figure out which places offer you the best ROI, specifically when measuring diversity.
How to Improve Your Diversity Recruiting Program
Like any aspect of your business, diversity recruiting initiatives can always be refined. To begin to improve your diversity recruiting program, you'll have to identify and address any existing challenges and biases in your current process.
Some ideas to consider:
Create clear hiring practices: Unfortunately, some individuals struggle to tolerate people of different backgrounds. To address this, you'll want to implement clear and easy to follow anti-discrimination practices for every stage of the hiring funnel that result in positive candidate experiences.
Communicate your commitment to diversity: Great employer branding is key to a successful diversity recruiting program. Many companies omit or under communicate their commitment to diversity on public facing materials such as the company website. Be sure to audit all materials a candidate will see and look for ways to describe the exact efforts your company has undertaken to support diversity, equity, and inclusion.
Train on cultural norms: Different cultures have different forms of etiquette and values in the workplace. To overcome any issues arising from cultural misunderstandings, consider training your team on the differences that exist among these cultures. This doesn't mean put in a mundane video. You could get creative here and allow employees to explain their own cultures. This can be a great exercise to not only learn about different cultures but also unite the team.
Utilize software: To create, measure and improve DEI initiatives, you should consider using software. DEI-specific Technology can allow you to gather and analyze demographic data of candidates through every stage of the recruitment process.
How to Scale Your Diversity Recruiting Program
In order to scale your DEI initiatives, that is, increase their success and influence throughout your company, you'll need to plan carefully–first understanding the current state of your demographic metrics and figuring out how to assess them accurately going forward.
Many companies opt for a dedicated diversity, equity, and inclusion (DEI) leader. These directors and coordinators will oversee the development and implementation of programs and services that promote diversity, both during the hiring process and in the day-to-day life of team members.
Because Talent Acquisition, HR and DEI leaders are increasingly asking for insights into the diversity of their workforce, a strategy that is particularly useful for mid-market and enterprise businesses is to introduce automated analysis of your people data for instant insights. To do this, you'll want to seek out the expertise of Included.
Author bio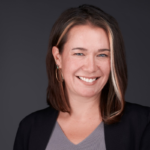 Laura Close, Co-Founder of Included, a high-growth SaaS startup pioneering the DEI tech market. She is passionate about helping companies meet and exceed their diversity hiring, retention, and leadership goals.
Included gives companies the information they need to create an equitable and inclusive hiring process. Included  uses AI to analyze the hiring funnel  and instantly delivers dashboard, reporting, and trend analysis to help leaders to take action and define the steps that can create improvement.