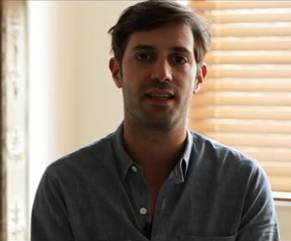 There are times when a job becomes less and less a passion. The enjoyment fades and the work you do simply becomes a job and nothing more. Of course, when given the option of quitting or continuing on with a job in this unstable economy, most would stick with the job rather than find themselves out grasping at straws. But upon finding yourself laid off from the job you were unhappy with, there comes to be a fork in the path. You either return to the job field in hopes of finding a company more suited to your needs or you simply go down the pathway where you can't see around the bend. As Robert Frost wrote in his poem The Road Not Taken "I took the one less traveled by, And that has made all the difference." For Luigi Bianco, founder and president of Votary, taking the different road proved the best option.
When Bianco was laid off from his work as a lawyer three years ago he first began to apply for similar jobs and numerous other positions. Even while working as a lawyer Bianco was unhappy with his job. Hanging up his lawyer hat for the time being he decided he wanted to explore another side of himself. While in a fabric shop he noticed there was no one unique scarf line with creative designs that were prominent with the American consumer. With this thought, Votary was born. Votary is a successful knitwear label with all items being designed and made in America.
Being an entrepreneur has a strong creative meaning for Luigi. To him the title means being a leader and having the ability to oversee many different tasks. Having the ability to think up creative ideas and execute them flawlessly. Just like the entrepreneur he most admires, Steve Jobs, making something unique is his priority. Bianco's inspiration comes from everyday life. In this job he allows his creative juices to flow, new designs for Votary come from his daily working and being with his team.
To future entrepreneurs he advises to not spend all your money in the beginning. There will be things in the future you need and saving money for those will be the right choice. Another tip is a bit more personal, but never giving up no matter what people say to about you. And while the pathway ahead might now be one you can fully see or anticipate the curves, making the choice to go down the road not taken is half the battle. Like Bianco's favorite quote from the movie The Best Exotic Marigold Hotel, "Things always work out in the end. If they don't it's not the end."