Social Media
24 Entrepreneurs Share Top Social Media Platforms They Will Use in 2018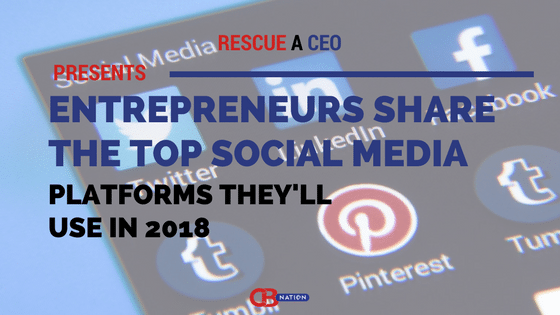 Business owners should know that social media is extremely important. Whether it is Facebook, Twitter, text messages or direct mail, entrepreneurs and business owners should know it's not just about building it and hoping they come, it's about building it and telling everyone that you can that it's there. Some of these platforms are gaining popularity each due to its uniqueness.
We asked entrepreneurs and business owners what they believe will be the top social media platforms in 2018.
#1- Telegram
As our agency started serving more and more clients in the blockchain field and those preparing for an ICO, we see the importance of the Telegram platform to these communities. My vote goes to Telegram for its groups, Slack groups as well as Whatsapp.
Thanks to Yael Tamar, Digimark Digital Marketing Agency!
---
#2- YouTube
The typical user spends 88 percent more time on a site using video, and 1/3 of online activity is devoted to viewing movie. Every day more than 5 billion videos are watched. Additionally, YouTube became the 2nd largest search engine. Reason: Users/ readers have consumed enough of the written form of content, and it's time they are offered with a video content. Attention span is decreasing day by day, and Video is BIG chance for Individuals and Businesses to maintain & attract new users for your business. Few Obvious Benefits of Video: Easy to Explain Ideas, better engagement and offers more clarity to end users.
Thanks to Boni Satani, Zestard!
---
#3- Instagram
Instagram will be where we pour the lion's share of our creative abilities. Other platforms are still great places for sharing links and connecting with clients and collaborators, but Instagram – both its feed and story feature – still allows us to show off our own culture better than anywhere else. It's the constraints of the platform that work well for us. The visual is the primary with hashtags, location tagging, and copy being the secondary elements of importance. This lets us focus on creating an image that is emotionally evocative and consistent with our brand style and post history.
Thanks to Kristine Neil, Markon Brands!
---
#4- Facebook
My social media platform of choice for 2018 will continue to be Facebook. It's the largest social media platform out there, with the widest demographic range, and the most powerful advertising and analytical tools. Whilst other social media platforms flit in and out of favor and constantly change their algorithms, facebook remains as the one go-to social media platform the world continues to use.
Thanks to Laurence Norah, Finding the Universe!
---
#5- Instagram
As a business owner of a creative agency, utilizing Instagram will continue to be our top platform for 2018. With over 500m unique, daily users who are looking to connect with visuals, this is the perfect channel for us to showcase our work as an experiential + digital agency. Over 90% of our clients hear about us through our presence on Instagram, which we use as our main mouthpiece and showcase. AGENC creates highly curated, art directed visual and total sensory experiences that inspire guests to share on social media. As we live in both the live and digital worlds simultaneously, telling our brand story and our client's brand stories in both worlds, our presence on Instagram is a very high priority to our CEO and Founder as a means of connecting with our friends, fans, followers and potential clients.
Thanks to Cara Kleinhaut, AGENC!
---
#6- Pinterest
In 2018, Pinterest will be at the forefront of our social media strategy. Pinterest boasts a dynamic user base of 175 million; the visual search engine of social media. Pinterest is the perfect tool to pair with our SEO efforts to share valuable content surrounding seasonal fashion trends, drive website traffic, and expand our brand's reach in a way other social platforms can't.
Thanks to Sas Terani, Terani Couture!
---
#7- Instagram
While Instagram has been an amazing social network for a few years now, 2018 is the year it finally becomes the must-use network for startups and growing businesses. Three new tools tested out at the end of 2017, and being rolled out widely now, mean business accounts can finally get real ROI out of the platform. Business Profiles. Businesses can now verify that they are companies and not individuals, and get appropriate changes to their profile because of it: calls to action, longer bios, and overall a much richer experience. Second one is Insights. This come along with the business profile, but it lets users actually understand who is engaging with their content, and respond appropriately; it's essentially a mini-Google Analytics for your Instagram. Where do your followers live? What is their gender breakdown? Which of your content is performing best? Etc. Now you can craft content, and drive revenue from it, that's specifically tailored to your audience. The last one is polls. This one is particularly big for brands that can work quick and earn from their fans. Poll your audience in real time for their thoughts on how to move your business. Should you release your new product in red or blue? Have a launch party in LA or NY? This builds a relationship with your followers that translates into increased LTV down the road.
Thanks to Jonah Bliss, Schedugram!
---
#8- LinkedIn
LinkedIn is underutilized by other marketers in my industry (who's focus seem to be primarily on Facebook and Instagram) and my target audience has active profiles on LinkedIn so it's an ideal choice for me. Getting customer insight and data is imperative to what I do. When compared to other social media channels, LinkedIn has a large amount of data on users available to the public as every update and post shared by someone gets indexed. It's literally a search engine for insight and statistics and, most importantly, possible leads.
Thanks to Beverley Theresa
---
#9- Facebook
Though I would love to get away from Facebook and use something else, I will admit that I tried to leave Facebook train and failed. As a Portfolio Entrepreneur, the majority of my demographic tends to be on FB. I do use Twitter and LinkedIn but they are both secondary. One of my businesses is as an Affiliate for another company. The majority of my affiliate sales are on Facebook. Facebook groups are an interactive connective community for me and help me generate more reach and engagement which generates more income and a following for me. Until something easier and better comes along that the General Population uses, then Facebook it
is. If you want to be a successful entrepreneur, you need to be on Facebook.
Thanks to Trisha Trixie
---
#10- LinkedIn
As a career agency professional specializing in digital and owning my own measurable marketing agency since 2000, I have a few thoughts on the top social platform of 2018. I believe it will be LinkedIn for a few reasons. For starters, it's the least tapped in terms of leveraging influencers. With over 13,000 connections myself, I've become a bit of an expert on the platform and see this as a big opportunity for 2018 and beyond. Secondly, the platform is ideal for business-to-business marketing. There is no other platform that can target prospective customers based on employer, job title, location and other key factors. Lastly, the platform is ideal for generating awareness and credentials via thought leadership (posting updates and writing articles on LinkedIn Pulse.
Thanks to Kent Lewis, Anvil Media, Inc!
---
#11- Twitter
This year, we're looking to grow our Twitter following because, despite slight dips in overall usage and annual blogs claiming Twitter is dead, it's not going anywhere as a platform. Twitter gives our followers a consistent, one-stop shop for our content of all kinds — from videos to blogs to tutorials. Recent statistics show that users are three times more likely to follow a brand on Twitter than on Facebook. Twitter offers one of the best ways to immediately engage with our followers and develop a deeper brand loyalty.
Thanks to Shawn Moore, Solodev!
---
#12- Facebook
Facebook jumped by 60 million monthly active users from 1.94 billion in march 2017 to 2.01 billion as of June 30, 2017. The key word here is active. The rate of growth seems to continue at 20 million active users per month. So, by the end of 2018 we should see 2.1 billion active Facebook users. So, guess where Blu Skin Care will be spending its time and advertising dollars?
Thanks to Zondra Wilson, Blu Skin Care!
---
#13- Instagram
The top social media platform that our law firm will use in 2018 is Instagram. They say a picture is worth a thousand words, and that's definitely true when it comes to marketing. Instagram is a gold mine because a lot of people do not realize the potential to market your business on there. They think it's just a website for teenagers to post their pictures. Not true.
Thanks to Jesse Harrison, Employee Justice Legal Team!
---
 #14-Facebook Groups
Why? Facebook groups receive more engagement than a business's Facebook page. Plus 2 billion users search Facebooks groups every day. People join groups to be around others like themselves who are interested in talking about specific topics. In 2018, creating a Facebook group will be one of the most effective ways of establishing expertise and a database of leads and potential sales.
Thanks to Dustin Vioen, Joiiin app!
---
#15- Pinterest
I am an online business owner and I am utilizing Pinterest most this upcoming having previously used Facebook, Twitter and Instagram. Pinterest is such a great platform. I want to build my brand and sell my product. I plan on naming my boards to specifically narrow down the types of customers I am seeking such as Mermaid Bath Bombs. I sell specialty skin care and soaps so this would help my products get in the hands of people who are not in my Facebook circle. Pinterest will help me build a larger customer base and is not limited to friends or shares and I will not go to Facebook Jail for posting too often. Using Pinterest will help me move more products and keep me earning excellent income with this business.
Thanks to Dana Rankin,  Dana's Jewelry & Gifts!
---
#16- Instagram
I own a digital marketing firm in the suburbs of Chicago and there is no doubt that Instagram has become my favorite place to post, engage and tell stories. The audience there is just more enjoyable, less politics and non-sense, engagement is about 100% higher than other platforms and we've been able to build up a nice size audience. That said, I don't think we can write off Facebook for a completely different set of reasons. While Facebook reach and engagement for businesses has nearly come to a halt, they have features that allow you to build relationships with your followers that can't be beat. Private groups and event creation are two of the primary uses of Facebook for business right now.
Thanks to Bobbi Baehne, Think Big Go Local, Inc!
---
#17-Pinterest
My top social media platform in 2018 would be Pinterest because of its alt tags. ALT Tags are very important for websites because they serve as the alternative description of the image. They were originally used so that blind people can identify images using web readers. In just a quick description of the image, it can say a lot about the image, your whole blog post, and your expertise, that can eventually attract relevant site visitors. When you or anyone pins an image from your website, Pinterest looks at the alt tag of your image. So if it doesn't have one or if it has a low standard file name, you just missed a thousand site visitors. You'll never go wrong with a good alt tag description and an eye-catching image.
Thanks to Ben Worthington, IELTSPodcast!
---
#18- Pinterest
Here's how it works: I write relevant blog posts with valuable content, create attractive pins with compelling headlines, and pin them to the relevant boards on my profile as well as larger group boards with tens of thousands of followers. It's the most cost-effective way to reach mass audiences. Not only is Pinterest the largest source of referral traffic to each website, the platform has helped me grow my email lists significantly. For example, on average, I generate between 1,000 -1,200 new email subscribers each month for Femfounder.co from Pinterest alone. Pinterest is the perfect strategy for those that do not have a marketing budget.
Thanks to Kristin Marquet, Femfounder.co!
---
#19- Instagram
We've been very impressed with the results our clients are getting with Instagram. It has a younger, more female user base than Facebook and is not as crowded with advertisements. Moreover, we like the aspirational imagery that the advertisements on Instagram provide. On Instagram, the image is everything.
Thanks to Bob Bentz, Purplegator!
---
#20-Facebook
My top social media platform for 2018 will be that which commands the largest audience. It is Facebook. This is because, Mark Zuckerberg continuously strives to improve the resources that has afforded a new and growing small business like mine the opportunity to have a great level of exposure and presence in the online space. Without Facebook, my business will not be where it is today. Facebook pushes the boundaries of improvement which no other platform can claim to have.
Thanks to Deborah Lawal, Sawyerrs' House!
---
#21-Three platforms
Chatbots. The customer experience is about to be revolutionized for brands, who can now personally engage with users, at scale. At the moment there are over 10,000 bots on Facebook messenger with 300 million users on the platform, so expect big increases in the use of bots in 2018. E-commerce will be a big player on social media platforms throughout 2018, bringing audiences and buying closer together through platforms like Instagram. Social media will become increasingly an immersive experience with users engaging far beyond a like or a retweet. With AI and 360 becoming  prominent, the integration of social feeds and reality is predicted to be the next big thing. This year we've seen social feeds being overlaid onto reality in the shape of AI lenses on the likes of Snapchat & Instagram, so it's exciting to see what 2018 holds.
Thanks to Steve Bartlett, Social Chain!
---
#22- Facebook
For us, 2018 will be the year of Facebook. We use this social media platform for the sponsored posts option, which is great for drawing more traffic to your website. Sponsored posts allow you to target who sees your post; you can tailor it to people with relevant interests, the people who are in your target age range, gender and location to ensure you are paying for your post to reach the right demographic. Primarily, we promote our blog articles, which give guidance and tips to people who are in search of a range of insurance policies. Because our sponsored posts are enticing people to click through to a page that is going to offer something useful, not just to a product page, we see great click-through rates.
Thanks to Steve Pritchard, Cuuver!
---
#23- LinkedIn
Call me old fashioned but I still like the tried and true LinkedIn best. It is the most professional platform, my clients and prospects all use it, it is a great way to stay in touch with your contacts, exhibit thought leadership and do research on people. I like seeing who they are and are not connected to and asking about common interests and people. There is a lot of material in there to work with.
Thanks to Paige Arnof-Fenn, Mavens & Moguls!
---
#24- LinkedIn Community Page
Unlike many other startups and software companies that make Facebook and Twitter their number one priority, our top social media platform for 2018 will most likely be our LinkedIn Community Page. We are in a unique industry in which many of our customers are also project management professionals and seek out tips and training on project management. Leveraging this page by building a community of professionals and students that ask questions, learn from each other, and share ideas has helped us tremendously with building our brand in the project management space.
Thanks to Jason Westland, ProjectManager.com!
---
What is your top social media platform in 2018? Tell us in the comments below. Don't forget to join our #IamCEO Community.