Ideas
8 Entrepreneurs Share Their Thoughts On The Future of Coworking Spaces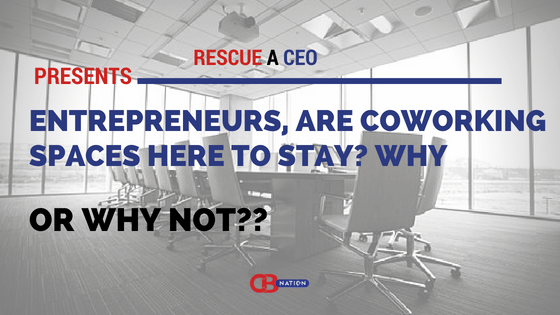 Coworking spaces are gaining popularity over time and may soon overtake the traditional set-up of an office work-space. It is believed that by 2020, co-working spaces will be the norm in various places. This is especially the case for professionals such as independent contractors and freelancers. Despite their ever-growing popularity, those who have previously utilized these spaces have different opinions about them. We asked entrepreneurs and business owners about their thoughts on co-working spaces.
#1- Yes, they provide a sense of community
I think coworking spaces are definitely here to stay. I'm a little biased though because I work from one 45 minutes away from me 3x a week. I chose to work from a coworking space because it can be lonely working from home. Having a sense of community has been wonderful and you also get that comradery of working with fellow freelancers. You can share tips and advice with each other while also having fast internet and a reason to finally change out of your pajamas!
Thanks to Elle McCann, Curious Themes!
---
#2- They'll phase out
Coworking spaces are on their way out unless they can provide more opportunity for connection and innovation.  Sitting in an open office space surrounded by people you don't know, who show no interest in getting to know you is almost worse than hanging out at Starbucks with your laptop.  Coworking spaces need to focus on building the community, not just providing a Keurig and an art gallery on the walls.  Those that provide opportunities for engagement will survive, the others won't.
Thanks to Stephanie Osborn, Bliss More, Stress Less!
---
#3- They continue to play a valuable role
Coworking spaces offer a business hub for communities to cooperated and support local business. These spaces are especially useful for specific types of businesses. Freelance writers, solopreneurs, startup tech companies, and other agencies and consulting groups have long used coworking spaces as their primary or secondary location of business. Coworking spaces will be a critical part of the business ecosystem as they provide networking opportunities, a comfortable place to work, meeting rooms, and other amenities. As the freelance economy continues to develop  (think Uber for marketing, administrative, and other services), coworking spaces will continue to play a valuable role in the economy.
Thanks to Nathan Saunders, Metropolis Marketing!
---
#4- They help you feeling connected
I moved from isolation into salvation. Inhabiting my home basement as my office space felt, well, downright lonely. I had the basement remodeled and completely renovated to emulate that of an office space. We created a mid-sized office room and a larger conference room with a small kitchenette. Nevertheless, the need for human connection was always quite  absent. It was usually my partner and I who used the office, but for the most part, the office basement felt quiet, deserted and desolated. It was also a bit awkward for me to bring clients to a residential home and a residential street. Perhaps the venue of your business makes no difference on the quality of your product or service, or perhaps it does. I finally decided to move into a business development incubator that functions similar to that of a coworking space. You do pay for your personal office suite but most of the common areas in the building (kitchen, conference rooms, lounge area, open space, etc.) are all shared spaces for the business tenants. The state of feeling connected yet isolated in my own office suite gives me a sense of humanity and sanity. Whenever I need a break, I swing by my neighbors office and chat or bump into one of the business folks in the kitchen area. Most of the time, but not all, this would lead to a business idea or a client referral opportunity. Do I find co-working spaces quite cumbersome? Well, like any college dormitory, it isn't fun when you have to wait for the roommates to exit the shared bathroom. In my case, yes, sometimes the conference rooms are all booked (bummer!), but for the most part , coworking spaces build a communal environment — which keeps the sanity level afloat for any entrepreneur.
Thanks to Vicky Llerena, Social Vibes Media!
---
#5- Yes, but have a taste of both worlds
As an owner of two businesses, one of which is a coworking space, I have a unique perspective on what the future of coworking spaces holds. As a business-owner who uses a coworking space for my team, I think it is incredibly valuable, however, I still need and have an actual office in our building. We have stuff and we need a place to put it. We also need privacy at times, and our small office offers that for us. We also enjoy the networking benefits of a larger coworking building. As the owner of a coworking space, I find that we have increased requests for use of our space and specific requests for offices within our building. Like my team, our tenants seek the best of both worlds. There is no doubt in my mind that we will see the growth of coworking spaces with more and more offices included.
Thanks to Melanie Ulle, Women in Kind!
---
#6- They continue to grow
Coworking is not only here to stay, it is going to continue to grow exponentially over the next 10 years. To understand the phenomenon of coworking, you first have to understand a few of the reasons that first made it more than a trend/fad and differentiated it from the old executive suite model. The genesis of coworking is closely tied with the 2008 recession and the original launch of the iphone. These two events gave rise to the gig economy. Creatives were being laid off as companies were trying to right size their expenses. These layoffs and the crumbling job market meant creatives had to embark upon a career as a freelancer. At the same time, wifi infrastructure and mobile technology was drastically improving. Coworking became a turn-key solution for this new gig economy to quickly access high-end, experiential office space. As coworking moved into the next decade, business continued to move at a faster pace and technology  became a disrupter in just about every major business category. Businesses are now growing/shrinking at faster rates than ever before. This is why coworking is now the perfect solution for businesses of all sizes that value fun, fast, and flexible office solutions positioning it well for major growth in the coming years.
Thanks to Nick Clark, Common Desk!
---
#7- Co-working is one of the fastest-growing industries in recent history
I think the future of co-working is that landlords have to subscribe to the fact that they can't do it on their own. It's bigger than just providing space. WeWork, for example, takes and resells space. Why can't landlords do that? Because they don't know anything about experiences. With the rise of WeWork, entrepreneurs and real estate organizations have flocked to build their version of shared workspaces for the new millennium. A concept that was once innovative and brought together the greatest ideas in a room has now become a commodity. Landlords are quickly realizing that it's not just about providing real estate. It's about offering a full-service experience that can help communities thrive. That's why they're partnering with companies like Alley- to provide that unique, next-generation experience that focuses on collaboration, community and cutting-edge technology for entrepreneurs and their teams.
Thanks to Jason Saltzman, Alley!
---
#8- Yes, they're a natural progression to working on your own terms
Co- working spaces are the intersection between the future of business and the basic need for community. One of the first effects of globalization was the decrease in the brick and mortar storefront. From there we saw a rise in work from home options and flex business weeks. Millennials rank flex work and work from home as one of their top priorities when looking for employment. The co-working space is the natural progression of the push to work on our own terms, encouraging globalization, while utilizing local community.
Thanks to Nate Masterson, Maple Holistics!
---
Are coworking spaces here to stay? Why or why not? Tell us your thoughts in the comments below. Don't forget to join our #IamCEO Community