Just like videos, the use of podcasts is turning to be a preferred engagement tool for many entrepreneurs. It can be used to educate your audience on diverse topics and highlight news in the market. Podcasts can also be a great engagement tool with your clients and audience where you give them a platform to share their knowledge, expertise and opinions.
We asked entrepreneurs, podcasters and business owners how they use their podcasts for business.
#1- Share learning experiences
For our Haus of Film Etsy store, my two actor friends and I have extended the shop to a podcast with acting tips, directing advice, and creative ideas. We try to speak to people who are like ourselves with what we are learning along the way. These people are potential customers for our women in film fundraiser on Etsy, but we want them as friends too, and our podcast helps us achieve that.
Thanks to Nicole Russin-McFarland
---
#2- Storytelling tool
Our podcast is a vital tool in telling a story about our organization's impact. We schedule regular interviews with users who have had a positive experience with us, and ask them to share their story. By allowing the actual end users of our programs and services to highlight their benefits, we generate massive social proof that we can leverage to recruit new users. It's a cycle that generates positive ROI with each and
every podcast!
Thanks to Kelly Bertog, Future Founders!
---
#3- Build relationships
I use my Podcast for a number of the normal reasons but I think one of the more unique purposes I use it for is to build relationships with potential referral partners. We provide Hiring Assessments and Recruitment software to the SMB world. I have lot's of business coaches and others in the HR space come on the Podcast. We build a relationship, create great content and it increases the likelihood that these folks refer our Saas product to their clients! We are also obviously helping them promote their services as well so win's all around!
Thanks to Fletcher Wimbush, The Hire Talent!
Podcast: https://www.preemploymentassessments.com/resource-type/podcast/
---
#4- Two ways
As a Certified Health and Well-being Coach, Professional Speaker, and Author, I use my Podcast to first address mental health and wellness head-on. I share first-hand experiences, tools, and practical approaches to winning the battled of mental health as a high content, high impact Trutthformational Speaker. Secondly, it is a highly effective way to demonstrate and promote my Professional Speaking and Coaching business. Providing clients with tangible examples of how I can help them through this medium is the next best thing to sitting down with them face to face.
Thanks to Nate Battle
Podcast: https://anchor.fm/nate-battle
---
#5- Augment my personal brand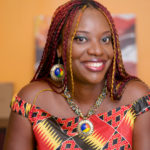 For many years, my main business venture was running an authentic Jamaican clothing brand I created in 2007. After having many successes and perhaps an equal number of failures, I had come to a point in my business where I was searching for the next 'big thing.' I found this path through conversation and now I have no regrets. The Entrepreneurial You podcast has become a major platform to augment my personal brand. It has connected me with some of the most global entrepreneurs and leaders such as Richard Branson, Seth Godin, Patrice Washington and others. Additionally, it has effortlessly opened doors for business opportunities in the areas of international speaking, contributing to major publications, hosting events, among other things. In fact, I have just published a book entitled Podcast Power: The Quick-Start Guide to Launching and Leveling-Up Your Brand highlighting the benefits of having a podcast.
Thanks to Heneka Watkis-Porter, The Entrepreneurial You!
---
#6- Deliver expertise
I think Podcast is the best medium through which I can deliver my expertise to the audience more effectively. I can create awareness of our services in people by discussing my products and their benefits. It is also helpful for my clients to clear their concepts and deal with concerns regarding my business. In fact, it's an amazing way of growing my knowledge, like, and trust factor as I am positioning myself as an expert and providing my best content, which assists building my audience. And bigger the audience, the easier it becomes to grow your mailing list and sales as well.
Thanks to Shiyang Gong, AILaw.Inc!
---
#7- A number of ways
As a trial lawyer, my job is to convince judges and juries of my clients' stories. Podcasting has improved my storytelling tremendously by requiring that I be clear, succinct and thorough. Since I do all of my own editing, I've also improved my voice and diction and corrected a number of verbal ticks. This has had huge impact on my courtroom presence. Also, potential clients are able to hear me tell stories and listen for themselves how I organize and present information. This gives me a leg-up on my competitors. For trial lawyers, how you say things is just as important as what you're saying. Lastly, having a podcast shows current and potential clients that I am modern, human and something more than just a lawyer. The days of the lawyer being just a lawyer are over, you have to be human and you have to be modern… podcasting demonstrates both.
Thanks to  Michael Elkins, Esq, MLE Law!
---
#8- As a sales enablement tool
I launched our podcast as a sales enablement too, because no one has ever heard of what we do. We kept getting the same 20 questions every time we spoke to a prospect, so we got in the studio and filmed ourselves talking through each question. Now, no matter what our prospects ask, our salespeople have the links to our podcast explaining the answer. I also believe that connecting with the faces of the people behind the software has a strong psychological impact on prospects and customers, and our podcast allows us to do that at scale.
Thanks to Adam Robinson, GetEmails!
---
#9- For inbound marketing strategy
I run a podcast dedicated to copywriting and digital marketing topics. I use it as a part of my inbound marketing strategy to increase brand awareness and generate leads. Firstly, I cover topics that my ideal clients are interested in to attract the right audience. I then offer practical and data-driven advice to solve their problems. Some listeners will come back to my website where they can get further information, resources, and services.
Thanks to Carmine Mastropierro, Mastro Commerce!
---
#10- Build community
I produce in-depth interviews with Black women travelers who create content or are digital nomads, and it's been surprising how fast women have rallied around the podcast. I get to use my skills as a coach to connect with each interviewee and uncover the deeper conversations around what it means to come from different countries, to be Black, what it means to be a woman, and what it means to travel under that identity. I'm also speaking with women who travel with chronic illnesses, are of varying faiths, who travel as a family or a single parent, and solo and group travelers. It's led me to creating a conference called the International Black Women Travel Jubilee specifically for these travel content creators and digital nomads to sharpen their online skills happening October this year in Rwanda. The conference was never the intention, but the idea presented itself after being submersed in this special travel community last year.
Thanks to Wanda Duncan, Asha Live Breathe Heal!
---
#11- Four ways
Creating a podcast has been the ultimate hack for me and my business. First, hosting a podcast provides me an opportunity to reach and build relationships with potential clients, business partners, suppliers, authors, or thought leaders in my industry. Second, guests will often let their social media followers know about the podcast episode, so their followers become aware of me and my business. Third, my podcast serves as a forcing mechanism to keep learning about my industry. I'm learning something new by having a conversation with someone outside my immediate circle. Finally, a podcast provides me with enormous credibility on a topic with customers and investors. All else being equal, whom would you trust more: an entrepreneur who claims they understand an industry, or an entrepreneur who has interviewed 100 experts on his podcast.
Thanks to Will Bachman, Umbrex!
---
#12- As part of my business 'ecosystem
I've long been a big consumer of podcasts myself – the audio format of podcasting is really ideal to fit around your already-full lifestyle, being free and on-demand. My podcast is part of my business 'ecosystem': it's free content that brings value to listeners, some of whom may already be clients. Obviously, the topics I cover are all around my expertise and the things that people are asking me about and they will feed into my programs. Specifically, I'll use a mix of calls to action to drive to my free Facebook group, publicize my book on Amazon, and ultimately sell my individual and group programmes.
Thanks to Anna S. E. Lundberg, One Step Outside!
---
#13- Build authority
Creating my podcast in 2014 has been instrumental in my business and community growth. The biggest win from it was the launch of my book, Wellpreneur, where my audience pulled together to provide early ratings, reviews and buzz to get the book to bestseller status – and it still sells well 3-years later from the momentum! Plus the podcast has been an excellent authority builder, and gives me a chance to interview and connect with fascinating people in my industry!
Thanks to Amanda Cook, Wellpreneur Ltd.!
---
#14- Leadership and source of knowledge
During one of my phone calls with existing clients about how they see event technology as a tool to help organize their event, somehow accidentally the call got recorded, a month later while going through my phone I realized I had a record of my conversations. Next what I know was that I referenced that for a number of product pitches for presenting uses cases of our event management software. This made me realize that how candid and meaningful can conversations be. This is how we came across the idea of hosting a podcast for the community of event professionals. From a brand perspective, this helps create strong thought leadership and build a loyal customer community. For our listeners, this serves as a source of knowledge and industry trend update broadcast.
Thanks to Archan Dholakia, Hubilo!
---
#15- In a couple of ways
First, I use it to stay top of mind with the audience that already knows me and likes what I offer. Second, I use it as an easy way to introduce new people to my approach and what I offer. Finally, I use my podcast, as well as my blog, to share information quickly with those who have questions or need just a little bit of advice. This helps both introduce them to my podcast, but it also saves me time in the long run. I love being able to say I have a podcast that addresses that exact issue!
Thanks to Gwen Montoya
---
#16- An educational and complementary tool
While I have been informing my yoga practice and teaching with my physical therapy background and advanced neurodevelopment studies, LYT Yoga was established as a brand and a global platform just over 1 year ago. In addition to in-person classes and an online subscription platform, I launched my Redefining Podcast that airs 3 times a week. From talking about anatomy to teaching, to moving better and generally just living a more optimal lifestyle, I use it as an educational and complimentary tool for people to get to know me in a different and more personal way, while also having another platform to educate the public about the importance of movement, functional anatomy, and finding freedom in our bodies. To date, we have launched over 200 podcasts over the last year with over 600,000 downloads. Today it is important to have touchpoints to people everywhere and a podcast is such a great way to engage in real conversations.
Thanks to Lara Heimann, LYT Yoga!
---
#17- Teach and answer questions
As a cryptocurrency business builder, people are always asking me about the blockchain industry and how to invest. I launched a podcast, a TV show and a YouTube channel to start answering their questions, and to teach people that cryptocurrency doesn't have to be confusing. My platform has grown to more than 10 million views a month, which has helped build a community around my businesses. If I were to give any advice, it would be to focus on your expertise, hone your message and listen to your audience's feedback to create content that adds value to their needs.
Thanks to Robert Beadles, Monarch!
Podcast: https://cryptobeadles.com/
---
#18- Create a relationship with athletes
I work with US-based athletes that compete at major international sporting events to help them with sponsorships, endorsements, and experiential opportunities. I started my podcast Our Athletes (same name) about 18 months ago. In my show I speak with Olympic athletes, hopefuls, and legends on their story and path to the Games! I used my podcast essentially as a way to create a relationship with these athletes so I could help them expand their stories, but also to explain to them what I do as a business owner. Prior to the show I did not know any of these incredible athletes, but now I have a relationship with about 120 different athletes from different sports, backgrounds, and parts of the country.
Thanks to Michael Rasile, Our Athletes!
Podcast: https://podcasts.apple.com/us/podcast/our-athletes/id1435115101
---
 How do you use your podcast for your business? Tell us in the comments below. Don't forget to join our #IamCEO Community.