Just like videos, the use of podcasts is turning to be a preferred engagement tool for many entrepreneurs. It can be used to educate your audience on diverse topics and highlight news in the market. Podcasts can also be a great engagement tool with your clients and audience where you give them a platform to share their knowledge, expertise and opinions.
We asked entrepreneurs, podcasters and business owners how they use their podcasts for business.
#1- Teach parents how to build multiple streams of income
I am the Founder of a virtual community known as the W2 Capitalist that is designed to educate parents on how to add multiple streams of income through real estate investing while working a full-time & successful career so that they can eliminate the stress and anxiety that comes from financially providing for their growing family. Through my community and weekly podcast, parents learn how to build multiple streams of income through real estate investing so that they can be more present, both mentally & physically, with their families and continue to worry less about being acquired, fired or laid off. I use my podcast to connect myself with other influencers in the REI industry as well as lead generation for the W2 Capitalists Mastermind (paid subscription).
Thanks to Jay Helms, W2Capitalist.com!
---
#2- Reach both potential account executives
I co-host iHeart's What's Her Story With Sam & Amy, a podcast featuring the world's most remarkable women. I founded and run Park Place Payments, a company that trains people with no background in financial services to sell credit card processing to their local businesses. We are always in recruiting mode – looking to bring on Account Executives across the country. We use the podcast to reach both potential account executives who want to join our team and merchants who want to use our services.
Thanks to Samantha Ettus, Park Place Payments!
---
#3-To link my business in a very subtle way
One must be very careful in trying to push their business, website or product on their podcast as I have found that listeners will tune out.. In fact my podcast and live radio show is called Radio Law Talk, yet my business is Penney and Associates, Lawyers. The best way to be subtle and link or push your business on your podcast is to mention some things you worked on that week while working at your business that relates directly to your podcast. For example, during the podcast you can relate the following. I was just reviewing some documents at my Irvine office last Tuesday on a case that concerned whether someone could sue for an injury while trespassing on somebody's land. The power of subliminal messages is very important and will not turn off the listener if they think they are listening to a commercial.
Thanks to Frederick W. Penney, Penney and Associates, Lawyers!
---
#4- Highlight the experiences and thought leadership of people
The purpose of our podcast, A Hire Future, is to highlight the experiences and thought leadership of people who have a vision of the Future of Work and are willing to share their strategies for reaching that future. We have conversational discussions with our guests that are meant to generate practical ideas for the audience to take away and try at their place of work. Our desire is not to sell them anything about our company but rather to create quality content that is useful to the audience whether they ever buy from us. We use the podcast to give content and only ask that the audience listen, and if they want to participate, to contact us.
Thanks to UB Ciminieri, interviewIA.com!
---
#5- Provide a deeper view
We decided to launch our B-Schooled podcast in order to provide a deeper view into the personalities and expertise on our team. Since we are a consulting company, the main benefit of the service is the person that a client works with. Static pictures or articles may provide an initial handshake or a glimpse into the value we can add. However, listening to a podcast, where team members weigh in and are interviewed on various topics really helps a listener get to know our the depth and breadth of our team. While we may have achieved a similar goal via video, a podcast makes much more sense for our very busy, on the go, professional audience. With a podcast, listeners have the patience to listen to a longer-form interview – 30-60 minutes as opposed to a 4-minute video. Some of the facts and knowledge could be shared via an article, but a podcast interview most effectively conveys the energy, diversity and personalities on our team.
Thanks to Stacy Blackman, Stacy Blackman Consulting!
---
#6- Therapeutic audio and an informative product advertisement
Creating a Podcast that endorses coffee products is a hard thing to do. Imagine pursuing an audience by describing how your products taste and smell. That's what we do. That is why we are trying to invite guests who are 100% coffee experts and can directly discuss matters about coffee in a very detailed manner. Through their expertise, we create a series that somehow serves as therapeutic audios for coffee enthusiasts. That said, that's how we sell our products, by tickling the senses of our listeners through our words.
Thanks to Yurii Brown, Coffee Geek Lab!
---
#7- Build authority and thought leadership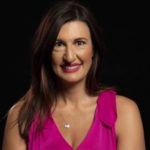 We leverage our podcast to build authority and thought leadership within our industry and connect with a broader audience of potential customers. As we invite thought leaders and experts as guests, we get exposure to the guest's network of potential leads. Additionally, we can then offer our guests the opportunity to be a referral partner to our company. The guest has nothing to lose as they get additional exposure and our referral partner program's benefits. We are then brought an exponential amount of new business through a single episode with a reduced customer acquisition cost.
Thanks to Irina Kapetanakis, Suuchi Inc.!
---
#8- Two purposes
I am a travel hacking coach and I teach my clients how to travel for next to no cost using points and miles. However, oftentimes people assume that traveling using credit card points is unrealistic or may even assume it is a scam. By inviting guests onto the Geobreeze Travel podcast to talk about trips they have taken using points and miles, it helps to make listeners more comfortable with the idea of award travel, and also provides inspiration for the types of trips that are possible. Additionally, having guests share their episode features through social media helps to organically grow the podcast's audience and bring in more coaching clients.
Thanks to Julia Menez, Geobreeze Travel!
---
#9- Accelerate our Sales Cycle
We use our podcast to accelerate our sales cycle and increase visibility of our brand. Design Your Decade: Journey to the C-Suite is an interactive podcast for the modern essional focusing on the 5 Pillars of Success. Our mission is to create a more productive, high-skilled workforce for the future that enables college graduates, new employees and middle management to remain employed and employable in the foreseeable future. This is especially the case with underrepresented and marginalized communities. The podcast enables us to showcase our expertise in areas of skill(s) needed to move upward in both the corporate and creative worlds. We feel the podcast platform establishes a deeper connection with our prospective coaching clients and primes our audience to have greater rapport with us prior to consultation.
Thanks to Rio Rocket, Design Your Decade:Journey to the C-Suite!
---
#10- Attract more people to my website
I have a food service consulting business tailored towards helping personal chefs caterers and food truck operators build and grow their businesses. It is called Chefs Without Restaurants. I offer All aspects related to building and growing your small food business, including menu planning, helping you acquire clients, your social media strategy and more. I started a podcast of the same name a little over a year ago, where food entrepreneurs and people working outside of traditional restaurant settings come on and tell their stories, and offer tactical advice. I use this as a tool to attract more people to my website, and my platform.
Thanks to Chris Spear, Chefs Without Restaurants!
---
#11- Make new connections
We use our podcast, Follow Me, to speak with entrepreneurs and movers and shakers in the industry, which allows us to seamlessly make new connections we wouldn't otherwise have. The podcast also receives a good amount of downloads and is listened to by many decision-makers at brands that could make ideal clients for our agency. It also allows us to build credibility in the industry and we provide insight for aspiring entrepreneurs. We use our podcast, Follow Me, to speak with entrepreneurs and movers and shakers in the industry, which allows us to seamlessly make new connections we wouldn't otherwise have. The podcast also receives a good amount of downloads and is listened to by many decision-makers at brands that could make ideal clients for our agency. It also allows us to build credibility in the industry and we provide insight for aspiring entrepreneurs.
Thanks to Ali Grant, Be Social!
---
#12- Two ways
I use my podcast, In a Freelance Minute, to build brand awareness and deepen connections with my audience. True to its name, the show typically lasts 2-3 minutes and educates new and aspiring freelancers about an important aspect of freelancing. The snappy monologue is informative, fun, and respectful of my listener's time. Followers of the show come away knowing that I'm an expert and liking how I teach – both crucial for growing my coaching business.
Thanks to Laura Gariepy, Before You Go Freelance!
---
#13- Provide practical and actionable advice
Life After Corporate is the ultimate guide for corporate leaders making the leap to entrepreneur. I consider entrepreneurship as the new feminist movement, where women who have been marginalized by the current times (the pandemic and "shecession") can take control of their time, their money and how they make an impact with their work. AS the show host, I am able to provide these new or aspiring entrepreneurs practical and actionable advice about how to start and grow a sustainable business.
Thanks to Deb Boulanger, The Great Doover!
---
#14- Part of our digital marketing and networking strategies
I started a podcast for my business to capitalize on the priceless marketing and networking benefits it provides. Monetizing the podcast with promotions and advertisements is not, and has never been the priority. Our podcast is an essential part of our digital marketing and networking strategies. Producing valuable content on a consistent basis position our company as a reliable source of information to listeners, prospective customers, and search engines. It's helped improve our organic search rankings by attracting backlinks from other sources and providing answers to what users are searching for. The interviews themselves are a powerful networking tool. They give me the opportunity to connect with other business owners and get my foot in the door with prospects that I want to sell to.
Thanks to Tanner Scott, Ranksey Digital Marketing!
---
#15- Several ways
Initially, I created the Defiant Business Podcast to create content for my company website. I recorded short podcast episodes and repurposed the transcripts over to my blog and social channels. It was purely for search engine optimization. Now, I use my podcast as a way to be an opportunity for people I admire and want to amplify. The people I invite on my podcast could be great clients, but they might also have opportunities for me. I focus on using my podcast as a relationship-building tool.
Thanks to Ruthie Bowles, Defy The Status Quo!
---
#16- Tool for conversion
We maximize our marketing efforts to grow and increase our audiences' reach to convert them into the customer for growing our business. For this, we take the interview of our listeners about what they like about our podcasts and what more they want through our podcasts. Next, we embed automatic email sequences to welcome listeners and let them know about our offers. Moreover, our podcast has a call to action at the end of each episode, which invites listeners to buy our products and take action. We believe all these tactics are practical and ultimately boost our podcast conversion rates.
Thanks to Ankit Thakor, Software World!
---
#17- Build trust in my business
I have a podcast called Walking & Talking with Helen. It's a part-coached walk/part podcast. I use it to build trust in my business since the wellness/weightloss field is full of people who just want to make a buck. My podcast offers free, valuable content that helps listeners understand what I'm about, and helps them decide if my approach is a good fit for them. It's how I stand out in a crowded field.
Thanks to Helen M. Ryan, Real World Weightloss!
---
#18- Get insight into my industry
I created a podcast based directly on my book and some helpful anecdotes from working in PR and marketing over the past 14 years. Besides the potential benefits of a podcast being a lead magnet for future clients, the podcast also serves as an audio-driven way to get insight into my industry. Perhaps they don't have time for the print book, full audiobook or a budget for a PR campaign. The podcast is really there to share insight, without expectation of anything in return, but hopefully will help listeners out in unexpected ways.
Thanks to Bob Bradley, Bradley Public Relations & Marketing!
---
How do you use your podcast for your business? Tell us in the comments below. Don't forget to join our #IamCEO Community.