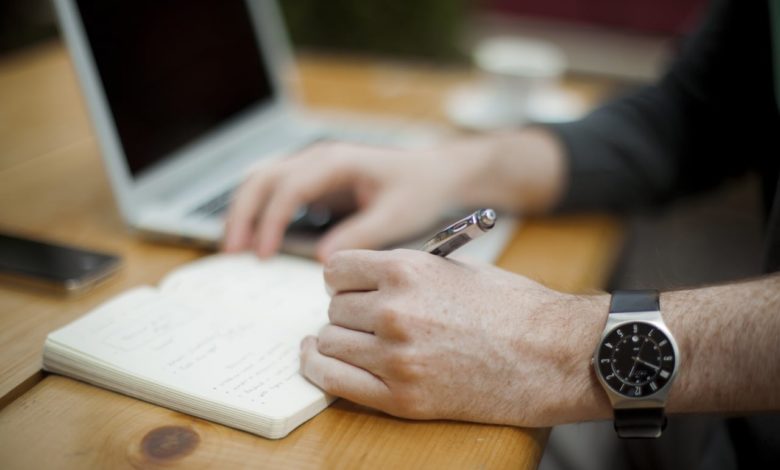 The Blogosphere is here and it is not going anywhere. It's not just for people talking about what their eating for lunch or their next celebrity crush. Blogging is big business for entrepreneurs and business owners. CEO Blog Nation recently launched a blogging community and we regularly blog for entrepreneurs and business owners and there are numerous reasons to blog. Rescue a CEO asked some businesses how they use blogging to help their business.
#1 – Create a Magnet
We invest in our blog to create a magnet or pull for small business landscape operators to try out our free software to run their business. It's a challenge developing great content that speaks to the soul of your B2B constituents. Nothing is worse than creating content that nobody's interested in and nobody wants to read. We solve this problem with Facebook groups. We are members of every group that relates to our industry and we monitor the chatter in those groups ; what people are saying, what questions people have, what topics people are interested in, what's upsetting or annoying people. Then we create content around those questions and will use those groups to promote the content so it's a win-win. This has really helped us stop wasting time on creating articles, blog posts , and videos that nobody cares about.
Thanks to Bryan Clayton, GreenPal
---
#2 – Great for Sales
1. It's great SEO. It's a great way to organically use keywords, provide solid information that potential customers would be searching for and then find our software as an option. And it's a great way to build our website out and create new pages. 2. It's great for our sales team! We focus on writing content that our clients and potential clients would want to read to learn more. Many of our posts target pain points clients experience – so during a sales call, it's a great way to follow up to that in an email and include links to posts that address issues they brought up in the call. Not only does it help educate them, but it is further proof to show them we know the business and can help be a great business solution for them. 3. It's just a great space to share news, photos, YouTube videos we work hard to create, etc in one central place. After several years now of blogging, we have such a great treasure trove of information, guides, eBooks, infographics, and just great content that we can constantly refer to and share in the right moments to help grow our brand and hopefully, gain new leads!
Thanks to Asaf Darash, Regpack
---
#3 – Share Backstories
I am a New York based architectural photographer. My clients are looking for commercial photography to showcase a property or fine art photography as wall art. My blog gives me an opportunity to tell the backstories of my photographs. The passion I have for photography comes through in the blog and attracts a wide variety of prospective clients as well as photographers. I was inspired to begin blogging after numerous people inquired about why, how, when and where I shoot my images and how I digitally remaster them.
Thanks to Ellen Fisch, Ellen Fisch Photography
---
#4 – Connect with Customers
At FortheChef.com, we use our CRAVE blog to connect more deeply with our customers and provide context around the products we sell for the kitchen and tabletop. As a new eCommerce company, our focus is on the product, for us, our blog is a means to give our products a humanizing voice and purpose, and showcase our broad knowledge and passion for cooking, baking, and entertaining. Our CRAVE blog is used to explore food and drink recipes, feature industry experts and profile up-and-coming restaurants, bars, and bakeries, as well as educate consumers on best practices and help with purchasing decision-making and influence buyer behavior. We also feature content from industry guest bloggers to broaden our content and reach. Finally, it's also a great place for us to showcase the visual element of food through food photography.
Thanks to Gary Li, FortheChef.com
---
#5 – Focus on Challenges
I blog on LinkedIn Pulse for business because it automatically puts my posts in front of an audience of over 400 million LinkedIn users, making it much easier for my blog posts to gain traction than if I blogged on my own platform. In every blog post I make sure that I focus my topic on the pain points or unique challenges that my ideal clientele face. I end every blog post with a call-to-action for my ideal clients to visit my website and check out my life coaching services. A call-to-action within your blog post is the key to maximizing the benefits of blogging for business. Any blog post without a call-to-action to further interact with your business is a wasted opportunity.
Thanks to Marissa Russell, The High Achieving Woman
---
#6 – Special Interest Stories
A business blog is a great outlet not only for sharing your products and services and boosting your SEO, but also for networking and building special relationships in your niche. At Haute Bauble, one way we love to utilize our blog is by sharing special interest stories and conducting interviews with like-minded businesses and professionals. By supporting other businesses and building mutually beneficial relationships we are able to create a network of partners that share and promote our blog, ultimately helping us grow our following and customer base.
Thanks to Leah Buller, Haute Bauble
---
#7 – Brand Awareness
I read you recent inquiry about the connection between blogging and running a business. My blog, eventsojudith.blogspot.com, serves multiple purpose. A creative outlet and also helps to bring awareness to my brand and the services my company provides. In the wedding and event planning industries, the goal is to have enough clientele and events to keep us busy all year round, but let's be honest, for most of us that is not always the case. In fact, there might be weeks or even months when we don't have a wedding or event to plan. That is where my blog comes into to play. I use that downtime to write about creating your best event. I share DIY crafts, recipes, designs and tips all tied into the wedding and event hosting theme. So when I'm not setting up centerpieces or meeting with a client, I'm writing to my virtual clientele, near and far, to help them create their best and memorable events.
Thanks to Judith Accilon, Jam Pack Party Rentals & DJ Entertainment
---
#8 – Different Purposes
I use various kind of free blogs like tumblr, blogspot, weebly, wordpress and so on to promote our website's listing in search. Each one we use for specific purposes like product release, supporting awareness details, video promotion and much more. I basically do research before publishing a post. I will search for popular relevant terms, images & names of those, title or description from Ad section for my search term and based on these I will make a post on a product or awareness or whatever it may be. But your job is not done when you just publish it on net. We must publicize the post in social profiles like twitter, linkedin, G+ and so on to get hits. This will work as a base for our website's popularity. And I strongly believe, if we use the blog in a right way, definitely we can reach heights and it help us get listed for popular searches. This is how I use my blogs for my business promotion.
Thanks to Amazing Wristbands, Billie Jean Bateson
---
#9 – A Deeper Connection
As an interior designer, blogging has become an opportunity to connect with my followers and audience on a deeper level. Nowadays, just having an online presence is not enough. When I am blogging, I get to be creative in an entirely different way: A) I can share funny anecdotes about my experiences with design, B) discuss my past blunders or successes when it comes to design, C) provide valuable tips about designing for your home, and D) get to know my audience further through their comments and emails. Ultimately, I am building a rapport and trust with individuals who are excited to read the blog and learn new things about design in the process.
Thanks to Yarimith Karina Jones, Superior Interiors by Karina Jones
---
#10 – Sense of Community
Our business serves the home improvement, DIY, real estate, interior design, and architecture industries. It is only natural that we blog about these interests to appeal to our audience. We want to connect with our customers to learn their needs, help them grow their businesses, and build lasting relationships. The blog is a medium that aids in these goals. If you visit our blog, you'll see that we don't just blatantly promote our products, we find interesting topics to discuss, or helpful tips for the audience to contemplate. This is building a community.
Thanks to Luis Leonzo, TableLegsOnline.com
---
#11 – A Good Marketing Approach
Working in digital marketing, I know just how important every online communication medium can be for the success of a campaign. Blogging makes no exception from this. In fact, in many ways, blogging lies at the basis of a good marketing approach. Not only can REGULAR blogging keep your users and leads "in the loop", but it can be genuinely useful when it comes to creating a true connection with them, as well as maintain them as your clients once they are converted. Last, but definitely not least, posting about your products, about news in your industry and other related topics will also set you up as an authority in your field – and hence, it will include your readers' trust in you and your products.
Thanks to Alexander Grosu, insegment.com
---
#12 – Indispensable
As an inbound marketing agency, we blog regularly both for ourselves and our clients. Our inbound blog is an important gateway for attracting new readers and maintaining our online presence. It's also the best place to follow what our team has been up to. We keep testing new marketing tactics and strategies all the time, so our team usually has a lot of new findings to share, and our blog is the perfect platform for getting that content out. Plus, it's an indispensable part of our brand; we are Wayposters, digital marketers who guide our readers in a direction that will be most beneficial to their company, and keeping an active company blog takes us one step closer to our mission.
Thanks to Doug Fowler, Waypost Marketing
---
#13 – Provide Solid Information
At Iinsightlink we believe that all people have the right to enjoy their work. It is in our DNA to leverage employee feedback and get HR professionals results that will make a positive difference for their employees. Our blog doesn't sell our services though, it is our primary vehicle for connecting with the HR community to disseminate valuable and timely information on topics that drive employee engagement. Our goal is to use the blog to provide HR with solid information about engaging employees as well as exploring new ways of looking at trends, concerns and barriers that HR teams are experiencing across the country.
Thanks to Lynn Gore, Insightlink Communications
---
#14 – Coaching Professionals
I love helping people get their dream jobs, specifically in finance. One problem young professionals face is the lack of guidance in their job search. Think back to your first couple years out of college. You had the technical skills, but you felt frustrated with the job search and networking process. I use my blog to coach professionals in their finance job search, specifically on resume writing, networking, and interviewing. I've found that long-form blog posts are most helpful. They are practical career guides that either students or young professionals can reference. I send my blog posts to finance clubs at colleges and graduate schools, which has been very effective in promoting my coaching business.
Thanks to Kelvin Jiang, Buyside Focus
---
 #15 – Thought Leadership
We use our website's blog to exhibit thought leadership and expertise in our sector. In the digital age, potential clients will almost always have researched you online before they actually contact you, so we focus on making our site a place that answers homeowners' questions – both directly and indirectly linked to our services. Even if they don't require our services right now, if they find us online while searching for something else and find our information helpful, they are more likely to think of us in the future when they do need our services. Our blog is a critical tool for building that all-important brand trust and recognition.
Thanks to Kershan Bulsara, Roofmaster