Social Media is a huge opportunity for businesses. Many argue that there has been no better time to start a business because of the direct-to-consumer relationship where entrepreneurs and business owners can reach their target clients and customers. For business owners often using marketing platforms like social media is the difference between success and failure. We asked some entrepreneurs  and business owners their favorite social media site and how they are using it.
#1) Instagram: Showcase my Content
My company, Dronegenuity, provides aerial photography and videography services to customers all across the US. Since my business is all about photos and videos of locations from all over the country, Instagram seems to be the best choice to showcase all of that content. With about 700 million active monthly users and 400 million daily users, Instagram is one of the best platforms to promote my business. Moreover, Instagram provides insights to business accounts, I get information about impressions, number of clicks on the website, number of email clicks etc. Hashtags help me target my posts to a specific audience, also, location tagging my posts helps me further promote my business in specific geographical regions. In addition to the above, Instagram provides a great platform to find more drone pilots, see their work, and recruit them directly through promoted ads targeting them. In contrast to paid marketing and recruiting techniques, Instagram has proved to be a great resource considering I haven't had to pay a nickel for all the benefits I've derived out of it.
Thanks to Dan Edmonson, Dronegenuity
---
#2) Facebook: Best way to advertise
We work mainly with Facebook in the New York City/Long Island area. We have learned by trail and error the best ways to advertise on Facebook. Twitter moves to fast and we have found most people check Linkedin only once per day. I can give you a further explanation if you would like. It is realatively easy, fast and cost effective.As one example, if a restaurant sees that it reservations are behind what is par for the day and time we can throw up a post. With email marketing and direct mail, it takes more time and you have to hope your message is opened. A facebook post is put in front of potential customers/clients as the scroll through their news feed. We back up our Facebook posts with Twitter posts.
Thanks to Ron Wood, Ron Wood Public Relations
---
#3) Instagram: User engagement
I'm a business owner working as a social media manager for small businesses in my local area. Currently, Instagram seems to be the best platform for just about any  business. Users engage the most on Instagram and are more likely to go look at your profile based on seeing one post. More so likely than Facebook or Twitter. Additionally paid promotion similarly to Facebook seems to be very effective at this time. I personally  get a lot of interactions from  Instagram ads. When it comes down to it, it's what platform will get you the most attention for the effort you put in, and currently Instagram seems to be it.
Thanks to Todd Endres, Endres Media Management 
---
#4) Facebook: Wide reach
Of all of the social media sites, we find Facebook to be the most powerful and useful, despite the limitations with organic reach. Being able to reach anyone for free seems like a good deal to us and the paid elements of Facebook are very powerful in reaching the right people with the right messages and driving results.
Thanks to Marty Spargo, REIZE Energy Drink
---
#5) Twitter: Fast, SEO and great connections
This is Amna Rizvi, from GadgTecs. We are a science and technology blog and the social media we mostly use is twitter. Why? Because its fast, keeps us connected with our readers, we can respond to their queries if any very quickly and its also good for SEO. I would also advice new startups and companies to explore reddit. We find its not used as much but it can give great results. Users should be cautious though, read the rules before starting self-promotion, otherwise your domain could get banned!
Thanks to  AmnaRizvi, GadgTecs
---
#6) Instagram, Facebook and blog: Establishment
We're using Instagram, Facebook, and our blog to really establish ourselves as thought leaders as much as possible. By growing a following in this personal development field we're able to create products around our mission and directly market to our audience/customers. We're big fans of Gary Vaynerchuk and like him, we fully believe even if you sell products it's super important to establish the media side of your company.
Thanks to Ari Banayan, Habit Nest
---
#7) Instagram: Place for ideal clients
My name is Mallory and I'm one of the co-founders of Bold & Pop, a collective of social media, branding, and web design professionals. While we use several social media platforms for our business, Instagram is the one we utilize the most. This is for several reasons but the most important one is that is where our ideal clients are! We work with a lot of creative entrepreneurs and we've been able to quickly grow our community by using targeted hashtags to find and engage with this audience. We have also found these creatives are attracted to our colorful and conversational style which is what Instagram is all about. We've been able to leverage this on Instagram while also providing a personal touch through Instagram Stories which makes us love it even more!
Thanks to MalloryMusante, Bold & Pop 
---
8) Facebook, Instagram and Pinterest: Engagement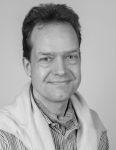 I am the in-house perfumer at a niche perfumery house in London (UK) and our decision which social media site we use for our business is based on the level of engagement our posts generate. On this basis, we find that Facebook, Instagram and Pinterest are the most worthwhile. We do, however, use a service called IFTTT to 'push' these posts onto other social media platforms, e.g. Tumblr, and to platforms in a variety of countries, e.g. OK.ru. We find that IFTTT streamlines and amplifies our social media posting.
Thanks to Huib Maat, Pairfum
---
9) Twitter: Fast and easy to share thoughts
I am a full-time session singer and I mostly use Twitter. People are always shocked to hear that I don't focus my time on YouTube or somewhere I could actually show my work. I do use YouTube and all other social media but Twitter is so fast and easy to share quick thoughts, tips or information with people. I can also use it to post links to my YouTube if I have something to share. Analytics have shown me that Twitter drives most of my traffic to all other social media spots anyway, so it makes sense to spend most of my time there.
Thanks to Mella Barnes, Mella Music
---
#10) Reddit: Traffic
Reddit has been responsible for the majority of our traffic since we launched our site, despite the fact that we only submit content through the platform a few times per month. There are so many ways to drive Reddit from traffic – one of our favorite ways is to monitor threads on the platform where people are talking about things that are relevant to the products that we sell, and to drop a link to our site if it fits in with the conversation.
Thanks to Max Robinson, Fish Tank Bank
---
#11) Facebook: Engagement with customers
Caretta Workspace uses Facebook the most when engaging with our customers through social media. We find Facebook to be the best tool for sharing new products, updates within Caretta Workspace and placing targeted ads. Our Facebook page allows us to boost our social interaction, receive reviews and repost image/videos from customers.
Thanks to Andy Tracewell, Caretta Workspace 
---
#12 All sites: Maximise reach
I feel it's important to be present on all major forms of social media. I might use a Facebook event to launch a new mystery novel, providing two hours of games, prizes, and contests to celebrate the occasion. For promotions of free romance books I'll send out messages on Twitter, using the power of retweets and re-retweets to spread the news to hundreds of thousands of potential readers. For inspiring photos of butterflies resting on tiger lilies? Those work great on Instagram, to catch the eye and draw attention. Posts about releasing stress and gaining focus suit well for LinkedIn where people are often looking for practical support. Yes, there are millions of people who adore Facebook – but there are also millions of others who just as fervently love Twitter. By having a strategy which touches each base, you maximize the overall reach, and it's all free.
Thanks to Lisa Shea
---
#13) LinkedIn: Visibility
Without a doubt, LinkedIn is the social media site I use most often, both for myself and my clients. Because today, LinkedIn is as important as the resume in the job search–and perhaps more important for executives. Research shows that 70% of top-level positions are filled by networking, while less than 15% are filled by third-party recruiters (or headhunters.) But that all-important career networking has largely moved online, to LinkedIn and Facebook groups. LinkedIn gives me the ability to be visible to more core audience–my clients and their connections. It also allows me to deliver value proactively in the form of high-quality content so that I never have to deliver a sales pitch.
Thanks to Joni Holderman, Thrive! Resumes 
---
#14) Twitter: Newsfeed and to Deliver Content
At Prialto, we use Twitter to deliver our in-depth (and always relevant) content about entrepreneurship and C-level best practices related to topics such as productivity, growth hacking, leadership, networking, leveraging virtual assistants, process management, and more. For us, Twitter functions as a newsfeed. Our current and potential clients (and their companies) are most active on Twitter, so we receive the highest levels of engagement with them on that platform. Since every piece of content we create is in support of entrepreneurs and executives, it's great to see them sharing, liking, and commenting on our content in ways that inform our ongoing communications strategy on their behalf. Twitter gives us a great window into what our audiences want to learn about in order to grow their businesses and become even greater leaders.
Thanks to Eric Taussig, Prialto
---
#15) Facebook: Customers
Hello, my name is Erma Williams-Nurse. I am the owner of The Pomade Shop. I make and sell all-natural hair pomades, shampoos, and conditioners. I use Facebook the most because most of my customers use Facebook, and I have received a fair deal of clients from Facebook. I also like that I can network in the Facebook groups and have potential clients directly purchase from me through Facebook.
Thanks to Erma, The Pomade Shop
---
#16) LinkedIn: Find Professionals
Social media has a variety of great platforms to reach target audiences for businesses, but my choice would be LinkedIn every time. With its unique relationship with Google and how searches work, it's easy to find professionals when their profiles surface so quickly to the top. LinkedIn also allows me and any user for that matter the ability to build an incredible following of professionals, share thought leadership, leverage data, and not only ask the question, What can I be doing to make someone more successful? but give real advice and strategy around this through the platform.
Thanks to Sheryl Brown, BIONICsocial LLC 
---
Which is the social media site that you use the most for your business? Tell us in the comments below