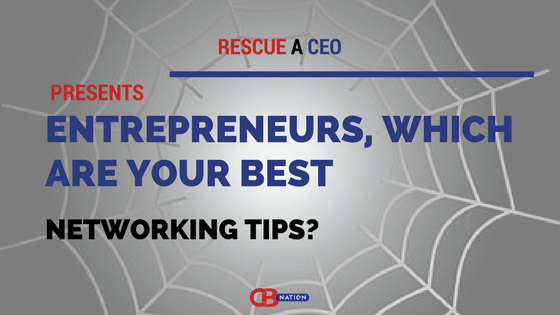 Networking is important for every business. It has various benefits such as helping find investors, build mutually benefitting relationships and helping establish new businesses. While some people find the art of networking as an insincere approach to meeting new people, there are few attributes and skills  that could help you master the art of networking with ease.
We asked entrepreneurs and business owners about their best networking tips.
#1- Focus on relationship building
My strong view on networking is that it is not networking at all, but rather relationship building. We preach this within our organization from the newest intern to the most senior levels. At least once a year, as a part of an internal memo, the reminder that "it is not networking, but rather relationship building" is included. More casually speaking, if one approaches meeting new people this way, the worst case scenario is that you have a new friend. The best case scenario is that you have a new friend and business contact. Now, obviously things don't truly play out that way all the time. But I stress the importance of not treating people that you meet as just another transaction. I've noticed that this approach weeds out individuals who are disingenuous quickly: both for our internal culture as well as the type of people that we want to work without  externally. A bit of sincerity and personality in your networking, and valuing each person you meet the same, will take you a long way in your career and life.
Thanks to Christopher W. Sinclair, The Anthem Group!
---
#2- Know your networking audience
Come to any networking event prepared. Not about your own elevator pitch, but your audience. If you can, find out who will be there, and do your homework on what they've done, and what you know that may be of interest to them. It's a small step that can separate you from the pack.
Thanks to Bob Clary, DevelopIntelligence!
---
#3- Introduce Your Self Frequently
Don't wait to be introduced. At the beginning of an event particularly when you know few people or no one, go up and mingle with people. After a brief while, if you have great conversations with people, they will remember your name and what you do. Then they will be happy to introduce you to others.
Thanks to Crystal Olivarria, Career Conversationalist!
---
#4- Use LinkedIn and private email
People tend to view social media invites with caution, and cold telephone calls get screened. A private email is the best way to get through to someone, but how can we do this without appearing spammy? Here's one thing that you can do: Visit the LinkedIn profiles of people who you would like to be connected to and see which contacts you have in common. Then when you next email your immediate connection, add a PS that you'd like to be introduced. Your connection will instinctively know whether this is a good idea or not, and might even praise you during the intro.
Thanks to Jason Lavis,  Out of the Box Innovations Ltd!
---
#5- Organize events every three to four months in your city
At the beginning of my startup careers I did not know the enormous value of Networking. It was not until I started generating contacts through events I attended in my city that from there I started to get clients (and logically income!).My secret sauce for great networking was to start being the organizer of these events*. Being an organizer you are the main connector of all the Networking that will be generated in the event. And the best way to maintain these connections is to continue to carry out these events every 3 to 4 months. Today, thanks to these events and the networking that I generate, I can have the startup life I always dreamed of! Start today to do Networking and organize an event in your city!
Thanks to  Cristian Rennella, PrestamosEnPeru!
---
#6- Always start with a personal question
One of the best networking tips that I've personally used countless times is to ALWAYS start with a personal question. Examples such as So did you believe that your passion got you to this point? or even What's the best you've connected with people in the past? it really breaks up the monotony of the robo-selling mode of forcing selling down your throat at networking engagements.
Thanks to Reginald Swift, Rubix LS!
---
#7- Be well prepared
My #1 tip for successful networking is to prepare ahead of time. Know why you're there. Have a purpose. Otherwise you're simply there to "hangout" and that's exactly what you'll end up doing – hanging out and getting nowhere professionally. Check out the guest list if you can. Prepare your elevator pitch and have it ready. Be sure to bring enough business cards and be ready to follow up afterward. "Success is what happens when preparation meeting opportunity." Networking events are full of opportunity but if you fail to prepare, you will not be successful.
Thanks to Pamela Shand,  Offer Stage Consulting!
---
#8- Curate Then Connect
Networking is about connecting with people not just about adding to your contact list. It's better to have a smaller and more meaningful network than a large database with no meaningful connections. In my experience, networking happens well after you've got the business card, and in order to develop a real relationship you should prove yourself a useful resource by introducing your new colleague to a contact they can benefit from meeting, sending them an article that you've come across that you think would be of interest, or simply congratulating them on their recent wins. This goodwill will come in handy when you need to tap into your rolodex for advice.
Thanks to Raymond Wali, The World Is Global Inc!
---
#9- Create business cards
My best networking tip is to create business cards so you can exchange contact information with professionals or potential clients you meet in person. Business cards are the old-school way of networking, but are  still very relevant today. Having business cards prepared not only leaves a good impression and show you are prepared, it also is a more personal way of connecting with another person. Connecting on LinkedIn or sending an email are beneficial, but there is no replacement for a human to human interaction. Business cards are an efficient and professional way to share contact information with another individual you meet in real life.
Thanks to Robert Ellis, Massage Table Shop!
---
#10- I always have a "conversation opener"
As an introvert, networking can sometimes be tough. To ensure I don't let a good opportunity slip past me, I always have a "conversation opener" of sorts ready to go. It sounds pretty cheesy but a good lead-in question, observation, or statement that you can fall back on will help you break the ice when you're too stuck in your own head. Just be sure it always comes off as natural and never rehearsed.
Thanks to Sophie Knowles, PDF Pro!
---
#11- Research and have a plan
My best networking tip is to DO YOUR RESEARCH AND HAVE A PLAN. Time is very precious and I am selective with the events that I attend. Prior to the event, I research about the topics and who will be there. Do I have a specific goal? Do I want to meet and talk to a specific person or type of people? What do I want to learn and accomplish? I aim to build relationships that have meaning and value than just hand out and collect cards. The relationships I have built with people that I have met at events have turned into great connections and friendships. I always lead with waysthat I can help that person first, not because I want something in return specifically, but because what they are doing is aligned with my work and mission. I'm a natural connector and love connecting people with each other for partnerships and collaboration.
Thanks to Marian Bacol-Uba
---
#12- It should be about we, not me
You should take the time to genuinely listen to the other person to fully comprehend what they do. This should happen before you even attempt to present to them what it is that you do. Once you both understand what one another does, you should establish ways that you both can benefit from having one another as contacts, whether it be collaborating, providing leads, sending referrals, or suggesting other contacts, etc. Don't look at the person primarily as a potential client or customer for your business because most entrepreneurs don't network with the intention of being a buyer, so trying to sell to that person typically isn't a very effective approach. There should also be consistent follow-up going forward in order to continue building and solidifying a mutually-benefiting business relationship.
Thanks to Cory Collins, Ample Opportunity!
---
#13- Build relationships
Networking is more about farming than it is about hunting. It's about building relationships with other people. It is not about face-to-face cold-calling. A related tip would be: It's not what you know, OR who you know, it's how well you know each other that counts.
Thanks to Ivan Misner, BNI!
---
#14- Simply do it
They key is to put yourself out there, meet as many people as you can, especially those who can further your career or increase your business and to always, always, remember that networking goes both ways. Make sure that you are making every effort to help those you might. Buy their products / services if possible, introduce them to others who might be able to buy from them and once you've met them, stay in touch. Be active, be proactive, have fun and you'll be successful.
Thanks to Scott Harris, Mustang Marketing!
---
#15- Two tips
I started a global marketing firm 16 years ago and my best tips are to  give before you get — send them an article, make an introduction, etc. before you ask them for anything, it sets you up as a kind and generous person and also find a networking buddy to attend events with so you can work the room together, it is more fun and easier to chat with folks that way.
Thanks to Paige Arnof-Fenn, Mavens & Moguls!
---
#16- Make an impression on the person that will hire you
To impress a hiring manager, you should ask the question, 'based on my skills and employment history I've told you about during our interview, how do you think I could best contribute to your company? This will do two things: first, it will show the hiring manager that you most concerned with company growth and being a team player. Second, it will get the hiring manager thinking about how your attributes as a worker will fit into the bigger picture of the company. That is a great first step to
landing the job!
Thanks to Danielle Radin, Mantra Magnets!
---
#17- Talk about everything else than work
When it comes to networking the hardest part is starting the conversation, once you are able to find a common interest then the conversation just flows. My best tips for networking is Talk about everything else than work. Of course at one point you will most probably talk about your work but at first try to really discover what the other person is about. Ask questions such as; What is the last restaurant you went to in the city?, usually talking about food is always a great starter for some reason, but you can also ask questions and talk about anything that you want, last vacation, the last book you read etc. It will throw people off a little as they are used to the typical questions…what's your name, where are you from, what do you do… but then they will remember you because of the untypical subject you brought in.
Thanks to Morea Pollet, Profesional Connector!
---
#18- Use someone's name throughout the conversation and remember it for future gatherings
Being able to call someone by name and use it with intentional care throughout your communication efforts increases levels of trust between you and the other individual. In my own marketing efforts on social media, I have seen dramatic improvements in loyalty and affinity by intentionally using names in my responses online—this also carries over in networking efforts. Using someone's name communicates: "I see you and you matter to me." Many psychologists argue that a person's name is deeply connected to their sense of individuality and perception of self. Historically, a person's name is one of the first words that they learn as an infant and carry  throughout life as a marker of their individuality. During some of the most transformative months of brain development, babies learn to identify their name and it serves as a mechanism for capturing their attention.
Thanks to Natalie Franke,  Rising Tide Society!
---
#19-  Practice your 30-second pitch
Networking is all about connecting with people, so pitch if they have a pulse. Make sure your introduction is meaningful (what's in it for them), make a lasting impression, so practice your 30-second pitch. Most of my life changing company connections came from networking, and it wasn't the person I met that helped me but the person they referred me to changed me for the better.
Thanks to Jacqueline Darna, NoMo Nausea!
---
#20- A few tips
Dress Smart, check the dress code before the event, always present the best You.  Study the event guide to see who is going to be there, who you would like to meet, times of any conferences you would like to attend. Networking is extremely important for any business. Taking part in networking live events means you become an Embassador for the company you represent, it is a good opportunity in an informal setting to introduce yourself to like minded people who have come to the event to meet people like yourself. It is an opportunity to build brand awareness through the exchange of business cards and informal socialising. You are probably not going to do a deal at a networking event but should be thinking long term by publicising your business use your social skills, be pleasant know your subject, be interested when others are talking to you, listen. Follow up is important after an event, as an introduction to any proposal e m ail we m et at …….. a few days after meeting. In summary business networking is important in spreading the name of your business and building contacts. It is always good to meet in person to put a face to a name and shows the business is active, Throughout your working life you will be meeting people and building up a wealth of contacts. Enjoy the event/experience.
Thanks to Zhi Xu, X Plan Business Development!
---
#21-  Bring a pencil and paper, ask people questions, and write the answers down
The number one best networking tip is to bring pencil and paper, ask people questions, and write the answer down in front of them. This changes the relationship from one where people don't believe you'll ever follow up to one where you make the other person feel like they are a celebrity being interviewed by a reporter. And when you do refer back to your notes later and send that email, make that call, or reach out—you'll become someone who has truly impressed them.
Thanks to Robby Slaughter, AccelaWork!
---
#22- Focus on letting people talk about themselves
People love talking about themselves, so go in with a few open ended questions that will help get conversations going, and encourage people to talk about their life and passions. Don't try to sell, once a good conversation is going, people will themselves want to know who you are and what you can do.. For instance you can ask what people like to do outside of work, what got them started in what they do.
Thanks to Rafiq Punjani, Anago of Manitoba!
---
#23- For introverts- find a reason to be at an event
It is true that some people are more natural networkers than others. Extroverts seem to be able to naturally socialize, and they are so good at small talk. Being an introvert does not mean a person is shy, however. Introverts just need a reason to network. Social situations are the bane of an introvert, so try to find a reason to be at the event. Networking can be a great avenue to get your products and services known, so find ways to make it easier. Make it a fact-finding mission. Or, if you know some of the people who will be there, check out their social media profiles to find a common interest you can talk about. Finding a purpose to network will make it a lot more enjoyable.
Thanks to Dr. Ty Belknap,  MyCoach.Life!
---
#24- Several tips
Treat your network like a garden. It requires constant care in order to grow and harvest. Regularly reach out to your network with updates (via email, LinkedIn, social, etc.), phone calls for tier 2 and in-person meetings for tier 1 contacts. Your network is your safety net and fuel for your career. It's also alive and organic and requires care and feeding in order to bear fruit. Networking is also about karma. The more you put into networking, the more you get out of it. At the same time, keep your expectations conservative to ensure you're not disappointed with the time commitment. If I were to boil my career networking philosophy down to essential elements, they would include the following: Your time is money; use it sparingly. Develop relationships with Connectors that serve as the foundation of your network. Provide value early on in every relationship.  Consider volunteering for charities and industry organizations. Ask for favors from your network judiciously. Let your connections build your network for you via referrals.  Connect your network: create value by introducing key contacts to each other. Be patient, a valuable network takes a lifetime to build.
Thanks to Kent Lewis, Anvil!
---
#25- A number of tips
When attending networking events, I find that it's most advantageous to go alone so that you're forced to talk to new people. I find it wise to do your homework, in advance, and if the attendee list is publicized, to go ahead and make note of those you'd like to meet before the event. Also understand everyone is there for a similar reason and for the most part want to make new connections, so don't be shy; just walk up and introduce yourself– the only thing you have to lose is an opportunity. Making real life connections (just like my business idea) has been the most helpful tool in helping Cheekd grow. In the world of business and networking, I recommend that you never ever leave home without your most essential old school networking tool– your business (or calling) card. Even in the crux of the digital age, business cards are thriving for a reason– it's still the single fastest way to share who you are, what you do and how you can be contacted.
Thanks to Lori Cheek, Cheekd!
---
#26- Simple: be yourself
The best networking tip I have is a simple one: be yourself. Be confident, open, friendly, and polite when discussing what your business does. Listen to others, and if you make any new contacts, be sure to send along a follow-up email the morning after so you can stay on their radar.
Thanks to Deborah Sweeney, MyCorporation!
---
Which is your best networking tip? Tell us in the comments below.