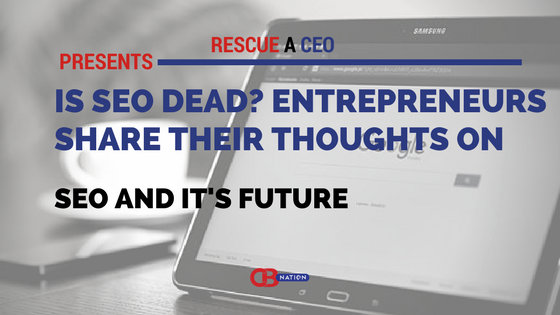 Critics say SEO is on the verge of disappearance. This is partly due to the rapid changes being experienced such as the increase in voice search. Some will argue against this statement since more platforms such as social media are part of the optimization and their usage continue to rise. We asked entrepreneurs, SEO managers and business owners what their thoughts are on SEO and it's future and here are the responses.
#1- It remains the primary way content gets discovered and read
SEO isn't dead. It isn't even dying. It's evolving. With more and bigger Social Media websites adopting a pay-to-play format, businesses need to refocus back on getting their content ranked and found through SEO. SEO will remain the primary way in which content gets discovered and read. In-fact with the rise of VOIP and voice search, again SEO will continue to be not just important but essential. Other channels can and should still be used, but companies need to remain focused on SEO in order to get found.
Thanks to Ben M Roberts, Talkative!
---
#2-It's alive and well
SEO is alive and well and it's how we generate over 83% of our 2+ million visits each month. While the SEO space may be evolving due to Google getting smarter about user intent and experience, organic traffic and SEO are still important places to invest for most businesses.
Thanks to Patrick Curtis, Wall Street Oasis!
---
#3- Nothing has changed
The future of SEO? It's the same as the past. Nothing has changed for 20+ years: Create valuable content that's based on what humans want, not what you think algorithms want. Use new platforms/channels as they arise. If one platform/channel/technique suddenly produces amazing results, know that it'll stop doing so shortly In hyper-competitive markets, black hat techniques will continue to work (and evolve) The more you do besides the basics, the more you'll be playing cat-and-mouse with search engines.
Thanks to Steven Sashen, Xero Shoes!
---
#4- Business should focus on providing high value
SEO has changed vastly in the last year or so, more than ever before. Whilst I disagree strongly that SEO is dead, the roles of SEOs have totally changed very quickly, especially link builders. Businesses need to stay afloat new algorithms by focussing their efforts in providing value to their users. I have seen a big trend in ecommerce sites using link bait campaigns in the form of digital assets, but not all of them are relevant to their customers or communities. Instead of building a game in a subfolder of your site to give to press where engagement will drop off after launch, focus on helping your customers make purchasing decisions. If you have a sports hat company for example, create a hat measuring tool online so your customers can select a hat that fits them without needed to go in-store, and maybe suggest some hats in stock that'll fit. It's these types of assets that will continue to provide high-value contextual links for years to come. In a world where we are constantly after immediate gratification, we have been too focused on immediate results.
Thanks to Marie Turner, Amara!
---
#5- Three ideas
No. SEO will not die any time sooner and even if it does it will take Google along with it. But then, Why does this question keep popping up? We may not know the exact reason. But there are ideas on why Marketers spend the time to ponder the above question at least once a year; SEO keeps evolving and people are perhaps wary of how the constant change will affect them. SEO has become more complex and marketers find it hard to adapt themselves. Critics of SEO make claims that if SEO is not dead yet. It will die soon and will be replaced by other promotions like social media, ads and paid search, etc. But this seems preposterous and it is impossible to imagine search engines finding other ways to display results. It is not possible to shun SEO completely. In the not so distant future, SEO will continue to grow along with the other digital promotions. Marketers will have to combine SEO with other promotions to achieve significant ranks in Google and other search engines.
Thanks to Sowndarya Kishore, Social Animal!
---
#6- Mobile first indexing and voice search will increase
SEO is not dead it's just changing and pivoting at a rapid pace. I believe two of the major predictions and changes in 2018 and beyond for SEO are the increase in mobile first indexing for SEO and the continued, accelerated growth of voice search. With Google already beginning to institute mobile first indexing for websites, businesses are going to need to start looking at their website's overall SEO strategy, UX/UI mobile design, site speed and integrating AMPs pages in early 2018. Secondly, utilization of voice search with continue to grow in 2018 and 2019 causing businesses to need to adopt a more fluid, natural long-tail search query strategy for SEO. When people search utilizing voice they tend to search incomplete statements, example: How do I change a car tire? vs change car tire. Google will continue to become smarter and more predictive therefore businesses will only have continued success in organic SEO if you are creating the highest level content that people actually engage with and find informative. No longer will it work just to write a 3,000 word, keyword stuffed post and ranked. You need to cover a topic from all sides and drive engagement to your post, video, infographic,.
Thanks to Justin Knott, Intrepy Healthcare Marketing!
---
#7- SEO is now a labyrinth; yet simplistic
SEO isn't dead – In fact, far from it. As a marketer and an entrepreneur, I have been able to shift my strategy from appealing to the masses to serving the specific user's intent. What does that mean? Gone are the days where keyword stuffing and spun content were all the rage. Now someone searches for a query and is served a highly search engine optimized website that will answer the query within seconds. So, SEO is far from it, it's evolving into this highly complex labyrinth; but also on the flipside so simplistic. The formula is: On-page, Content, and Backlinks.
Thanks to Jesse Matz, N2Q Consulting! 
---
#8- Google will continue to be even more advanced
While SEO has made drastic changes since it first evolved over ten years ago it is far from dead. It is no secret the first page of Google has changed and will most likely continue to change. From there only being 4 positions for PPC to now PPC has been added to the map pack as well as four additional spaces below the organic listings. There are still ten organic spots on the first page, Google has just expanded the total amount of PPC positions to help increase their revenue. Google my business now plays a factor, as far as having multiple listings, and a real business address. There are also a lot of new and cheaper ways to market since SEO first came out. Facebook and Instagram are a perfect example. Facebook is great for not only building your brand but will help e-commerce businesses a lot as well. So yes while SEO may have changed there is no sign of it going anywhere, however, make no mistake Google will continue to be even more advanced.
Thanks to Lance Bachmann, 1SEO IT and Digital Marketing!
---
#9- Past SEO strategies are becoming redundant
SEO is not dead, or dying, however many of the SEO strategies used in the past have become redundant and that's where I believe the 'Is SEO Dead?' debate arises from.  Search engine algorithms are evolving at a rapid rate and the influx of new technology such as mobile and voice search contribute towards this growth. SEO has moved far beyond keywords and links. Relevance and authority are still crucially important SEO signals but other factors such as site speed, user experience and content quality play an important role too. These signals are difficult to achieve artificially so SEO strategies that rely on manipulating search algorithms are dead.
Thanks to Will King, Find Me A Gift!
---
#10- It's immortal
SEO is an inextricable piece of the internet puzzle and is immortal. SEO today refers to the interconnectivity of the internet and how the connection between sites affects visibility online. In the world of RankBrain and global artificial intelligence, SEO includes any online work that demonstrates expertise. From a Facebook post to an Instagram story, all relevant information surrounding your profile plays into how you rank. YouTube, Google, Facebook, Instagram and Twitter are all search engines and hence SEO ain't going nowhere.
Thanks to Kellen Kautzman, Send It Rising Internet Marketing!
---
#11- Rankings reports are dead
SEO isn't dead by any means, but the way it is to be approached has changed significantly. An SEO expert who is up to date on the latest technology knows that rankings reports are dead and have been for some time. Ranking for a specific keyword, while not meaningless, it is not the aim of SEO. Personalised search means that there is no 'clean' search results that can tell you what your rankings are, so we need to look at KPIs that go a little deeper. I always consult with the client and find out what their goals for their websites are, what does success look like in 3, 6 or 12 months? From there we can agree on KPIs, whether they are traffic increases, increased conversions or views of videos or even more traffic to their local listing, which can result in increased in-store visits or purchases.
Thanks to Rebecca Caldwell, Mash Media!
---
#12-It's unquestionably changing
SEO is most certainly NOT dead, but it is unquestionably changing. Gone are the days when updating your title tags and doing some keyword stuffing will get you ranked; SEO in 2018 and beyond is blending more and more with the user experience function, making your page immediately understandable for both search engines and users. As voice search continues to rise in prominence and users continue to look for quicker, more-concise answers, SEOers will find their skills in high demand, although probably in a slightly different way than when they started in the field. Today's SEO experts would do well to continue to hone their skills in structured markup techniques and efficient copywriting, aspects that voice-driven search will likely prioritize as search evolves.
Thanks to Sam Underwood, Futurety!
---
#13- SEO results is no longer as fast, or as easy, as it once was
SEO is not dead, but organic search is certainly a marketing medium that now requires a lot more consideration before investment than it once did. In short, prior to 2011, SEO was a no-brainer. Results in the form of traffic and revenue could be quickly achieved as the medium was still relatively new. There was less competition and search results, algorithms, user behaviours and technology were a lot less complex than they are today. If you were a business, you could hire a marketing agency to take care of your SEO, and even with little to no involvement from yourselves, you would more than likely have seen very quick improvements in organic search traffic, leads or revenue. Since 2011, there has been several organic search, marketing and technology advancements which means achieving SEO results is no longer as fast, or as easy, as it once was. Some of these major changes have included:  Increased mobile usage and the amount of time we spend on apps and social media platforms. Major changes to Google's algorithms and search results (notably their Panda, Penguin, Hummingbird, Knowledge Graph and RankBrain developments). Improvements to search engine personalisation and localisation. The rise of Smart devices – e.g. Smart Assistants, Wearable Technology and all things IoT
Thanks to Scott Colenutt, SiteVisibility!
---
#14- It's a culmination of multiple marketing and branding strategies
SEO is not dead, although it continues to evolve, as it has since the advent of search engines like Yahoo and Google. SEO is exactly as dead as search engines themselves are. According to InternetLiveStats.com, 3.5 billion searches are conducted on Google every single day, and approximately another 1.2 billion searches a day are conducted on other search engines. As long as that figure remains somewhere above, SEO will continue to exist. The traditional notion of SEO, i.e. spammy content and poor quality links, has long been dead in the eyes of white hat SEOs. Modern optimisation requires that the marketer has many strings to their bow (or, more likely, multi-faceted team members). Technical and on-page SEO requires coding knowledge. Link building and outreach requires considerable research, reputation leveraging, positive branding, and exceptional communication skills. It can also benefit from a continued social media presence. Link building means thinking outside the box to try and get high quality, natural links.SEO is more a culmination of multiple marketing and branding strategies, rather than a single notion.
Thanks to Matt Jackson, WildShark Ltd!
---
#15- SEO is just evolving
SEO is evolving, but definitely not dying. Techniques that worked a few years ago are no longer effective and are being replaced by new ways to position yourself at the top. You must either adapt or find an alternative way to promote your brand.
Thanks to Alex Novkov, Kanbanize!
---
#16- Perfect your storytelling skills
The biggest SEO trend prictator for 2018 will be social media content. Your website traffic will decrease by 20-30 % because users will spent more time on social media feeds than on a company website or blog page. Perfect your storytelling skills. Screw impressions; your biggest ROI will be engagement on posts, such as comments, likes, and shares. Your posts should connect with people, teach people, and bring value to your prospects. Storytelling skills are key to good content.
Thanks to Vicky Llerena, Social Vibes Media!
---
#17- Competitive brands will continue to curate content and build websites of high rank
Not only is SEO not dead, it is arguably as vital as ever. SEO as it used to be – full of holes and gaps that blackhat SEO tactics could exploit – is dead, but modern SEO continues to help savvy businesses thrive. SEO is no longer built on generic link building and spammy authority-boosting tactics, but rather quality content and mobile-friendly pages that Google recognizes the value of. So while digital marketers can no longer take advantage of holes in the system and make themselves valuable to companies in that way, it is still imperative that competitive brands continue to curated content and build websites that rank highly on Google. Otherwise, consumers will have trouble discovering them and their products.
Thanks to Nate Masterson, Maple Holistics!
---
#18- Quality experience is key
Driven by Google, search engine optimization continues to become more aligned with user experience. Companies that deliver a quality, relevant experience to targeted users have an SEO advantage. There are still a lot of fine-tuning strategies to employ based on the evolving Google algorithm. As Google expectations become tighter, and competition for search positions increases, businesses and webmasters must work even more diligently to succeed.
Thanks to Neil Kokemuller, Guide to Digital Marketing!
---
#19- Keyword research continues to increase
I'm a little baffled that people keep saying this. When I redo keyword research for my businesses and for my clients, I often see increased monthly search volume for the same keywords year-over-year. I think ranking at the top of search engine results is as important as it's ever been. Is it more competitive? Definitely! Is it harder to game (with shady tactics)? Absolutely. Are there more ads at the top? Yes, but many people still skip past them. Will voice search displace on-screen search? It hasn't yet.
Thanks to Eagan Heath, Get Found Madison!
---
#20- No one will see your content if it's not optimized
SEO is not dead, it never was and it never will. SEO did shift to being more content focused but it doesn't imply it has lost its impact. And there is a very simple explanation for that – no one will see your content if it is not optimized. You can have the most amazing and high-quality content but the fierce competition won't let your content to be seen unless it has proper structure, keywords and keyword density.
Plus, you still need link building for your content to rank high.SEO is a tool to promote a service or a product just like advertising with one difference though. Unlike advertising, SEO doesn't have field constraints. For example, Facebook and Google recently banned cryptocurrency related ads. So if you want to let the public know about your cryptocurrency, you'll have to turn to SEO. Even if your field is not banned, considering the rising costs of paid advertising, you should definitely consider shifting to SEO.
Thanks to Areg Vardanyan, AYYO Digital Marketing Agency!
---
#21- There will always be the ability to approach optimizing that algorithm
Unless search engines go to a paid-only model, SEO isn't going to die any time soon. There will always be an algorithm, which means there will always be the ability to approach optimizing that algorithm. However, it is worth nothing that the model of SEO has dramatically changed. Gone are the days of keyword stuffing and SEO being just a marketing strategy. Now, SEO is a key component of overall branding.
Thanks to Damon Burton, SEO National!
---
#22- It just comes in different forms
As long as people Google things, SEO will not be dead. Today, it just comes in different forms – like asking Alexa a question instead of typing it in Google or a search engine picking up on the captions of a video posted on YouTube. Just like the media – things aren't dying. They are just changing and if you don't keep up with the changes, you're in trouble.
Thanks to Christina Nicholson, MediaMavenAndMore.com!
---
#23-Businesses should hire the right search and content team
A lot of the marketing agencies in town follow a more traditional approach in terms of advertising for our city's coven of small businesses. However, I am aware that Millennials like myself will only continue to flock into the city. These people are no longer finding out about cool sporting events or finding places to eat through word of mouth advertising. Most people these days are looking at their phones if they want to find a restaurant to try in the French Quarter. So SEO and local SEO will be extremely important for small businesses as time goes on. These cool shops and galleries that exist within a city like New Orleans must be easy for people to find
online. SEO is not expected to go away any time soon, but since ranking high on Google will get tougher, it's important for businesses to hire the right search and content team. Doing so will allow your business to keep up with SEO trends and continue to succeed.
Thanks to Flynn Zaiger, Online Optimism!
---
#24- It has to evolve
To misquote Mark Twain, reports of SEO's death are grossly exaggerated. Of course, SEO will have to evolve to deal with new ways of searching such as voice search and new devices but what remains a constant is that people need and like to search to research, find inspiration and navigate choice. And while people continue to search, SEO will remain an important element in every online business's digital marketing efforts.
Thanks to Caroline Keppel-Palmer, Museum Bookstore!
---
#25- SEO is not dead, but it is different
Despite all of the areas that Google operates in, the company still refers to itself as a search company. Which is very telling about their future motivations. Google understands the power and responsibility that comes with managing the flow of information. And they understand how best to monetize that. That means they understand that people have different needs when it comes to the information they are seeking. This is why the Google search results page is no longer a simple list of ten blue links. You can now find ads, local results on a map, images, videos, tweets, answer boxes, and other components all on the same results page. Some people don't trust ads, some people want a local result, some people want a niche directory, some people want to read every website they can find, and some people just want their question answered. And those needs will not only vary person to person, but from search to search for that individual. Google needs people to trust that their search will provide them with the best experience and options possible. SEO is not dead, but it is different. And it will continue to adapt to the needs of the end user. There is a better question to ask, which is the same question you should ask of every marketing opportunity. Is SEO right for my company?
Thanks to Adam Draper, Gladiator Law Marketing!
---
#26- There's rapid transition to voice-based search
As someone who has practiced SEO for over 12 years, no, SEO is not dead. Yet. The biggest challenge to the future of SEO is the rapid transition to voice-based search. Currently, we try to get our clients on page one of Google which has room for 10 organic listings in addition to the paid listings. With voice search using consumer appliances like Google Home, there isn't even a computer screen. So when you ask it a question, it doesn't give you a choice of 10 responses it gives you one. Voice searches on phones and desktops are still dominant for now so I would say the way to compete effectively in that area is to focus on creating relevant, keyword-rich content that increases your odds of coming up in a search. Because despite the speculation that the use of keywords is dead or dying, I think using keywords is still effective. But the trick is finding long tail keyword phrases that may have lesser search volume individually but when you combine them on a page with at least 500 words, their power to draw search queries adds up.
Thanks to Gene Sower, Samson Media, LLC!
---
Is SEO dead? Tell us your thoughts in the comments below. Don't forget to join our #IamCEO Community.