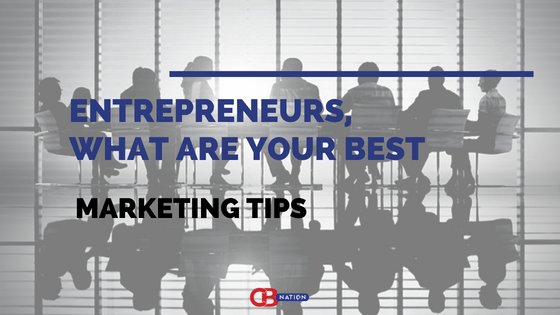 One of the toughest challenges an entrepreneur faces is marketing. You can have a great idea and you can have a great product; but if you can't effectively market your idea, you'll never be as successful as you were meant to be. With so many other competing entrepreneurs and ideas, marketing can be a tough nut to crack. We asked some successful business owners and entrepreneurs for their tips on marketing, and how their strategies led them to success. Here's what they had to say:
#1- Go where your potential customers and clients are
Focus your marketing efforts on where your customers or potential customers spend their time. Go where they are and where they spend their time. This will require you to do some research to understand their current behavior and to understand where they spend their time. Take the time to do that research since it's important and really helpful. For example, participate in groups on Facebook or LinkedIn. See how potential customers are responding to competitors' efforts and where they're engaging with competitors. And this also means you don't have to be engaged in all types of marketing.. If your clients don't spend time on one type of social media, don't spend time there and don't use your budget in that marketing medium if you won't get a response from your audience.
Thanks to Suzanne Brown, Oksuzi marketing!
---
#2- Make inbound marketing a priority
Inbound marketing is focused on attracting leads through relevant and helpful content and adding value at each stage of the buyer's journey. With inbound marketing, prospective customers find your brand through channels like blogs, search engines, and social media. Inbound marketing is hands-down the most effective strategy – specifically, content marketing (on-site and off), search engine optimization and social media. There is no magic to marketing – it's all about attracting clients with helpful, relevant content that addresses their pain points and/or needs and provides value.
Thanks to Crystal McFerran, Velo IT Group!
---
#3- Know your Customer. Create the right customer Persona
This may seem like an easy job, but I recommend my fellow marketers to sincerely focus on this step. A lot of times, I've seen people on my team just assume the buyer persona that seems fine to them, which is the worst way to do it, because no matter how amazing is your marketing strategy, if you are not targeting the right audience, it's useless. So, create buyer persona based on real data of your customers and market research (If you're new). Once you're able to put a face and personality to your buyer, it's easier to meet their needs.
Thanks to Preksha Madan, AdNabu!
---
#4- Frequent live events
Live events are definitely one of the best ways to generate leads and start to build relationships, but it's important to follow those up afterwards. We do post-event email marketing campaigns and divide the leads out per region so the managers can work on them with the sales teams. We have regular calls after the event with the sales team to make sure they know where they are with the leads. Once you build up the relationships you can go back to the events and people come over and say, Oh hi, I met you guys last year.. This is the massive advantage of events over email marketing; it's more personal and you're not just a faceless recruitment agency.
Thanks to Nicola Lloyd, Frank Recruitment Group!
---
#5- Create, distribute and analyze a customer survey
One of the most valuable tools that a marketer can have is a clear and concise view of the demographics and habits of their customers. Up until a certain point, much of the knowledge of any company in regards to the demographics and background of their customers is based on guesswork. By creating a comprehensive survey and incentivizing its completion for customers, you can gain invaluable insights that will help you to craft the most effective marketing strategies possible.
Thanks to Nate Masterson, Maple Holistics!
---
#6- Touch the market pulse
Use all your online and offline sources and resources to get the market data as much as possible and analyse those in different metrics to find the current trends and upcoming future trends related to your trade. Once you know the actual present needs of your target audience, immediately find the shortest route to reach them and get to action. Analysing market data will also help you the guess the next set of requirements of near future in advance and you will have certain time to set your action plan to harvest the best crops from the future market. Therefore, the best marketing tip is to touch the pulse of your market to know the present and estimate the future well ahead.
Thanks to Andrei Vasilescu, DontPayFull!
---
#7- Start marketing your product or service before you begin development
My best marketing tip is to get marketing involved before the development of the product. From my experience as a business owner, you need to conduct extensive research so every business decision you make is backed by data. You can easily make assumptions of which features your target audience will want, but if you're not conducting market, competitor, and user research, you are going in completely blind. The chances of your product succeeding if you don't have clear cut reasoning behind every move, are very slim. Many people use marketing only for promoting your product after launch. This is a big mistake because marketing needs to be involved throughout every phase of the product/service lifecycle. Marketing isn't just an afterthought. You need to start marketing your product or service before you begin development. Validating your product, the reasoning behind why you built the product, the messaging, etc. are all things you should be considering early on. Many business owners will spend an enormous amount of time and money building something that fails in the market simply because they did not validate their idea and only leveraged marketing when it was time to promote their product.
Thanks to Marco Cirillo, Kibii!
---
#8- Consistency is key
Don't try to do everything and don't try to be everything! Pick a few key tactics and do them consistently. You don't have to be on every social media platform and you don't have to do every single marketing method you come across. Find what works best for you and concentrate on becoming the best in that particular method.
Thanks to Amber Phillips, Amber Phillips Design!
---
#9- Always have an engaging elevator pitch ready
Since you never know when or where your potential customers or investors may cross your path in life, you need to have an engaging elevator pitch ready to share at any time. The average adult attention span is under eight seconds, so you should have something compelling to offer about your brand that shows value, and does so quickly.
Thanks to Kelley Lauginiger, American Freight Furniture & Mattress!
---
#10- Implementing Call Tracking Platforms
One of the best tools you can use to track specific marketing campaigns and return on investment (ROI) is by implementing a call tracking platform. A call tracking platform allows you to assign unique phone numbers and tracking sources providing you with valuable information on what marketing campaigns are producing leads and which are not. These metrics provide information on where to spend marketing dollars and where to cut costs. I have worked with many clients over the years who were throwing their marketing dollars in the wind, with no real tracking in place. Imagine how much money it saves once this is implemented allowing companies to be able to make informed marketing decisions!
Thanks to Marissa Katrin Maldonado, Relative Marketing Group!
---
#11- A dedicated landing page
Pairing your Google Adwords or Facebook Ad campaigns with Dedicated Landing Pages. I can't tell you how often online retailers simply point their Facebook ad campaigns to a home page. A dedicated landing page is crucial to get decent conversions and to make a better user experience. You just worked so hard to get that customer to click on your ad, why wouldn't you lead them to a targetted product offering?
Thanks to Sam Sternweiler, Opasite!
---
#12- Test quick, fail quick
Any marketing that you cannot analyze and measure is a failed marketing. Definitely, you may spend money to do some advertisement, and you see an uprise in sales around the time your ads run. But, tell me how can you be so sure what you spent on the adverts correlates with the sales? Maybe it was something completely different altogether. It may be a seasonal uptick for what you sell that will fade away in a month. If you are ready to commit time and money to a marketing campaign, you should make sure that you can measure the results. Setting up conversions that track each marketing campaign and running multiple marketing campaigns indistinct and small batches will boost your ROI. Compare the marketing channels and see which perform best. Toss out the ones that don't work and keep those which do.
Thanks to Adid Khan, Startup Wonders!
---
#13- Shock/surprise and talk
Do anything that shocks a reaction out of the audience be it unexpected tears or surprise or jaw-dropping. Once that's achieved then open conversation while they are still digesting what they saw/ heard/ experienced. Those few precious seconds when your tactic or storyline left the audience speechless are your marketing gold. Use them to engage and start a conversation about your brand and product.
Thanks to Jinal Shah, If I Were Marketing!
---
#14- Continuously hone and test your unique selling proposition
Continuously hone and test your unique selling proposition. Why should customers choose you over the competition? Is your product particularly suited to a niche market? Do you have a unique background? By perfecting your unique selling proposition you will stake out a position in that market that you can expand as you grow.
Thanks to Roy Harmon, Advertoscope!
---
#15- Building Relationships
I'm not a flashy, slick salesperson, nor should I want to be. I'm an introvert. My marketing approach mirrors my personality so it comes across as natural and genuine. I like to think of business relationships in the context of romantic relationships. If you are on a first date and the person you meet asks you to marry them, you'd probably run…fast! Same thing in business. Don't try to close the deal on the first meeting. It's awkward. Have a first date. (Check out my website.) Then ask them out for coffee. (Want to download my free report?) If things click then you'll want to ask them for dinner. (Purchase my entry-level product.) And, then yes, if all goes well…marriage. (It's time you bought my high-ticket offer.) And, don't forget – schedule date nights after you've closed the deal.
Thanks to Michele Daae, Daae Consulting!
---
#16- Focus on the Benefits, Not the Features
Make sure you're communicating what you and your company can do for your current and potential customers by explaining benefits, not features. Showing and telling your client how your products or services will improve their life stirs much more desire for your offer than simply explaining the features. If recommending a shampoo for a client, for example, explain how their hair will look and feel after use rather than listing out the ingredients. Some people may purchase solely based on features, but most are driven by an emotional reaction and feelings of desire for the benefits of what you're marketing.
Thanks to Caity Hubert
---
#17- Contribute regularly to existing well-trafficked blogs
Thought leadership is an effective and cost-efficient way to build your brand, increase your visibility more broadly, raise your profile and attract more clients. Activities like speaking at a conference, writing articles, building your following on social media all contribute increasing your awareness with potential customers and building your credibility with a larger community. Instead of trying to start your own blog or newsletter, try contributing regularly to existing well-trafficked blogs in your industry or newsletters of like-minded organizations reaching the same target audience as you. Make sure you put your URL or contact info on it so they can find you and follow up. When your articles or talks become available online, make sure to send them out via social media to all your friends, followers and contacts.
Thanks to Paige Arnof-Fenn, Mavens & Moguls!
---
#18- Always give people more value than you take
That means not just asking people to do business with you, but providing them with something of value instead. Maybe it's hosting a free seminar to educate people on something related to your business. Maybe it's offering your existing clients an exclusive discount on one of your other services.A great place to start is answering some of the FAQs you get about your business in the form of blog posts. For example, let's say that you own a pool and spa business. If someone searches "how much shock to use in the pool" and they find an article that you wrote on your businesses website explaining how much shock to use in their pool, there's a good chance they'll come to you for further business since you already helped them before and established yourself as an expert..Bottom Line: Always provide value first in your marketing. Build a relationship with your potential customers by giving them more value than you receive.
Thanks to Andrew Schutt, Elevated Web Marketing!
---
#19- Test different tactics
The best marketing tip that I can offer is to *test* different tactics until you find something that resonates with your customers. Social media, for example, is a very cost-effective way of getting your name and company in front of the right people however it is not a "set it and forget it" strategy. Business owners need to test different content topics as well as different target demographics when advertising online. There are so many combinations possible that these tactics must be done in a very organized and methodical way. This idea of testing can apply beyond social media of course but adjusting your strategy online can be done very quickly and efficiently once some analytics are known.
Thanks to Jeff Magnuson, Jeff Magnuson Consulting!
---
 #20- Know your goals
My biggest marketing tip is, know your goals! I know that answer lacks fancy buzz-words and may sound simple. However, it's the basis for any successful marketing strategy. I've worked with many business owners over the years who look at marketing as a "quick fix" rather than a long-term solution. They want to run one social media campaign and have instant success or do one email blast and think it'll build a robust customer database. Marketing has many moving parts and you need to understand and communicate your business goals in order to know where to allocate your marketing resources. Do you want to get more leads? Do you want to sell a certain number of products? Do you simply want to raise awareness in specific markets? Odds are, it's a mix of all of the above. Laying this out first helps you or whomever is handling your marketing understand the needs of the business and from there you can build a thoughtful marketing strategy to help you reach those goals. Without it you're going to waste a lot of time and money!
Thanks to Kristen Harold, KMH Marketing!
---
#21-ABM (Account-based Marketing) funnels
ABM (Account-based Marketing) funnels are a very effective way to market your business. Define your most important customer groups by title, industry, or any other narrow segment. Then make content for their specific decision-making process. Where are they searching for answers to their problems? What would interest this particular group about your solution? Go deep, think of their specific challenges and how you play a part in solving them. At the end of your funnel you should incorporate some personal outreach, an email or phone call does wonders for conversions.  Account-based marketing funnels target very specific market segments, helping you cut past the noise of traditional marketing messaging and focus on your very best customers. The difference between an ABM funnel and a typical marketing funnel is that you're reaching a defined group of buyers. You'll reach the exact people who need your product, with messaging they'll relate to.
Thanks to Steven Benson, Badger Maps!
---
#22- Measure. Use data
React based on your gut, but data as well. For a small business owner, it's easy to be set in our ways, but bringing in data can help break you out of a rut, or to simply understand where your current marketing efforts are working, or failing.
Thanks to Mark Aselstine, Uncorked Ventures!
---
What's your best marketing tip? Tell us in the comments below. Don't forget to join our #IamCEO Community.