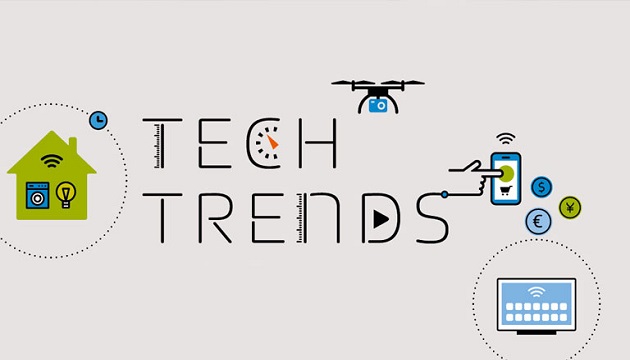 Technology keeps evolving and with time it has graciously opted in for convenience and comfort. Most of the technology trends of current times support the customer's need for convenience and aim to resolve their issues concerning solutions to the problems they might be facing.
Why do you as a business require technology? What makes you opt for technology?
Ask small businesses, and pat comes the answer- to solve their non-core issues and to make the business smarter and manageable. Apart from this, small businesses also use technology to improve their business processes and to grow more efficient.
The small businesses are really small, not just in terms of the team members, but also in terms of operations and client. That's why it becomes necessary for them to manage the data, and keep it as secure as possible. from contact management to nurturing and conversion, everything happens in-house, which means they rely majorly on technology and tools that can aid them.
At this point, small businesses need to keep an eye open for the trends that can boost the tech usage and improve their business. Here, we will talk about the technology trends that small businesses should be aware of.
Here are a few tech trends that will help your business evolve.
 1. Artificial Intelligence

This is still very nascent or in the early adoption stages. However, a lot of people believe AI is not for small businesses. However, we beg to differ. AI can prove to be an additional and very capable resource for the small business. For instance, if your business is involved with customer relationships, and needs to offer a delightful experience to your customers, then you need resources. However, hiring as many resources as your business needs can add up to the cost of the business.
With AI, you can easily forego the resource cost. You can hire AI as your resource, and the machine will talk on your behalf and even hold proper conversations with the people. In fact, you will notice that chatbots are capable of handling human-like conversations, and keep the user engaged.
They will be able to manage all the issues, and even resolve them capably. Unless it is an issue that requires human intervention, you can let chatbots handle the situation.
This will benefit in the following ways:
AI in the form of chatbots and other voice assistants can help users with resolving their issues, and can connect with them in real-time. This leads to better experience on your application.
The chatbot can offer better engagement, thus keeping the user on your website for a longer while, and improving your website's traffic.
Finally, you wont need to hire resources to keep the conversations flowing in .real-time. you can easily hire AI or virtual assistants to do the job.
They can even help improve the mobile app development and increase the security on your application or business website.
 2. Blockchain Technology

We have all heard of Bitcoin. Blockchain is the technology that controls the Bitcoin and other cryptocurrencies in this segment. Blockchain being decentralized, helps with augmenting the security and flashing better solutions for the user. For instance, most people within the small businesses need to ensure that the goods they are sending do not get manipulated or, there is no mistake in the consignment of the goods. However, apart from trust there is no other factor governing the small business affairs, as there are a lot of middlemen involved. From the commission cost to ensuring safety of goods, it can be quite a huge thing for the small businesses, and can also cost them heavily.
However, Blockchain can relieve them of some of these aspects. It will cut down on the middlemen, and ensure that minimum people are involved in the transfer of goods or products or even the service contracts.
With the electronic ledgers maintained, record keeping and ensuring safety of data, and keeping it far away from manipulation becomes easier for the small businesses. Supply chains and authentication are done to perfection, and you can expect speedy transfer of data with this underlying technology.
Apart from this, it can confirm the security needs of the small businesses, thus engaging them at an early stage, and keeping their records safe.
 3. Augmented & Virtual Reality
Virtual Reality or Augmented Reality is not new to the world. In fact, a lot of gaming applications and industries are using this new reality to improve their business verticals. Pokemon Go, an engaging and highly sought after mobile gaming app development used Augmented Reality.
Virtual Reality is being used by hotels and the hospitality industry to showcase what makes them different. So, what is so unique about this technology that can pose to be a benefit for the small businesses.
They are unique, highly efficient and immersive technologies that provide intense experiences and improve the quality of engagement.
In the age dominated by work-from-home and remote communication, you will see that AR and VR will play a huge role in ensuring seamless communications and perfect engagement. From offering immersive product videos to engaging the users with perfectly tuned and highly capable site experiences, the visit from a potential customer can be converted using this technology.
It is important for SMEs to not just understand the technology, but also know how to use it to their benefit to leverage it better.
This technology allows you to showcase your potential and the potential of your products using 360-degree videos.
 4. Cybersecurity

You should be able to engage the users with perfect security solutions, which will help them trust your services, and allow you to engage better with the customer. However, cybersecurity is often not taken into consideration by the small businesses, as they believe it is not an important issue for them.
They are small and they don't believe it will be useful to them, which is why their overall spend on cybersecurity is considerably low.
However, with the growing number of hackers and the growth in the number of frauds, it has become important for the SMEs to invest in security so that they can build trust among their users. The users won't provide the essential data or use the products if the infrastructure is not secure enough.
You can improve your network capabilities and build a tough wall to ensure that the data is well hidden and private.
 5. Hyperlocal Advertising

Marketing is key to the small businesses, as it will help them boost their business conversions and improve their efforts. Apart from word-of-mouth, it is important for businesses to opt for hyperlocal advertising, which will take into account the localized markets, and directly market the product/services to the audience. It will be more targeted and well-segmented means of marketing, which can enrich the audience's efforts and improve the results for the business. The investment and the returns will be well within the business demands, and will essentially prove to be useful to the audience and the business.
Summing Up
When you are a small business, you rely on tools, expertise and people that can enrich your needs. However, considering your processes are still in the nascent stage, and you are still not quite sure of the next step, it is important to curb your spend and concentrate your efforts on developing. The spending need not be low, but should be wise.
As a result, you need to think through the technology that can help you in the long run, and boost your scaling efforts in the near future. You will need to invest in this technology, so that you can improve the business scenario and the ROI.
So, what is your small business mantra that you abide by and which technology trends have proven useful to your needs?
Author Bio:
Happy Patel is a digital marketing executive at Space-O technologies, an iPhone app development company. She loves to write informative articles and share her knowledge through content marketing. She is an avid reader and likes to read about the latest trends and news in the mobile app industry.