Marketing
18 Entrepreneurs Share How They Use Blogging for Business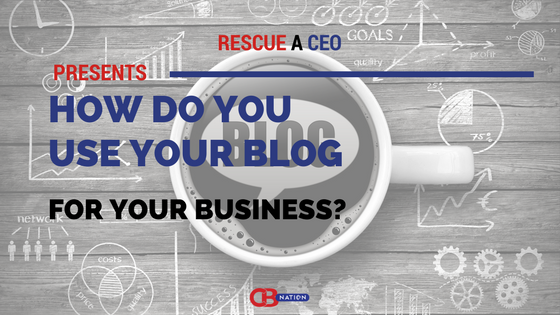 The Blogosphere is here and it is not going anywhere. It's not just for people talking about what they're eating for lunch or their next celebrity crush. Blogging is big business for entrepreneurs and business owners. CEO Blog Nation recently launched a blogging community and we regularly blog for entrepreneurs and business owners and there are numerous reasons to blog. Rescue a CEO asked some businesses how they use blogging to help their business.
#1- Provide information and advice to customers
To build buzz around the Ollie Swaddle and keep our customers interested in new developments we are working on, we write informational posts about common parenting questions/topics and offer helpful solutions and advice that parents can integrate in their daily lives. For example, we regularly post new articles about the benefits of swaddling, tips to help baby sleep, how to pick out the correct swaddle, and more, as it keeps our customers interested in coming back to our blog site. On top of this, we also write exclusive blog posts for other parenting publications to post, which all contain links back to our blog posts and website. We have found that this marketing tactic has helped build our customer base and increased traffic
on our website.
Thanks to  Hindi Zeidman, The Ollie Swaddle!
---
#2- Drive Traffic
The only purpose of my blog for my business is to drive traffic to my site, which in turn drives them to my CTA pages. What helps is that I make sure every post is chock full of information so it'll be more likely that readers will be curious to check out my products page or even subscribe to my newsletter. Furthermore, I look at my blog as the ultimate advertising tool because of the exposure each post could get with proper outreach. It's probably the best way I have to continuously advertise my business and get my name out there.
Thanks to Andrew M. Warner, Hidden Profits Report!
Blog: http://www.hiddenprofitsreport.com/blog/
---
#3- Promote our business
I use my blog to show my audience what we are doing for clients, invite them to local events we are involved in that they will enjoy and connect business owners with complementary services and products that I have used and can recommend. The blog therefore works to promote our business, provide our customers with information and resources they'll appreciate and to make connections in the real world, locally and offline. It's not enough to promote, publicise and market online. We want business owners to engage with us in person.
Thanks to Nicole Bedeau,BLPR Digital Strategies!
Blog:  http://blprdigital.com/blog
---
#4- Educational resource and the base of our product pyramid
As an online publisher talking to other online publishers about monetization, we use our blog to serve as an educational resource for our audience, as well the base of our product pyramid.  As they become loyal readers, they move further along our sales funnel — first as subscribers, then as customers. In that way, not only do we use it to inform our audience, but it's also our own digital revenue stream. (And in turn, because that's our subject matter, the blog serves as a product demo as well!)
Thanks to Rob Ristagno, The Sterling Woods Group!
Blog: https://sterlingwoodsgroup.com/blog/
---
#5- Create useful and shareable content
Rise Art is an online marketplace bringing contemporary art to art lovers and collectors worldwide. We use our blog as an informational tool and our audience primarily consists of people who care about style and individuality, and who love art, but might not necessarily know that much about it. Our main aim is to establish our brand and build trust by creating useful and shareable content that will spark an interest, provide insight and get people talking. We post 2 – 3 times a week, on a rotation of regular topics, from guest curator interviews, to art world news and artist studio visits. Copywriting and constructing blogs can be time consuming, so we try to feature interviews as well as commissioning art world experts, journalists and curators to guest write pieces for us. Our marketing team hosts monthly and weekly creative sessions to generate ideas based on current media trends and artist news. When we're deciding what to post, we consider: if Rise Art were a person, what would they want to talk about? We measure the success of our blogs not just in terms of the signups it generates, or the traffic we receive, but also on engagement levels and the discussion it sparks. Our blog is crucially a brand positioning tool that we use to inform our social media output, so we mainly rely on paid social as well as referrals to drive traffic. Our blog is primarily utilised as a brand discovery tool for people who might never have heard of Rise Art but are interested in contemporary art – it's a great way for us to showcase our amazing artists and start a discussion.
Thanks to Scott Phillips, Rise Art!
---
#6- Speak to the phase of the prospective buyer journey
Using your blog for thought leadership and to show off how much you know about your industry is important, but I've discovered that many of our prospective clients, by the time they are reading my website closely, want to get a sense of our working process and how they and our team will work together. They're interested in things like timelines and who is responsible for what. They want reassurance that I'm not just skilled but that we're a professional outfit that can actually deliver. So I've had luck by developing articles on our blog that focus on process. The tone is Here's how you can get this content marketing activity done, step by step. But the impact is really, Here's what we're going to do for you. These articles also make good reference points to send prospects to after initial call. The point is to use your blog to speak to the phase of the buyer journey that you prospects are in, and that's not always in the  awareness-building phase. Our prospects are often in the consideration phase, so content about process resonates with them.
Thanks to Robert McGuire, McGuire Editorial Content Marketing Agency!
---
#7- Knowledge Base
We think of our Search Office Space blog as a font of all knowledge when it comes to flexible workspace. In recent years, we've witnessed the steep rise in popularity of serviced business centres and coworking. As such, we've found that people are searching the internet for advice and guidance on how to go about choosing one, and how it'll benefit their business. We're currently running a series titled The Coworking Diaries whereby we visit the spaces on our portfolio and review them for potential occupiers. We also provide content for people who have already found an office with us, or who are looking for general business advice, to keep them engaged with the brand. Of course, we like to have fun too, and create light-hearted content to be shared on social media, like our post on famous offices from the movies.
Thanks to Richard Smith, Search Office Space!
---
#8- Share expertise and knowledge
Business blogs has provided my small business with a chance to share my expertise and knowledge with a larger audience. It has been a powerful benefit for Blu Skin Care consultants and knowledge workers.
Thanks to Zondra Wilson, Blu Skin Care!
---
#9- Inform Readers and SEO
When it comes to the basics of SEO (search engine optimization), blog posts is the place to start. The reason why websites have regular blog posts isn't simply to inform its reader base, it's also to improve their SEO and rank higher on Google searches. The higher you rank on Google, the more likely it is for someone to click your link and potentially improve conversion rates and then sales. This has a domino effect that starts with blog posts. A simple continuous action in posting blogs can actually impact your business in a bigger way than you thought. Keep on posting blogs on your website until you notice a change in sales, revenue, and click through rates.
Thanks to Ajay Prasad, GMR Web Team!
---
#10- Gain traction and credibility
Blogging is key if you don't have advertising $: "I began my career as a blogger and affiliate marketer. I learned how impactful a blog can be for a website because I had NO money to put into ads. I had to learn persuasive copywriting and find keywords that weren't super competitive to grow my business. A blog is the best way to gain traction and credibility in search if you don't have advertising money.
Thanks to Lexi Montgomery, Darling Web Design!
---
#11- Earn money through traffic
My name is Kate. I am a trial specialist. blogging has helped my business earn money not through the traffic that it receives, but through all the clients that find me on Google Search engines naturally. I make use of SEO and content marketing tools.
Thanks to Kate Stebbins!
---
#12- Position ourselves as authorities in the industry
Our blog is a way for us to position ourselves as authorities in our industry. We let people know that we are trusted translation and localization experts by writing in-depth, originally researched posts that explore the details of language, medical and legal translation, localization and transcreation, and interpretation. That's the kind of content that our target audience comes back for, that search engines recognize, and that our competitors imitate.
Thanks to Sean Hopwood, Day Translations!
Blog: https://www.daytranslations.com/blog/
---
#13- Informing our customers and answering their questions
In the car industry, not a lot of dealerships are blogging about things that will make a difference for customers. On our blog, we focus on informing our customers and answering the questions that we know they have. We don't try to sell them a car through our blog. We would rather people feel informed before making a purchase, whether it be with our company or another.
Thanks to Korey Adekoya, Shabana Motors!
Blog: http://www.shabanamotors.com/ 
---
#14- Marketing
Blogging is an integral piece of my marketing strategy. I believe in blogging pretty much everything I know and learn about social media. Blogging about everything I learn in social media marketing allows me to attract clients looking for help in that area while setting myself up as the expert and helper for small businesses who are managing their own social media marketing. Writing new posts on a regular basis, using the appropriate keyword phrases, has given me top ranking in Google and most of my new referrals tell me they found me by searching. My blog is proof that making your content useful not only helps existing clients, but also attracts new ones.
Thanks to Anita Kirkbride, Twirp Communications!
Blog: http://twirp.ca/blog/
---
#15-  Keep visitors updated with industry news
We primarily use our company blog to keep visitors updated with industry news. SEO has an ever-changing landscape and we need to show our visitors that we have our fingers on the pulse of how the landscape is evolving and morphing. Doing this proves that our work is in-line with current guidelines and best practices, ensuring that our clients are in capable hands. One example of this is when Google's Penguin algorithm changed rather drastically towards the end of 2016; we made sure that all our readers understood what this meant for SEO campaigns.
Thanks to Steve Pritchard, It Works!
---
#16- Two reasons
Firstly, my blog is to educate and create awareness around intitiating digital conversations between SMEs and their customers, and also on the need to aquire more digital estates as SMEs. Secondly, I use my blog for SEO reasons, the more blog post the more traffic and the more our website authority grows.
Thanks to David Akara,  Verhaal!
Blog: https://www.verhaal.ng/Blog/
---
#17- Various reasons
A blog is a great idea for various reasons. First of all, great quality content on your website which users will enjoy will always go down well with Google. Secondly, it's a creative way to engage and build relationships with your current customers and new customers. My final point, is that it can be a great content marketing strategy for improving your website's organic strategy. For example, if you're writing a blog post on how entrepreneurs cannot be distracted from home, you can put out a quote request using free platform HARO, and include the great quotes gained through this platform. Once you publish your article, contributors may want to share your piece and write something about it on their own website. Additionally, your article may be used for journalist's feature pieces or recommendations for 'further reading' at the end of their article.
Thanks to Hannah Moore, Intermarketing Agency!
---
#18- Share with your audience
Blogging is an important part of my business. Utilizing a blog for business is a great way to share with your audience new products, opportunities and even the way that you think. However, I believe that it is important to place it in their inbox through your CRM.
Thanks to Todd Burkhalter, Drive Planning!
Blog: http://www.driveplanning.com/blog/
---
How are you using your blog for your business? Tell us in the comments below.