Advice
16 Entrepreneurs Explain How They Use Their Websites For Business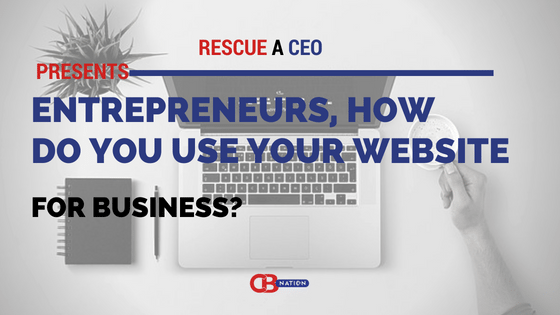 If you ask several business owners how they started the process of establishing their business, they'll tell you it started with a domain search. This demonstrates the importance of having an online presence through a website or social media presence. A website is a sure mark of professionalism and gives credibility to the business.
We asked entrepreneurs and business owners how they use their websites for business and here are the responses.
#1- Obtain contact information
With social media nowadays many people think websites are a thing of the past for small businesses however for my company it is critical. We have a stong presence on both facebook and Instagram but our website is how we convert leads. We use our social media presence to funnel out potential clients to our website and into our sales funnel. Once we get them to our website we make sure they have every opportunity to send us their contact information on every page they visit. After we get their contact information we add them to our weekly newsletter so they never forget about us and when ready to do business, we are the first company they think of.
Thanks to Cory Weikel, Northwest Veterans Realty!
---
#2-  Provide insightful and helpful pieces
We treat our website as a guidance centre for our consumers. As an insurance comparison website, we have split our blog into the various categories of insurance we cover, including car, home and business. We provide insightful and helpful pieces on any and all topics related to insurance, whether it's how to get the best deal on your car insurance or what happens if a business doesn't have public liability insurance. Wider topics, such as 'how to burglar-proof your home' gives us scope to reach out to a wider range of readers.
Thanks to Steve Pritchard, Cuuver!
---
#3- Several ways
I love my website as it really represents who I am as a person, but also who I am as a business owner. I feel like if I can get my potential clients to my website, that it will resonate with the right people, and those people will eventually becomes my clients (which is what has been happening!). Yes, my website talks about my therapy private practice, but it also houses my writing as well. There is a section for my blogs, links to my book on amazon, and links to other books I recommend reading. I also use it to get people to my social media pages, where I share the HARO articles I've been featured in as well as other important information on mental health.
Thanks to Heidi McBain
---
#4- Showcase our products & provide useful content for consumer
As an e-commerce business, the bulk of our efforts are based around our prolific Amazon storefront. However, a website is a critical element of any business, and as such we use our website for our business in order to not only showcase our products but to provide useful content for consumers. By building and maintaining an active blog we are able to produce relevant content that not only helps consumers but brings us new ones with related interests. Ultimately the website of any business is the best foot forward of said business – maintaining a practical and attractive one is key.
Thanks to Nate Masterson, Maple Holistics!
---
#5- Knowledge dissemination
To start – I am an author and online trainer. I do live programs too sometimes, but mostly – I am selling books and programs. I have a website for each of my major books. I have a store sight to sell books and programs. I have an online learning management site. I have a personal – who am I sight that feeds back to the store. And I have a blog. Actually 2 blogs. Plus a podcast that isn't used that often. And a youtube channel – a couple of those actually. One for business and one for my hobby (which is watching Bollywood movies and discussing the humanistic content of them). I think of what I do as knowledge dissemination – not selling. I use the blogs, videos and podcasts to write and share content that drives people to my store site. I share on linkedin, facebook, twitter, google+ etc. I also disseminate my work through books, audio books and streaming video and dvd. And I have courses at other online learning sites like Udemy.
Thanks to Jennifer Hancock, Humanist Learning Systems!
---
#6- Verification tool for new customers
In the not-so-distant-past, an online presence was nice to have. Now it's a requirement. Many new customers will either find you online or verify your legitimacy online before they choose to work with or buy from you. So, a strong online presence should be high on the priority list to create opportunity. Some tools to consider are online business directories and quality social media accounts that refer back to your business' website. A website is a non-negotiable for your business. It should include information on your services and products, photos, videos, testimonials, and more. Take time to develop strong content that is professional, answers customer questions without giving all of your expertise away, and shows how your product or service solves the customer's issue. It should be customized to your potential and current customer.
Thanks to Kristine M. Gobbo, Spectrum Public Relations!
---
#7- Helping businesses improve customer service skills
Our website is so important, we have two of them! The Nancy Friedman website is where visitors can go to learn more about our customer service and communications on-site training sessions. It's where you can find our blog and podcast and all things relating to the business. Our service skills site is a leading communication eLearning platform which helps thousands of businesses worldwide elevate customer service performance, enhance teamwork and improve leadership skills. Both have played huge roles in the success of The Telephone Doctor business.
Thanks to Nancy Friedman, The Telephone Doctor!
---
#8- Communicating with customers
We've just launched our website and planned extensively on how to engage the community as it's a huge portion of our project. I think important pieces to keep in mind is having those social media networks where consumers can have a means of communication. Involving your customers in the business, ask questions, keep them up to date and get creative with questionnaires or contests that involve your community. Having a community is uber important for your brand and involving your followers in your story is a great way to build a strong customer base and a lasting impression.
Thanks to Binyamin Shimshoon, Grow Payment!
---
#9- Two purposes
My website is the lifeline of the business. It serves as a portal for woman to receive important information about pelvic pain. It's where we create awareness about our non-prescription, holistic, non-invasive medical device product. And it's where we market and sell our product. But perhaps the most important, our testimonial page gives women a chance to tell and share their stories. Without our website, there would be no VuVatech. It's that important to the success of my business.
Thanks to Tara Langdale-Schmidt, VuVatech!
---
#10- Source of traffic
We use our website as our main source of traffic. We have done extensive keyword research on our competitors and for our industry, and now we are focused on building out content that will add value to our customers. The side benefit is that every week our traffic grows as we start to rank higher and higher for all of the long tail keywords and the major short tail ones. Most of our competitors use direct mail and cold calling to get leads. On average, direct mail costs $5,800 / deal in this market. We are able to get deals for a couple hundred bucks with SEO on our website. It's a major shift in our business and lifestyle as we focus more on inbound marketing vs outbound. The people we talk to actually want to do business with us instead of yelling at us for calling them to see if they would consider an offer on their house.
Thanks to Shawn Breyer, Breyer Home Buyers!
---
#11- Various ways
My website is my online home where I invite persons to know more about me and how I can serve them. I use it to house my offers, advise on the various programs that are available, capture potential customers' information and showcase my expertise via my blog and where I have been featured in the media. My culture credo tells customers what they can expect when working with me, and encourages all visitors to connect with me should they need more information.
Thanks to Carla Williams Johnson, Carli Communications!
---
#12- Conversions
My website's sole purpose is to turn visitors into leads. That's it. To do that, I publish quality content on topics that my target audience are interested in. This way, it first gives tons of value to my audience. Also, it helps build trust, credibility, and authority with them. Once my content has captured their interest, they will want to find out more on how I can help them. This is where I will get their name and email in exchange for giving them more valuable content in the form of a lead magnet. From there, I continue to build my relationship with them and get them to become my client.
Thanks to Davis Lin, Client Acquisition Lab!
---
#13- Drive sales
My website functions primarily to drive sales. I have multiple call to actions placed strategically on every page so it's easy for prospective clients to engage with me should they want to hear more. I provide them with several ways to get in touch, via my newsletter, a breakthrough call or a contact page, as opposed to just one. My content also speaks directly to my target audience. The first thing people see on my homepage is 'get more clients with less marketing' – which is one of the top things my prospects are looking for. I then go on to address their top concerns and outline exactly what I can help them achieve.. I'm a firm believer that you need to 'give, in order to get' so I give prospective clients a taste of my expertise through my blog, using images, video content and engaging headlines such as 'What do black socks have to do with success?'. Lastly, I also use my website to host my online training materials for clients.
Thanks to Mary Cravets
---
#14- Promote my clients and cultivate communities that matter to their interests
Businesses need to stop thinking about websites only as a way for people to learn more about your business, but as a way to add value to their customers and potential revenue generators. I exclusively work with attorneys and I've found that the best way to market to them was not only to have a great website with testimonials, but to create websites that help promote my clients and cultivate communities that matter to their interests. This way, our interests are naturally aligned and business between us will often happen organically, rather than a cold call. I've retrained my brain to primarily think about how I can get my clients more business, and now they find me naturally or by referral constantly. Business owners and CEOs should think about their client's customer and better ways to connect the two with a creative website or online community, once you crack that nut your target client will want to engage with you as a thought leader, not as a service provider.
Thanks to Doug Bradley, Orange County Lawyers!
---
#15- Build credibility
I use my website as a credibility builder for my business. It has testimonials, case studies, background, lots of articles, videos, etc. so prospective clients can check me out, see if I have the right skills to solve their problem and just get a feel for me personally to see if we would work well together. If they spend a little time on my site it is almost like having a first meeting to test the chemistry if they like my style, sense of humor, etc.
Thanks to Paige Arnof-Fenn, Mavens & Moguls!
---
#16- Two ways
As a Twitter marketer for agencies, using my website for business comes in 2 ways; to provide extreme value to my target audience (bloggers and online agencies) and also to build a community that fuels my business. I do this through the effective use of lead magnets, optins and freebies to attract the right leads who'd eventually turn into paying clients.
Thanks to Simon Zaku
---
How do you use your website for business? Tell us in the comments below. Don't forget to join our #IamCEO Community.