Ideas
Productivity
10 Entrepreneurs Share Tips For Working ON the Business But not IN the Business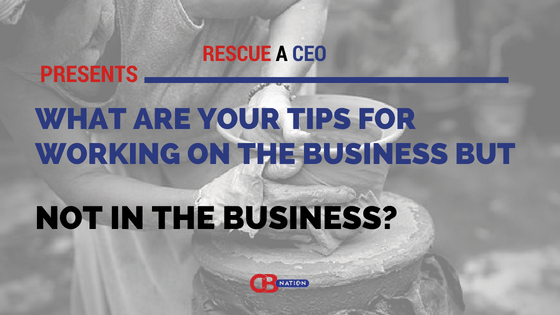 As an entrepreneur and business owner, it's easy to get caught by tasks that only make operations effective while the growth of the company cripples. It's important for you to focus on the business expansion after the business stabilizes while letting your employees work in the business. Different strategies such as delegation can be used to help you work on the business with ease.
We asked entrepreneurs and business owners their tips on working on the business but not in the business and here are the responses.
#1- Focus on the long-term vision
Most entrepreneurs focus on the inner works and day-to-day activities and tasks of their business. This is because the results are tangible and it feels to them that such actions have to be done and cannot be postponed. When you work on your business, you take a step back and work towards a long-term vision. Suddenly, tomorrow morning's urgencies become less
significant (yet still important!).
Thanks to Lazhar Ichir, topicseed!
---
#2-Don't be a Do-it-all
When you are running a business, you need to take a step back and think of your ROI of you time. Time is money and if you spend all your time 'in the business' for tasks which could be done by others, then you run short of planning strategies to 'work on the business'. As a business owner it's hard to let go but its vital that you outsource somethings to grow your business. When I started my blogging business, I was the 'do-it-all' type, but soon I realized this attitude pulled me away from more important things in my business. Making use of your time to do things which matter most are the foundation for any successful business.
Thanks to Sireesha Narumanchi, Crowdworknews!
---
#3- Two rules
If your business cannot survive your absence for 6 months, then you do not own a business; you own a job. In 2008 I found a great way to incentivize automating systems so my business could operate without me: Year long backpacking trip around the world! Even though I had to return after half a year, I learned a great deal on how to automate my business. Rule #1: Ensure your operation manual explains how to handle most common business activities and issues. When you are absent, your people will know what to do. Rule #2: See rule #1. The idea is to write yourself outside of operations by delegating duties to your employees. This is done by having an easy to understand and comprehensive operation manual.
Thanks to Greg Shepard, Dallas Maids!
---
#4- Find tasks that pay dividends
While I can't claim 100% success on this front, I undertook this challenge last year and it's been pretty life-changing. The first thing you need to do is log your work. This is an arduous but critical process. Take a small notebook or have a spreadsheet open on your computer and chronicle everything you do at work. Make four columns: length of time to complete task, do I enjoy doing this, can someone else do this and does this pay dividends. The goal is getting to work you enjoy doing that yields future results. It almost sounds too easy but I was shocked and suspect others will be as well, to discover just how much I didn't need to do that, at the same time, would bring more fulfillment and development to others in the organization. I found a lot I could either outsource completely or to staff. It's a wonderful development tool, as you are likely handing off tasks you have intimate knowledge on, and thus can provide expert direction. For me it was specifically that idea of only doing tasks that pay dividends that did the trick. I know it's just a different way of saying the same thing but to me it was much clearer. I don't want to be doing anything that's purely transactional, meaning the efforts are worth the job at hand and no more. The exercise of logging your work forces you to look at areas you can turn your experience into a process.
Thanks to Josh Quinn, Tigertree/Cub Shrub!
---
#5- Have a plan, vision and read books
The most important thing you can do to ensure you work *on *your business, not just *in *it, is get perspective. You're more likely to forget to work *on *your business and to get sucked into being the wrong kind of role player when you let urgency and emotions drive you minute-to-minute and day-to-day. If you want to guide your business into the future, you need a vision. Spend time looking at your business historically in terms of finances and  goals. What have you achieved? What do you want to achieve? What roles are you playing within your business? What roles should you stop playing in your business? How do you need to evolve as a leader for your business to evolve? Read books on all aspects of leadership, business, finance, taxes, and biographies of business leaders and CEO's. Get coaching, even if only for a few months. Spend time analyzing and writing about your business's history and future. If you want to run your business, you need a plan. You will certainly change your plan as you go along. But if you don't have a plan, your business will run you.
Thanks to Brian Carter, The Carter Group!
---
#6-Become a known expert
Strengthen your business by positioning yourself as an expert. Invest some time and efforts outside of your daily business. Get new headshots done. Set up profiles in online trade publications and forums and start commenting on articles and in group discussions. Attend industry events, even if your company is not represented there. Connect with journalists on the spot. Tweet about happenings. Start composing articles on your topics and interests related to your business vision and publish them on industry blogs. Once your network grows and your name becomes more known on the internet, it will be highly likely your business news will receive extra attention.
Thanks to Melanie Marten, The Coup!
---
#7- Have a marketing strategy in place
Working in the business but not in the business is a highly rewarding process. When anyone first starts a business they have a strong desire to take action, this is a good response. However, do not take massive action without a clear marketing strategy. Remember the wise words of Benjamin Frankin, failing to plan is planning to fail. Furthermore, join groups, build relationships, and find mentors who will keep you steady on the path to success. Education is the most important factor in any successful business. The one who possesses the most knowledge is the most powerful. Although most business owners skipped the college route, they still became highly educated in their niche. Life is stressful and discouraging while working a job and working on your business at the same time. Do not give up, keep pushing forward and staying consistent the rest will follow. Anxiety or impatience can be a huge factor in the journey as well. During times of impatience reflect back on when you first started and how far you have come since then, most people are surprised at the progress they have already made.
Thanks to David Freudenberg, DPF Property Solutions LLC!
---
#8- Three tips
I work with successful leaders and teams to help them grow their business. I'm also an entrepreneur and have started a number of businesses and non-profits. Most entrepreneurs make the mistake of working for themselves instead of becoming an owner. As a result, they are never really free from their business. For many, this is fine until they want to exit or retire. Then they discover that they have very little or nothing to sell. Here's the fix:  Begin With Your Exit In Mind: You exit may not be for decades, but if you begin building and planning your business with the mindset of not being needed for day-to-day operations you'll create your own freedom and equity. Don't coast: When you get past the launch and survival phases don't coast. This is the time to build a business – not just pay yourself a pay check. Build systems and culture: Building the systems and culture that allow your methods, values, standards and process become replicable by other employees. This becomes your brand, creates your freedom and builds your equity.
Thanks to Christian Muntean, Vantage Consulting!
---
#9-Automate the business
When I used to go to my friend's place, I used to see that he wore several custom-made t-shirts which had images of his favourite gaming characters on them. And, that suddenly hit my head. I found out the guy who made his shirts (the guy did that just as a hobby) and partnered with him. I started providing him with orders of several kind of shirts, which he used to make and then I sold it on a national online retailing website at more than double the price. All I did was provide him with the orders and make sure the delivery guy got my products. I literally didn't have to do anything. Then the business got upscaled as different brands and agencies contacted me for bulk orders and even contracted for selling them shirts which they would sell under their brand name. What work do I do? Nothing, except pay my taxes! If you want to work on a business but not in a business, then you need to find a niche that has potential and relatively competition free. Then you need to find people who are willing to do your work for you at a nominal price.
Thanks to Adhip Ray, WinSavvy!
---
#10- Have processes and procedures
Having processes and procedures in place is very important for any business who is trying to scale. I also believe in the importance of having a "Do Not Do" list. Make sure your ideas align with your mission statement, and if they don't, move on. In the beginning, I was the guy that tried to do everything on his own. As I've grown, I've definitely learned there's a lot of value in networking and building relationships. The relationships that I've formed are what's opening doors for the future.
Thanks to Brandon Chopp, iHeartRaves!
---
What are your tips on working ON the business but not IN the business? Tell us in the comments below. Don't forget to join our #IamCEO Community