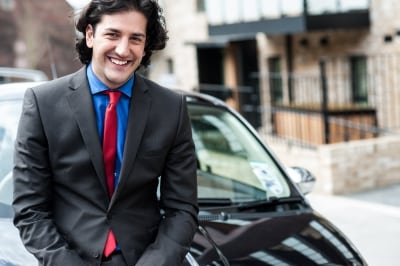 Being an entrepreneur is hard work.  The hours are long, and the risk is high. When my partners and I decided to start Budget Blinds, I knew it would not be easy.  But what I knew for certain was our franchise concept was the best on the market.  Simple, low overhead, with a good foundation and a successful process to follow made for a winning equation.
Here are seven invaluable tips to becoming a successful business owner and entrepreneur.
Define exactly what you want from your business. This is no easy task. This requires a great deal of honesty and clarity. You must ask yourself if you are willing to invest what you need to achieve your goals – not just financially but within yourself. Other important questions to ask: Are you seeking self-expression or early retirement? How much time are you willing to devote? When do you expect to see your desired return? Do you want your family involved? This is not the time to be concerned with how your choice looks to others. This is the time to sincerely search within yourself.
Focus on the big picture. There are minor setbacks and mundane details that are part of every business. A lost sale or a bad choice can be consuming to the novice business owners. It's imperative to your success that you rise above this and remain mindful of why you started this business and what you expect from it. If it could be built in a day, everyone would do it. YOU are going to work a little harder, a little smarter…and have patience.
Be goal oriented. Keep your eye on the long-range goals but don't forget about the ones you can accomplish this week. This is important in keeping your energy level high. If all valuable achievements are weeks, months, or years away – you won't have any rewards throughout your journey. It's important to remember that the process is indeed a journey — not just "getting there." Establish small daily goals that you know will take effort but are possible to achieve.
Always have a winning attitude. This is an essential ingredient in success. There are few self absorbed, depressed winners.
Learn to deal with your fears. Typically, fears about venturing on your own can be divided into two categories.

"I will work hard and apply all I know successfully — but some outside force (economy, bigger competitor, etc.) will take it away from me."
"Who am I kidding? I'm not qualified to be the one alone at the top."
We all have moments of doubt.  Some people are immobilized by them and others keep their eye on their goal and move on. Be a person of action.
Do the things you like least, first. This one took me a while to put into practice. It's only natural to put off dealing with anything difficult or unpleasant. Learning to tackle the tough jobs first is step one in good time management and in real leadership.
Dare to think big. Try this little experiment. Ask several successful people about their career goals — and you'll find an amazing number of people who achieved exactly what they set out to accomplish. If it was "six figures" – that's what they earn. If $75,000 was the goal, they hit it. I promise you that if they set their sights on $200,000 that's what they'd be earning. Most of us are very limited in our view of success. Set your sights high.
—
This guest post is courtesy of Chad Hallock, CEO of Budget Blinds. Budget Blinds was founded in 1992 and currently boasts over 900 franchise territories serving more than 7,500 cities throughout the United States and Canada. Connect with them on Facebook, or learn about franchise opportunities.