Resources
8 Entrepreneurs Explain How to Get Funding For a Business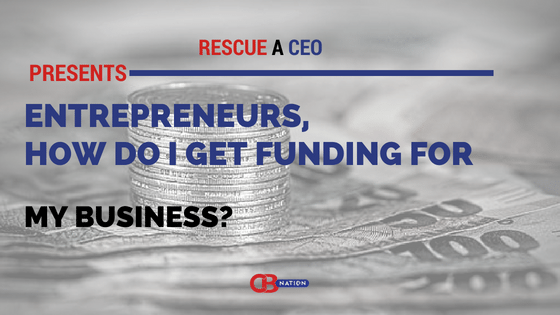 Starting and running a business requires funds. The first option for most small businesses is bootstrapping to minimize the risks of having the business fail with borrowed funds. Whichever the path you undertake to get funding, it's important to understand your business needs and the goals you have set.
We asked entrepreneurs and business owners how one can get funding for his/her business and here's what they had to say;
#1- A number of ways
First, ask yourself a few important questions: how much money do you need over the next 12 – 18 months, and why? What will you spend it on? Again, why? Are you being overly optimistic? (You are. Everyone always is.) There are a bunch of ways to raise money early on: bootstrapping with your savings, a friends & family angel round (said friends & family should be accredited investors), convertible notes, crowdfunding (Kickstarter / Indiegogo), seed-stage funds, AngelList, an incubator or accelerator, an ICO if you're into decentralized applications and ungodly regulatory risk, and now even capital-as-a-service from Social Capital (they seem great).
Thanks to Colin McIntosh, Sheets & Giggles!
---
#2- Four main areas
Funding for startups is usually acquired from four main areas. First, founders can bootstrap their startups, i.e., pay for it themselves. This is typically the preferred model, as founders simply utilize their own savings instead of requesting outside funding which may require diluting equity. However, bootstrapping typically puts pressure on founders (and their family and friends) to scrape by, which may limit the ability of the founders to truly facilitate the needed expenses for their growing business. The second method by which startups obtain funding is by friends and family. Friends and family are a great source of funding, as they are usually flexible regarding payment terms and share the founders passion for the project. However, these same friends and family can quickly turn if the investment does not pan out, so founders should be wary of monetizing these relationships. The third method is traditional lending, such as banks or alternative third-party services. Banks can be a great opportunity due to their willingness to lend with reasonable rates. However, banks are rarely willing to lend without two years' revenue to utilize to reconcile the loan. Finally, angel and traditional private investors can provide the most substantial investments, depending on the rates and the promises of return. However, private investors can be scrupulous (don't let the name angel fool you). Be wary regarding terms that are not beneficial to a startups overall growth.
Thanks to Mason Cole, Cole Sadkin!
---
#3- Get an active team
In my opinion, a working business model and an active team with well-defined roles can help you secure funding for your venture. Ideas that look promising on papers, but have little realization potential can become a roadblock in getting funding and should be avoided. When I pitched for funding; I had records to prove active customer transactions, a realistic business model and a team to flaunt that helped me secure more than $4 million from Bloom Ventures and Kalaari Capital. Apart from that, you must also have stellar professional relationships with business influencers with whom you have previously worked with, so that they can endorse your skills and give way to get the funds.
Thanks to Ketan Kapoor, Mettl!
---
#4- Grant application
One of the best ways to fund a small business is to apply for a grant. Unlike a loan, which must be paid back, this is free money that you can put towards starting your small business. Keep in mind, however, that applying for a grant is a competitive process that comes with eligibility guidelines. Submitting an application doesn't always mean that you will be awarded the money, so take the time to follow the directions, be creative, and highlight what makes your business unique.
Thanks to Deborah Sweeney, MyCorporation.com!
---
#5- Understand your business needs
It's about understanding the needs of the business and the trade cycles, as well as which lenders are comfortable lending in your industry. A business which is looking to build a new manufacturing centre will have a different financing requirement (and structure) to a business trading socks from India. It also matters who your buyers are, especially if the lender is taking out insurance – large entities like Walmart are  preferable to smaller chains and independents.
Thanks to Mark Abrams, Trade Finance Global (TFG)!
---
#6- Build a Community and then go to Crowdfunding
I started KPOP Foods, a Korean food company, by debuting our first product, KPOP Sauce, a Korean chili sauce, on Kickstarter. We successfully met our goal of $10,000 in under the first 8 hours and ended our campaign with nearly $40,000 from over 1,200 backers. The key was building a community, before launching on Kickstarter, that believed in our mission of taking Korean food and flavors mainstream. We did this by sending small samples through the mail, cooking easy food items for people to try our sauce, and telling our story through social media. We went on to raise another
$150,000 from outside investors and continue to grow.
Thanks to Theo Lee, KPOP Foods!
---
#7- Get customers to fund the business
My unique strategy for getting my business funded is focused on getting our potential customers to fund the business. Here is how it goes: Staying in a low-cost country (I left my job in Denmark and moved back to my home country Pakistan) but working with clients from USA/UK remotely. The small team of my boutique digital agency also works remotely from several different countries. Technical know-how can bring down the cost of an online business a lot down. Since I have a technical background, it was pretty easy to set up businesses with nothing but a laptop and a few hundred bucks of investment. Compared to brick and mortar businesses, online businesses are less risky (though they can take more time and knowledge to be successful).  I've built my personal brand through social media marketing, speaking, writing for (Forbes, HuffPo, and several others) to an extent where I get inbound leads for our digital agency. We work with clients who are open to paying us an upfront amount and this is how our strategy works to helps us get our clients fund our business.
Thanks to Syed Irfan Ajmal, Ridester!
---
#8- Three ways
There are two traditional ways to get funding. The first is debt. Debt can come as a line of credit or a loan. Lines of credit are great for short financing gaps in cash flow, e.g. covering receivables, inventory, etc. Longer term loans are more common for startups or larger capital financing. Ideal lenders are commercial banks and the SBA, where terms are more favorable. These can be tough to get so many new businesses are stuck with less favorable lenders. The other option is equity. This is the realm of angels and VCs. This requires a level of financial sophistication that many startups lack. It's critical to get right support because many great ideas with sloppy financials wind up in the trash. The final non-traditional path is crowdfunding. Crowdfunding can avoid many of the drawbacks and biases of the traditional paths, but rarely can you raise 100% of your needs this way.
Thanks to Brian Cairns, ProStrategix Consulting!
---
How do you get funding for your business? Tell us your thoughts in the comments below. Don't forget to join our #IamCEO Community.