Social Media
22 Entrepreneurs Explain How They Use Facebook for Business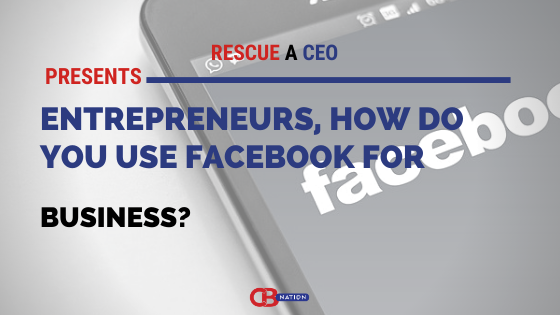 Social Media is here and it is not going anywhere. Many brands focus on specific social media sites because of the type of updates they can make or the activity level of their target market. Facebook is no different even with the changes to organic reach, the social media giant is still often the first choice for businesses that are seeking to get started on social media to promote their business and communicate with customers. Rescue a CEO asked some businesses how they use Facebook to help their business.
#1- Two ways
Product research. This is one of the most fundamental yet overlooked aspects because listening to customers in your field or community allows you to gain insight into what works versus what doesn't when it comes to attracting and converting prospective clients into paying customers. Building a community. Because of the massive amount of traffic that Facebook garners, it is easy to build a community around your products and services. Doing this helps build credibility and authority around our brand and business.
Thanks to John Li, Fig Loans!
---
#2- Introduce our brand
We use Facebook for Business to introduce our brand to new potential clients, make sure potential clients think of our law firm whenever needed, and let potential clients know we support our communities through charities and community giveaways. In addition, we create content for Facebook and repurpose content from other social media platforms. We aim to answer questions our community has, celebrate our team members and their accomplishments, and support our local communities for our content strategy.
Thanks to Gregory Herrman, Herrman and Herrman PLLC!
---
#3- Enables my business to grow
As a business owner, I have found it is important to utilize all tools available. Facebook has enabled my business to grow exponentially since we opened the doors of Rogers Healy and Associates Real Estate in 2006. Facebook was still fairly novel during that time, and ever since, it has been an invaluable tool in how we conduct business. Expanding our reach to potential clients and networking along the way have been tremendous assets. In addition, social media is an extension of ourselves. It gives potential clients and individuals in your network a sense of who you really are. If I could give one piece of advice for anyone leveraging social media to elevate their business, it would be to always be your authentic self on all platforms. As you cultivate your brand, be true to who you are personally and professionally on your social channels.
Thanks to Rogers Healy 
---
#4- Document special moments
Our most popular posts are videos and photo albums documenting the day a family receives their new book. We have found that clients are eager to share those special moments with everyone in their friend group, generating hundreds of comments and additional shares. We see a similar response to our own 'featured client' posts around major holidays: celebrating a veteran's story on veteran's day, a client love story for Valentine's day, mother's/father's day, or a family Christmas 'book reveal'. We've also used Facebook for more typical marketing efforts like promoting special offers and discount incentives, but response pales in comparison to the more organic posts arising from client experiences.
Thanks to Lauren Befus, Memory Lane Jane!
---
#5- Spread the word about our company
We accomplish this by creating posts that link to articles on our main website. This increases brand awareness because potential leads may come across a post of ours on Facebook without prior knowledge of our business, compelling them to follow the link to our main website, which contains all of the information required to convert potential leads to guaranteed clients. Facebook Insights is also a great way for us to learn more about the people who interact with our page, which allows us to properly tailor our marketing campaigns to that specific demographic.
Thanks to Michael Knight, Incorporation Insight!
---
#6- Interacting with our potential customers
Facebook has 2.7 billion active users on a monthly basis, it would be quite foolish to not have your business set up on this platform. You can use Facebook as your virtual shop for customers and connect with them. This is the perfect opportunity to interact with your customers, what you need to do is create a page and make it fully functional. Make it look professional and keep it up to date. This is what we did and it drew in various customers, some long-term as well. It really depends on how you present yourself as a company online and how user-friendly and visually appealing your page looks. Also, do not forget to use the analytics and insight tools provided by Facebook, these are of tremendous help.
Thanks to Johell Aponte, MoveOnHouseBuyers.com!
---
#7- For cross-promotion
We connect with other Facebook pages to cross-promote our business within similar categories. It's a mutually beneficial system that also functions as a networking tool, and it presents Noémie to a new customer base with a proven interest in similar products. This idea came to us based on our success cross-promoting on Instagram Stories for organic growth. After hearing that Instagram was considering removing the ability to share other people's Stories, we started looking to other social media platforms where we could replicate that success, and it has served us well thus far.
Thanks to Yuvi Alpert, Noémie!
---
#8- Several Ways
Facebook has been a tremendous resource for us from day one. When we started out on Kickstarter, we shared our product demonstration video on Facebook through our page and with gadget-related pages. The video went viral all over Facebook to the tune of 10m+ views and really helped to jumpstart our business in year one. We further leveraged our growing Facebook following by keeping them updated with our subsequent product releases and by sharing helpful plumbing-related content to keep them engaged. Lastly, we've had success remarketing to our video viewers to convert them into paying customers. In short, we love Facebook!
Thanks to Solyman Najimi, Juka Innovations Corporation!
---
#9- Create a community
Here at Kettlebell Kings, our favorite thing about Facebook is the ability to create a Facebook Group. We use our Facebook Group as the main hub for our Kettlebell Kings community, a place where kettlebell and fitness enthusiasts can share workouts, give and receive tips and advice, share their workouts and accomplishments, and be a part of a fun and accepting community. We have seen great engagement not only between Kettlebell Kings and our customers, but also from customer to customer. We believe this has deepened the relationship between Kettlebell Kings and its customers, creating a culture of helpfulness, positivity, and togetherness. We consider our community to be one of our most valuable assets, and we believe our customers feel the same.
Thanks to Jay Perkins, Kettlebell Kings!
---
#10- To gain an audience
Organically: For organically gaining an audience, I created a Facebook business page for my online business. A Facebook business page is a free resource that helps my business to connect with new and old customers & socially grow online audiences. It's meaningful to optimize your business pages with correct and clear information that includes Website, Business phone number, support email, and detailed information about the business. Facebook Social network is about engagement and personalization, so I communicate with my customers in a way that resonates with them and remains consistent with brand voice.
Thanks to Eric Jones, Couture Candy!
---
#11- Promote our plugins and deals
We use paid advertisement option of Facebook that will help us to promote our plugins and deals all around the world. So, the people will start to know about our plugins and other products that we are offering. Facebook also helps us to convert our WordPress Plugins into a brand like our Analytify plugin is among the top Best WordPress Google Analytics plugins.
Thanks to Tayyab Akram, WPBrigade!
---
#12- Build genuine relationships
Facebook has been incredibly beneficial to the growth of my coaching business. I use the platform to build genuine relationships with my ideal clients through conversation, connections and community. Leveraging all the features the platform has allows you to deeply connect with your audience and understand what they want, whether it's through stories, polls to ask questions, rooms or LIVEs to teach and educate. Facebook allows you the ability to create private communities to build the know, like and trust factor among your audience. You can also create a business page where you can nurture your leads by providing valuable content and have meaningful conversations using messenger that leads to the sale. Facebook is one of the biggest social media platforms with a global reach and it allows me access to my target audience in ways I could not do before. I also am a speaker, and Facebook has opened up opportunities for me to host and be a guest on virtual summits and podcasts through the connections I have made, which has led to more visibility, greater exposure and higher ticket clients for my business.
Thanks to Onyinye Anike, Holistic Life Purpose!
---
#13- Two ways
Although we are a B2B business, we use Facebook to raise brand awareness and promote our cause of improving employee engagement for teams. We also recognize there are many teams we might not reach through our typical B2B marketing efforts, such as small business owners or entrepreneurs. Facebook is a great channel to connect with individuals on a personal level. We also promote the events, podcasts and online conferences we organize on Facebook as we actively seek to engage our audience.
Thanks to Logan Mallory, Motivosity!
---
#14- Educate our followers
We use Facebook to educate our followers about options available to them to treat skin problems and run promotions. We also showcase the team of people working at our medical spa to put friendly faces to our procedures and show our passion towards patient-oriented and personalized care. We all truly love what we do and we love helping patients feel more confident, and Facebook is a great way to connect with our audience. Through Facebook, we can also share photos that provide a preview of our procedures and before-and-after photos that show the results that some of our clients have achieved. These posts have been very effective for us and clients and prospects feel more comfortable knowing what to expect and what results they can achieve.
Thanks to Jill Canes, NP, Face Forward Medical Aesthetics!
---
#15- Analyze the audience
Facebook allows us to get more insights into the demographics of the participants and what their interests are. When we can understand who the target audience is exactly and what they're interested in, it can help us structure the surveys based on their age, the products or services they use or even reach out to clients who would greatly benefit from the information provided by this target audience.
Thanks to Jerry Han, PrizeRebel!
---
#16- Grow a community + create connections
In April of 2020 I started my FB group. It was a small community of 300 women. As I launched my business I decided to get more serious about my community. I began to create weekly posts that encouraged my community to connect, to collaborate, and to create business relationships. Now my community is over 2K and women tell me they get hired often from other members. But it's not just my members who are celebrating success in the community. In February 2021 I had a $25K launch and sold out my signature coaching program, The Launch Visibility and Growth Accelerator, in 7 days. All while teaching high school full time. Facebook groups are key to accelerating your growth and growing your community.
Thanks to Monica Monfe, Teach Wellthy Coaching!
---
#17- Explain and provide value
I use Facebook for business by explaining how to use my products and provide value in my industry. I have come to realize that basic concepts to me may not be so commonplace to my audience. Oftentimes, an explanation is the bridge between a sale versus "I'm not interested because I don't understand." When I explain how to use my products for the best results, I let my audience know that I care about their experience and providing them with a product that works.
Thanks to Erma Williams, The Pomade Shop!
---
#18- As a a hybrid of eCommerce
Fully utilizing the use of Facebook features for business has greatly helped the company boost its market and solidified its existence. It's a huge leap from conservative ways of marketing as more people now use Facebook not just by socializing but for almost anything, from buying and selling goods to renting apartments and cars. In short, it has evolved from a typical social networking site to a hybrid of eCommerce. Engagement with potential clients and customers has been high. I was able to put details in my company and let people know more about us to gain more awareness, and the recent activities in the community we've actively participated in to promote more search activity on our page.
Also, it's good that I can link my official website.
Thanks to Carley Carley, FriendlyTurtle.com!
---
#19- Catch hundreds of leads per day
Facebook ads give you to efficiently trap highly significant leads and email calls every day at a very low cost. Facebook's advanced targeting process permits you to take highly relevant leads by especially targeting those who "like" your page, visit your site, or "like" your opponents' pages. You can now even do so quickly on the platform with Facebook's built-in Lead Capture drive, which quickly gets a customer's email from Facebook, relating it's probably their best email, not spam or secondary account. It's one of the best investments you will do and you can easily earn back thousands in revenue every time you move a big email promo or start using your email list.
Thanks to Shiv Gupta, Incrementors Web Solutions!
---
#20- Facebook for customers, not business actually
That's the policy I have used as the CEO of two established businesses. My services are both B2B and B2C. The strategy that I have always used, and which has benefited us a lot, is to engage and live Facebook only for customers. That is to keep designs and a multitude of content simple and straightforward and bring all energy and creativity when directly responding or engaging with customers. The three things we follow on Facebook are: Responding to customers' queries – content, multimedia, videos, infographic, etc. – within minutes of receiving a query. Adding support and help materials on our page more than adding blogs and other postings. Joining relevant groups and answering original queries and making conversions to our Facebook pages.
Thanks to William Cannon, Uplead!
---
#21- Watch Party on Facebook
One of the best features of Facebook for promoting your business is 'Watch Party'. Watch Parties are a way to display a public video on Facebook in real-time so that you and your fans and followers can all watch it at the same time. Making a normal video into an event is a perfect way to generate buzz about a new product launch or a world premiere of a music video. You can watch your loved one's graduation, a baby gender reveal party, or relive your holiday videos all at once with a Facebook watch party. This feature is all about bringing families, friends, and followers from all over the world together, and we love it. This shared viewing experience is ideal for hosting Q&As, sharing behind-the-scenes information about your business, and exchanging tips and tricks with other special guests. It's always fun to watch videos on the internet, but it's even better when you can do so with your friends.
Thanks to Todd Perry, Outdoor Gadget Review!
---
#22- For product catalog ads
Being the CEO of CozySeating I would personally recommend you to use Facebook's product catalog ads. This template is a surefire way to create a rich browsing experience for shoppers, encouraging greater product discovery and engagement. It's also the perfect tool for implementing dynamic retargeting. Not to mention, it allows you to connect an existing catalog from another platform, such as Google. One e-commerce client saw sales from Facebook remarketing increase by about 300% after implementing Facebook's product catalog. ROAS went from 600 to 3000% and their CPA dropped from $45 to $9.
Thanks to Andrew Smith, CozySeating!
---
How do you use Facebook for business? Tell us in the comments below. Don't forget to join our #IamCEO Community.